Bikini Atoll Expedition Vessel
Notes from Indies Trader Marine Adventures.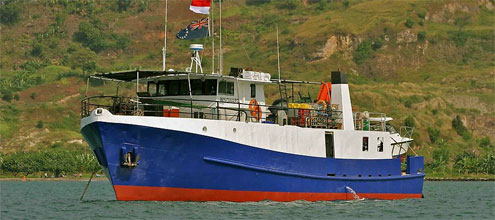 The MV Windward is the newest addition to the Indies Trader Fleet. Originally a trawler, then a pearling mother ship, the MV Windward went through renovation and transformed into an all out remote location water sports support vessel. Because of it's size, the MV Windward is perfect for sport and technical diving expeditions. The large covered back deck serves a great toy shed and can easily handle an amazing amount of gear.
The MV Windward has a support tender and a Hiab sea crane to get the toys on and off the boat easily and quickly. Comfortable air-conditioned accommodation, a walk in cool room, and heaps of deck space undercover and outside to rig up your gear and spread out. There's a western Chef and an experienced diving skipper.
Vessel specifications: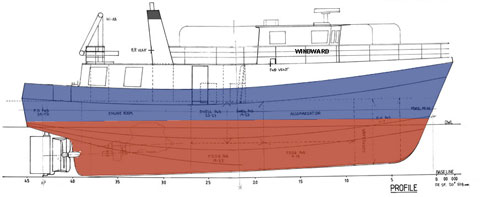 MV Windward layout/schematic
(click on image to see full details)
The MV Windward is 24 metres (80 feet) long. cruises at 9 knots, with a top speed of 10 knots, and has 6 crew and 2 dive masters.
Power
The MV Windward was built in Australia and has 240 Volts, 50 Hz power with Australian / New Zealand style outlets. A 110 Volts transformer with US style outlets is also provided in the galley area.
If you have dive torches and camera/video equipment you'll be needing to charge between dives, or overnight, then please bring your own travel adapters and power boards. There are only four 240V outlets in the accommodation area, and two in the galley area that all 12 divers will be sharing. So plan the power boards and adapters you bring such that you can plug in to one outlet only, plus enable someone else to piggy back off of your setup.
The vessel also has a large 5 KVA step down transformer which produces 110 Volts if needed.
Accommodation and Food
This is a "working mans boat"! It's comfortable and clean.
There are a total of 19 beds: 12 bunks in one large open bunk room for guests; 6 bunks on the main deck in 2 cabins, one with 2 beds and one with 4 beds, for crew; and a captain's cabin on the bridge deck.
Guest accommodation is in the forward hold and is one large shared accommodations for 12 people. Each bunk bed has its own reading light and there are two air-conditioning units in the space.
There are no double cabins so don't plan to spend your honeymoon onboard! Most bunk beds have a curtain for privacy, perfect to just lay your head at the end of a long eventful day and between dives!
The shared accommodation is really not a problem. But if you are looking for your own cabin with ensuite, this is not the boat for you!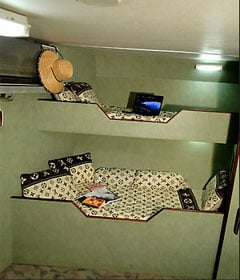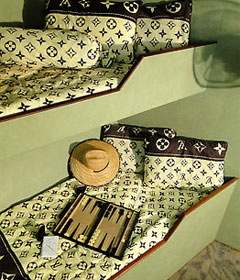 The food onboard is some of the best grub you will ever experience on a liveaboard. The chef produces mouth watering meals and is sympathetic for most pallets (vegetarians needn't worry). Food can be the destroyer of a trip, but at the same time, be the definer! This is certainly the latter.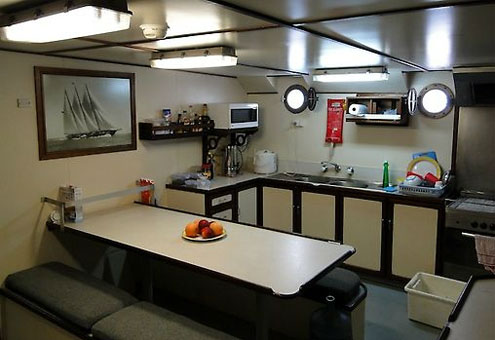 There is one head (toilet) on the dive deck on the port side. There is also a combined shower and laundry off of the passage from the back deck to the galley. There is a combined head (toilet) and shower off of the galley area.
Dive support platform
The MV Windward dive platform is spacious, comfortable and stable. There is plenty or room for dive gear, camera gear etc. You will love it!
The dive ladder descends 1.75 metres into the water making exiting hassle free. Entry is done by giant stride from the side of the vessel, or off the stern platform.
MV Windward is equipped with a well setup deco station with 12, 6 and 3 metre bars. This deco bar is either deployed at the stern of the main boat itself when moored on a dive site, or from the service boat when running live. A separate line has a cylinder of O2 hanging at a depth of 6 metres, and a cylinder of EAN50 (50% O2) hanging at 15 metres.
MV Windward is equipped with a 48-inch twin lock chamber deck hyperbaric decompression chamber, purchased in the USA, to provide safety for advanced remote location sport and technical diving.
There is Nitrox, O2, Helium and Sorb for the tech diving guys, steel and aluminium twinsets, deco pony bottles etc. We don't provide personal equipment (i.e. masks, fins, wetsuits, dive torches, dive computers etc.) so you'll need to bring it with you.
There are two Bauer K14 high pressure compressors with a double filtration system for air fills. Plus two Haskel HP O2 Boosters with 9 x HP O2 banked cylinder racks.
All in all this is a terrific diving support vessel. From a diving perspective it is a great platform. Stable, and plenty of dive kit, backups, breather support, safety support etc. You couldn't ask for more.
The crew onboard are totally dedicated to ensuring that you have a great time. The deck crew are always there to assist you, with a smile!