Scuba Dive Bikini Atoll
Note: Clicking on the pictures through this article will popup larger versions of the pictures.
Come and dive Bikini Atoll
After a trial liveaboard dive expedition to Bikini Atoll in late 2010, and successful trips to Bikini Atoll in 2011, 2012 and 2013, The Scuba Doctor is once again able to offer strictly limited places on liveaboard scuba diving trips to Bikini Atoll. Don't miss out. Book your spot today!
Bikini Atoll is expedition adventure diving at its most unsullied. This unique dive location features the most important collection of WW2 shipwrecks anywhere on earth. There are places with more wrecks — Rabaul and Hansa Bay in Papua New Guinea; plus Chuuk Lagoon further to the Northwest of the Marshall Islands. But none have battleships, or an aircraft carrier! The rewards to be gained from the liveaboard journey to this tiny speck in the Pacific Ocean make Bikini Atoll one of the most memorable dive destinations on the planet.
2014 dive expeditions to Bikini Atoll:
Trip 1 — 14 days, ex Cairns, Australia
Departing: 3 October 2014
Returning: 16 October 2014
Tour Leader: Peter Fear
Bikini Atoll 2014 trip 1 leaflet (Adobe PDF | 244.71 KB)
Bikini Atoll 2014 trip 1 Dive Adventures booking form (Adobe PDF | 286.65 KB)
Trip 2 — 14 days, ex Cairns, Australia
Departing: 17 October 2014
Returning: 30 October 2014
Tour Leaders: Peter Fear and Chris Holman
Bikini Atoll 2014 trip 2 leaflet (Adobe PDF | 244.9 KB)
Bikini Atoll 2014 trip 2 Dive Adventures booking form (Adobe PDF | 286.82 KB)
14 Days, ex Cairns from $7,890 per diver
An exclusive liveaboard diving adventure: 10 divers only per trip.
A representative from Skin Diver magazine proclaimed Bikini Atoll as one of the top five dive destinations in the world. Well if you're interested in wreck diving he got it wrong because Bikini Atoll is THE best wreck diving location on the planet. This is your chance to see for yourself why.
This fantastic wreck dive expedition includes return airfare from Cairns, Queensland, Australia, plus liveaboard accommodation onboard the Indies Trader vessel MV Windward with typically 17 dives at Bikini Atoll, and two dives on the Prinz Eugen at Kwajalein Atoll.
Dive expedition package includes:
Return flights from Cairns, Queensland, Australia
to Kwajalein Island, Kwajalein Atoll, Marshall Islands on United Airlines.
2 dives on the German heavy cruiser Prinz Eugen at Kwajalein Atoll.
Return overnight/day steam (approx. 25–36 hours) from Ebeye Island, Kwajalein Atoll, Marshall Islands to Bikini Island, Bikini Atoll, Marshall Islands on MV Windward.
17 dives of the world's best warship wreck diving experience on the sunken nuclear fleet at Bikini Atoll. (Based on 8.5 dive days at Bikini Atoll with two dives per day.)
Air fills, cylinders and weights, plus Oxygen from the onboard oxygen generator.
Two experienced Bikini Atoll dive masters.
Liveaboard:
- 13 nights aboard
- Air-conditioned cabin (sharing with up to 11 others)
- All meals and food
- Beer, juice, soft drinks and bottled water
- Bikini Island beach BBQ at the Sunset Bar
- Fishing.
Return airport transfers to hotel in Cairns.
Post trip accommodation in Cairns for one night
- Twin share / Standard room.
Australian departure taxes.
Dive expedition package does NOT include:
Sorb for Rebreathers and/or Helium — landed cost plus 15%.
Medical O2 — cost plus 15%.
DAN dive injury insurance.
Medivac insurance.
Travel insurance.
Satellite telephone and data calls. We have Inmarsat for telephone - $4.00 per minute or part thereof. Thutaya I/P for data. Can be online all the time for $3K per trip or $10 per megabyte log on log off. We need a months notice to activate unlimited data plan.
Excess luggage fees.
Air fares to Cairns.
Personal spending money.
Equipment rental.
Hard alcohol / mixed drinks / wine.
Souvenirs.
Passport fees / US ESTA visa charge.
Departure taxes outside Australia.
Bikini Dive Permit of US$200.
Crew gratuities. (We suggest US$250.)
Typical Itineray:
Thursday: Check in at Cairns International Airport 3 hours prior to departure.
Friday: 00:35 Depart Cairns on United Airlines flight UA-99
05:20 Arrive in Guam
08:20 Depart Guam on United Airlines flight UA-172
17:40 Arrive in Kwajalein
Transfer by US Army Ferry to Ebeye Island
Transfer to MV Windward
Saturday: Two dives on Prinz Eugen at Kwajalein Atoll
14:00 Prepare for and begin crossing to Bikini Atoll
Sunday: 18:00 Arrive at Bikini Atoll and anchor off Bikini Island
Monday, Tuesday, Wednesday, Thursday, Friday, Saturday, Sunday, Monday:
Two dives per day at Bikini Atoll
Tuesday: Last dive at Bikini Atoll
13:00 Prepare for and begin crossing to Kwajalein Atoll
Wednesday: 18:00 Arrive at Kwajalein Atoll
Thursday: 07:30 Transfer from MV Windward
07:50 Transfer by UA Army Ferry to Kwajalein Island
10:00 Check luggage at United Airlines counter
11:32 Depart Kwajalein on United Airlines flight UA-154
15:35 Arrive in Guam
18:50 Depart Guam on United Airlines flight UA-98
23:40 Arrive in Cairns
Friday: 00:15 Transfer by bus to Hotel
Morning Check out from hotel and make your way to Cairns airport
Bikini Atoll's sunken nuclear fleet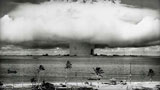 During 1946, following the end of World War II, the US Navy gathered together a "mock" naval fleet for Operation Crossroads, to test the effects of atomic bomb blasts on naval fleets. The Pacific Proving Grounds site chosen for the explosive tests was Bikini Lagoon at Bikini Atoll and it was designated as a ship graveyard. Around the same time French fashion designer Louis Reard was looking for a name for his new, controversial, tiny swimsuit design and the "Bikini" was launched.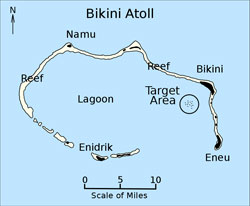 Operation Crossroads consisted of two detonations, each with a yield of 23 kilotons of TNT (96 TJ), the first nuclear testing done after the atomic bombing of Hiroshima and Nagasaki.
Test Able was detonated at an altitude of 158 metres (520 feet) on 1 July 1946. The ships sunk by this blast included: USS Gilliam attack transport, IJN Sakawa light cruiser, USS Carlisle attack transport, USS Anderson destroyer and the USS Lamson destroyer. A further 14 ships sustained serious damage.

1946 film showing US preparations for the Test Able atom bomb blast at Bikini Atoll. (3:17)
Test Baker was detonated 27 metres (90 feet) underwater beneath the landing craft LSM-60 on 25 July 1946. The ships sunk by this blast included: LSM-60 amphibious (no identifiable part of LSM-60 was ever found and it was presumed vaporised by the nuclear fireball), USS Arkansas battleship, USS Pilotfish submarine, USS Saratoga aircraft carrier, YO-160 yard oiler, HIJMS Nagato battleship, USS Skipjack submarine, USS Apogon submarine, and ARDC-13 drydock. The German heavy cruiser Prinz Eugen, sank in December 1946, five months after the test at Kwajalein Atoll, because radioactivity prevented repairs to a leak in the hull. Only nine surviving Test Baker target ships were eventually decontaminated and sold for scrap. The rest were sunk at sea after decontamination efforts failed.

1946 film showing the Test Baker underwater atom bomb blast at Bikini Atoll. (5:44)
During 1954, 1956, and 1958, twenty-one more nuclear bombs were detonated at Bikini Atoll, yielding a total of 75 megatons, equivalent to more than three thousand Test Baker bombs. The first after Operation Crossroads was the dirtiest: the 15 megaton Bravo shot of Operation Castle on 1 March 1954, the largest-ever U.S. test. Fallout from Castle Bravo test caused radiation injury to Bikini islanders who were living on Rongelap Atoll at the time.
Bikini Lagoon became the final resting place for some of the most significant warships in naval history. The dangers of the radioactivity and limited services in the area led to divers staying away from this most remarkable scuba diving site for many years. However, from the dust and detritus of the nuclear weapon tests, the lagoon at Bikini Atoll has emerged as the world's greatest wreck diving site. Bikini Atoll was first opened for limited diving in 1996, allowing divers to experience some of the most historic and amazing wreck diving in the world.

Video showing scuba diving at Bikini Atoll in the Marshall Islands, the site of the atomic bomb tests in the 1940s and 1950s. Credit: St Albans Sub-Aqua Club. (9:37)
See Bikini Atoll Nuclear Target Fleet for details about the Bikini Atoll nuclear target fleet and their final resting places.
Once diving at Bikini Atoll commenced in 1996, the dive spot quickly become popular among divers with around 200 visiting each year. However, oil prices and airline reliability then severely curtailed diving operations to the point of being suspended from August 2008 and through 2010, restricted to fully self-contained vessels by prior arrangement.
The Scuba Doctor's own Peter Fear, was a key member of a successful trial liveaboard expedition to Bikini Atoll in October 2010. Returning to Bikini Atoll for his third time on this dive trip, Peter was able to guide and assist the liveaboard operators in how to best conduct such diving expedition tours and the associated diving operations.
Bikini Lagoon contains a larger amount of sea life than usual, including sharks, due to the lack of fishing. This increases the fascination with the spot as a diver's adventure destination. Fish caught in the area is safe to eat, however food grown on the Bikini Atoll islands is contaminated and could be harmful if consumed over a long period, so dive expedition boats bring all of their own supplies.
Scuba diving at Bikini Atoll
With only 12 divers able to be accommodated on MV Windward, and only a handful of trips each year, Bikini Atoll is now a very exclusive dive site. Less than 80 divers per year get the opportunity to participate in a diving expedition to dive the nuclear fleet at Bikini Atoll.
Bikini Atoll is a world heritage site and a bucket-list destination for serious wreck divers. Bikini Atoll is known for its wonderful WWII warship wreck diving, but is recommended only for advanced sport and/or technical divers with previous wreck diving experience.
Indies Trader Marine Adventures has been granted the sole provider of dive tours on the nuclear fleet at Bikini Atoll.
The marine life has been virtually untouched for over forty years, and divers can see a great profusion of sharks, tuna, marlin, rays, turtles and much more.
The Bikini Atoll sunken nuclear fleet wrecks
Some of the nuclear fleet warship wrecks available to scuba dive on during your diving expedition to Bikini Atoll include:

Video of scuba diving on the wreck of the German heavy cruiser Prinz Eugen, which initially survived two Operation Crossroads atom bomb tests at Bikini Atoll but later sunk at Kwajalein Atoll.
Credit: Jonathan Bird's Blue World. (8:01)
Some of the more popular Bikini Atoll scuba dives: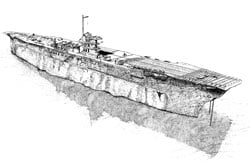 USS Saratoga (CV-3) — The USS Saratoga aircraft carrier is BIGGER than the Titanic! She survived the first atomic blast (Test Able) but sank some time after being severely damaged by the second (Test Baker) underwater blast which was detonated just 370 metres from the carrier. The best of the three "dive-able" aircraft carriers in the world, 'Sara' lies upright in 54 metres (180 feet) of water. The superstructure is at 21 metres (70 feet), deck at 30 metres (100 feet) and the airplane hangers at 39 metres (130 feet). The USS Saratoga is a steel-hulled vessel with a waterline length of 253 metres (830 feet), a flight deck length of 270 metres (888 feet), a beam of 33 metres (108 feet), and officially weighing 37,000 standard tons. As this wreck offers the shallowest dives in Bikini Lagoon, we often dive on her in the afternoon as the second dive of the day. There is so much to explore that you could keep diving on 'Sara' for years and still keep finding something new.
GPS: 11° 35.195' N, 165° 30.515' E

Video showing scuba diving on the USS Saratoga (CV-3) aircraft carrier at Bikini Atoll
Credit: Loneshark Productions. (4:08)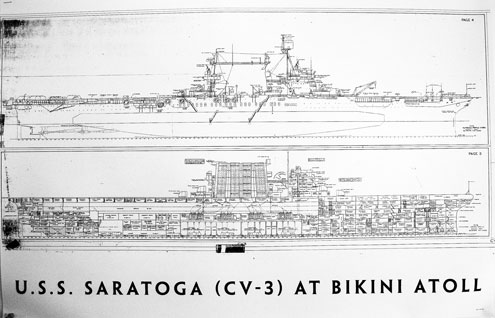 Plans of aircraft carrier USS Saratoga (CV-3)
(click on image to see a larger image)
For more detailed USS Saratoga plans, please view/download:
USS Saratoga CV-3 Booklet of General Plans (Adobe PDF | 12.86 MB)
HIJMS Nagato — The Japanese Flagship to the Japanese Navy, she was Admiral Isoroku Yamamoto's floating fortress battleship during Japan's World War II attack on Pearl Harbor and was a treasure to the Japanese forces. The steel hulled vessel is 221 metres (725 feet) long and weighed 32,720 standard tons. She was the first battleship in the world to mount 16 inch (actually 410 mm) guns. She survived the Test Able air blast, but eventually capsized and sank five days after the Test Baker underwater blast. She is upside down in 48-51 metres (160-170 feet) of water and an incredible dive. Her four massive screws appear like an underwater Stonehenge. The imposing 16 inch guns can be seen when you dive her.
GPS: 11° 36.685' N, 165° 29.553' E

Video showing scuba diving on the Japanese battleship HIJMS Nagato at Bikini Atoll.
Credit: Finnborg Braga. (4:00)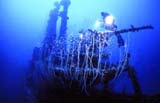 USS Arkansas (BB-33) — Noted for the size of its turret guns and amour, this US battleship lies inverted and listing to starboard in 54 metres (180 feet) of water. The riveted steel vessel is 171 metres (562 feet) long and weighed 23,066 standard tons. She survived the Test Able air blast, but was sunk by the Test Baker underwater blast. The first thing you notice as you drop down to the bottom of the USS Arkansas's hull (at the top!) is the terrible damage inflicted on her by the Test Baker blast. Her hull is crushed like a concertina, huge waves of buckled hull plates folded in on the more rigid structure of the girders within. Testament to the forces unleashed by the A-Bombs!
GPS: 11° 36.559' N, 165° 29.342' E

Video showing scuba diving on the USS Arkansas (BB-33) battleship at Bikini Atoll.
Credit: Finnborg Braga. (4:00)
USS Pilotfish (SS-386) — US navy submarine 95 metres (311.8 feet) long and weighing 2424 standard tons submerged. Submerged for the Test Baker atomic blast, USS Pilotfish was moored at a depth of 51 metres (168 feet) at a range of 332 metres (363 yards) from the point of the blast. The USS Pilotfish lies on her side and half-buried in the sand. She is almost completely intact with the exception of a small portion of the conning tower which was blown away.
GPS: 11° 36.567' N, 165° 29.463' E

Video showing scuba diving on the USS Pilotfish (SS-386) submarine at Bikini Atoll
Credit: Loneshark Productions. (2:56)
USS Apogon (SS-308) — US navy submarine 95 metres (311.8 feet) long and weighing 2424 standard tons submerged. Lightly damaged during the Able Blast, USS Apogon, sank during the Test Baker blast into 55 metres (180 feet) of water. USS Apogon is a beautiful dive, not least because she is completely covered in whip corals and soft corals, and shrouded in swirling schools of glassfish, that are usually found around the conning tower. The shadowy silhouette of USS Apogon's conning tower, completely enveloped by glassy sweepers, is one of the most beautiful sights you'll ever see underwater.
GPS: 11° 36.277' N, 165° 29.01' E

Video showing scuba diving on the USS Apogon (SS-308) submarine at Bikini Atoll
Credit: Loneshark Productions. (5:16)
USS Lamson (DD-367) — A destroyer, the USS Lamson was 104 metres (341 ft) long at the deck. USS Lamson was heavily damaged and sunk during the Test Able blast on 1 July 1946. The test burst tore off the light topside superstructure, stacks and mainmast and smashed the bridge. USS Lamson is lying upright with her stern near a depression in the reef indicating she sank stern first. The guns remained in the mounts and the torpedo tubes are intact. The depth charge tracks are twisted and torn but you can clearly see the depth charges in the tracks. USS Lamson has everything you could ever dream of finding on a shipwreck — large guns, anti-aircraft guns, depth charge tracks, plus torpedo tubes (with the torpedoes hanging out!). The old bridge superstructure was destroyed during Test Able but the ship's telegraph and some of the instrument binnacles are still in place. Like the USS Apogon, the USS Lamson is covered in whip corals and soft corals, and her forward 5 inch gun has a large plate coral growing at the end of the barrel. Schools of glassfish can be seen everywhere, and there are aggregations of marbled grouper and coral trout everywhere.
GPS: 11° 37.273' N, 165° 29.126' E

Video showing scuba diving on the USS Lamson (DD-367) destroyer at Bikini Atoll.
Credit: Finnborg Braga. (4:07)
USS Anderson (DD-411) — This destroyer of 2,300 tons displacement, 106 metres (348 ft) in length but only 7.6 metres (25 ft) in beam. She was thus very sleek and very fast, being capable of a massive 37 knots. USS Anderson was very close to Test Able blast ground zero, and was one of the few ships to sink in that blast. Like all good destroyers she bristles with toys: anti-aircraft guns, depth charge racks and projectors (racks drop them off the back of the ship, projectors hurl them out to the sides), 2 sets of torpedo tubes and 4 5-inch main guns. Lying on her side, as she does, gives you an interesting perspective of the ship. She has fabulous twin props that are great for photos. The ambient light and the way the sand scoops under the bow make it probably the most impressive of all the bows in Bikini to photograph.
GPS: 11° 36.612' N, 165° 28.956' E

Video showing scuba diving on the USS Anderson (DD-411) destroyer at Bikini Atoll.
Includes interior footage. Credit: Loneshark Productions. (5:28)
USS Carlisle (APA-69) was a Gilliam-class attack transport that served with the US Navy during World War II. Arriving late in the war, she was initially assigned to transport missions and consequently did not participate in any combat operations. The USS Carlisle shows plenty of atomic bomb damage from the Test Able blast that sunk her. She sits upright on the bottom. All along the port side of the ship the hull has been folded like paper. Folds go horizontally along the entire length of the hull. Extensive damage on the superstructure and main deck forward has collapsed. The starboard side of the hull is largely intact. Interesting artifacts on the main deck aft towards the stern.
GPS: 11° 36.738' N, 165° 28.832' E

Video showing scuba diving on the USS Carlisle (APA-69) attack transport at Bikini Atoll.
Credit: Finnborg Braga. (4:02)
USS Gilliam (APA-57), named for Gilliam County in Oregon, was the lead ship in the her class of attack transports serving in the United States Navy during World War II. USS Gilliam was the first ship struck by the Test Able blast and sunk in Bikini Lagoon when it accidentally became surface target zero for the test. The basically intact hulk of USS Gilliam sits upright on the bottom of Bikini Lagoon in 55 metres (180 feet) of water. The impression upon viewing the hull is one of chaos — ship parts crumbled, torn, and scattered.
GPS: 11° 36.809' N, 165° 28.958' E
IJN Sakawa was an Agano class light cruiser which served with the Imperial Japanese Navy during World War II. Like other vessels of her class, she was intended for use as the flagship of a destroyer flotilla. IJN Sakawa was taken as a prize of war by the United States after the conclusion of World War II, and was used to evacuate 1,339 Imperial Japanese Army troops stranded on four small islands in the southern Palau group in October 1945. On 25 February 1946, IJN Sakawa was turned over to the US Navy for use in the upcoming Bikini Atoll atomic experiments. The salvage crew found the leaky hull infested with rats, and that most of the ship's systems were not functional. While at Eniwetok Atoll on the way to Bikini Atoll, five of its American sailors were angry over the dismal working conditions aboard IJN Sakawa and tried to sabotage the ship. However, she made it to Bikini Atoll. The detonation of the Test Able bomb occurred 450 metres (490 yards) above and slightly to starboard of IJN Sakawa's stern. The blast caused IJN Sakawa to burn fiercely for twenty-four hours before she eventually sank. The second bomb, Test Baker, was an underwater shot about 150 metres (500 feet) away from the sunken Sakawa.
GPS: 11°36.859' N, 165° 29.177' E
The Bikini Atoll nuclear target fleet
Other significant ships in the Operation Crossroads nuclear test target arrays included: USS Nevada (BB-36) battleship (the designated aim point for Test Able), USS Independence (CVL-22) aircraft carrier, USS New York (BB-34) battleship, USS Pensacola (CA-24) heavy cruiser, USS Salt Lake City (CA-25) heavy cruiser, USS Hughes (DD-410) destroyer, USS Rhind (DD-404) destroyer, and USS Skipjack (SS-184) submarine.
For details of most of the other ships in the Operation Crossroads nuclear test target arrays, plus what happened to them please see Bikini Atoll Nuclear Target Fleet.
For an official pictorial record of Operation Crossroads at Bikini Atoll please view/download: Operation Crossroads: The Official Pictorial Record (Adobe PDF | 10.58 MB)
Warning: Scuba diving at Bikini Atoll will change you forever. Some divers on earlier expeditions with The Scuba Doctor to Bikini Atoll in earlier years simply stopped diving for a year or more after the trip. Nothing else could measure up after Bikini Atoll. Don't miss out. Book your spot today!

Video "Bikini Atoll 2012 - the Nuclear Fleet" from The Scuba Doctor's October 2012 dive expedition.
Credit: Manu Raze. (25:00)
Liveaboard MV Windward
Notes from Indies Trader Marine Adventures.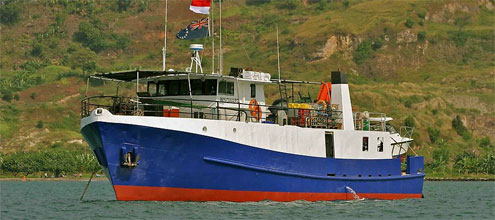 The MV Windward is the newest addition to the Indies Trader Fleet. Originally a trawler, then a pearling mother ship, the MV Windward went through renovation and transformed into an all out remote location water sports support vessel. Because of it's size, the MV Windward is perfect for sport and technical diving expeditions. The large covered back deck serves a great toy shed and can easily handle an amazing amount of gear.
The MV Windward has a support tender and a Hiab sea crane to get the toys on and off the boat easily and quickly. Comfortable air-conditioned accommodation, a walk in cool room, and heaps of deck space undercover and outside to rig up your gear and spread out. There's a western Chef and an experienced diving skipper.
Vessel specifications: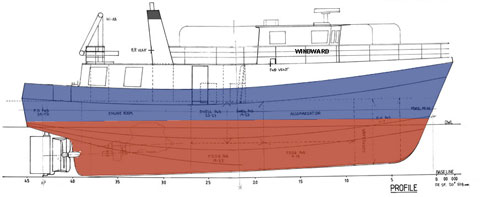 MV Windward layout/schematic
(click on image to see full details)
The MV Windward is 24 metres (80 feet) long. cruises at 9 knots, with a top speed of 10 knots, and has 6 crew and 2 dive masters.
Power
The MV Windward was built in Australia and has 240 Volts, 50 Hz power with Australian / New Zealand style outlets. A 110 Volts transformer with US style outlets is also provided in the galley area.
If you have dive torches and camera/video equipment you'll be needing to charge between dives, or overnight, then please bring your own travel adapters and power boards. There are only four 240V outlets in the accommodation area, and two in the galley area that all 12 divers will be sharing. So plan the power boards and adapters you bring such that you can plug in to one outlet only, plus enable someone else to piggy back off of your setup.
The vessel also has a large 5 KVA step down transformer which produces 110 Volts if needed.
Accommodation and Food
This is a "working mans boat"! It's comfortable and clean.
There are a total of 19 beds: 12 bunks in one large open bunk room for guests; 6 bunks on the main deck in 2 cabins, one with 2 beds and one with 4 beds, for crew; and a captain's cabin on the bridge deck.
Guest accommodation is in the forward hold and is one large shared accommodations for 12 people. Each bunk bed has its own reading light and there are two air-conditioning units in the space.
There are no double cabins so don't plan to spend your honeymoon onboard! Most bunk beds have a curtain for privacy, perfect to just lay your head at the end of a long eventful day and between dives!
The shared accommodation is really not a problem. But if you are looking for your own cabin with ensuite, this is not the boat for you!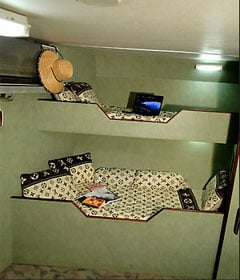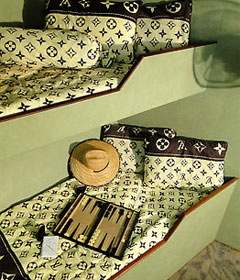 The food onboard is some of the best grub you will ever experience on a liveaboard. The chef produces mouth watering meals and is sympathetic for most pallets (vegetarians needn't worry). Food can be the destroyer of a trip, but at the same time, be the definer! This is certainly the latter.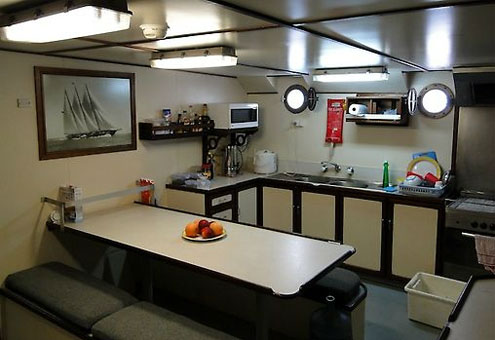 There is one head (toilet) on the dive deck on the port side. There is also a combined shower and laundry off of the passage from the back deck to the galley. There is a combined head (toilet) and shower off of the galley area.
Dive support platform
The MV Windward dive platform is spacious, comfortable and stable. There is plenty or room for dive gear, camera gear etc. You will love it!
The dive ladder descends 1.75 metres into the water making exiting hassle free. Entry is done by giant stride from the side of the vessel, or off the stern platform.
MV Windward is equipped with a well setup deco station with 12, 6 and 3 metre bars. This deco bar is either deployed at the stern of the main boat itself when moored on a dive site, or from the service boat when running live. A separate line has a cylinder of O2 hanging at a depth of 6 metres, and a cylinder of EAN50 (50% O2) hanging at 15 metres.
MV Windward is equipped with a 48-inch twin lock chamber deck hyperbaric decompression chamber, purchased in the USA, to provide safety for advanced remote location sport and technical diving.
There is Nitrox, O2, Helium and Sorb for the tech diving guys, steel and aluminium twinsets, deco pony bottles etc. We don't provide personal equipment (i.e. masks, fins, wetsuits, dive torches, dive computers etc.) so you'll need to bring it with you.
There are two Bauer K14 high pressure compressors with a double filtration system for air fills. Plus two Haskel HP O2 Boosters with 9 x HP O2 banked cylinder racks.
All in all this is a terrific diving support vessel. From a diving perspective it is a great platform. Stable, and plenty of dive kit, backups, breather support, safety support etc. You couldn't ask for more.
The crew onboard are totally dedicated to ensuring that you have a great time. The deck crew are always there to assist you, with a smile!
The journey to Bikini Atoll
Flying in from Cairns
For Australians, this adventure packed dive expedition starts and finishes at Cairns Airport, Queensland, Australia. You'll be flying from Cairns to Kwajalein Atoll Airport, Marshall Islands via Guam on United Airlines.
Outbound — Flight UA-99 departing Cairns at 0:35 am on a Friday and arriving Guam at 5:20 am. Transit through Guam to Flight UA-172, the island hopper flight that departs Guam at 8:20 am and stops at Chuuk, Pohnpei, Kosrae and Kwajalein.
Return — Flight UA-154Y departs Kwajalein and hops via Kosrae and Chuuk to Guam. Then UA-98Y from Guam to Cairns.
Flying in via Guam
Divers joining the trip heading East from Europe and Asia typically join up with those from Australia in Guam on Friday. If you come from this end you will leave Guam at 09:30 am and get into Kwajalein at 18:45 pm. If there aren't any clients from the last trip onboard then you can stay on the vessel. Pending that there is accommodation at the Ebeye Hotel on Ebeye Island where the boat will be moored offshore.
Flying in via Honolulu
Divers joining the trip from the USA typically arrive at Kwajalein on a United Airlines flight the next day (Saturday) from Honolulu via Majuro.
Flying from Honolulu has its advantages, as there is only 1 stop (Majuro) taking 6:55 hours to Kwajalein. Your flight will only come in on the Saturday at 10:25 am. So once you clear customs and board the boat we will head off. The divers who came via Guam will already be onboard from the night before, and probably diving the Prinz Eugen that morning.
Transit through Kwajalein
When you clear the US Army run customs in Kwajalein, there is a complementary US Army shuttle service to transport you a short distance away to the ferry terminal on Kwajalein Island. Due to USA military security procedures they will not let MV Windward pick you up at the Kwajalein Island ferry terminal. However, there will be someone from the boat to meet you at the Kwajalein Island ferry terminal. The US Army ferry will take you to Ebeye Island, a 10 minute ride away. From there you will transfer to the dive vessel MV Windward. After safety briefings, procedures and protocol etc. you get to finally settle in!
Typically, those arriving via Guam on Friday will spend Saturday morning diving on the Prinz Eugen at Kwajalein Atoll. Then those arriving via Honolulu join the boat and we will start steaming towards Bikini Atoll. During the course of the trip over to Bikini Atoll we will have a presentation on the history and orientation to the wrecks of Bikini Atoll with stunning pictures to get you even more excited about what is in store for you!
Travel from Kwajalein Atoll to Bikini Atoll aboard the MV Windward
By steaming from Ebeye Island, Kwajalein Atoll to Bikini Island, Bikini Atoll and return, we are not be dependent on the local airline.
The voyage from Ebeye Island to Bikini Island is 400 kilometres (215 nautical miles), 120 kilometres (65 nautical miles) in the sheltered waters in the lee of Kwajalein Atoll and 280 kilometres (150 nautical miles) of open seas from the northerly point of Kwajalein Atoll to Bikini Atoll.
The open seas leg is around 18 hours and the sheltered leg is 7 hours. The entire trip takes about 25–30 hours depending on sea conditions and current.
So it will be a great time for you to get over your jet lag and gently slide into "Bikini Time".
Skill assessment and check out dive
For those arriving via Guam, the dives on the Prinz Eugen serve as your check out dives. This will give us an opportunity to check any gear needs, fine tune kit, and also give us a chance to asses everyone's skills etc.
Please don't be offended by having to be assessed on your dive skills. It is not our intention to question your skill set. It is for your safety and the wellbeing of everyone onboard. Please also understand that one cannot assess a person's entire skill set by one or two dive alone. If anyone shows signs of unsafe diving practices, which puts them or others at risk, they will not be allowed to get into the water.
It is really imperative to ensure that you are ready for such a trip before you come, so if you have any questions regarding your level of skills and training please contact us now. That way when everyone comes on these expeditions they are all well prepared and ready for a great, safe time onboard.
Typically we will get into Bikini Atoll in the late afternoon — ready for diving the next day! Then we will get up early, have breakfast, attend a dive briefing and head out to the first dive site!
This is without a shadow of a doubt the dive expedition of a lifetime. But it does come with a massive warning. This is not a small trip. We are onboard a boat out at sea for 14 days travelling, at least 400 kilometres (215 nautical miles) to and from Bikini Atoll each way. We will be in some of the most isolated waters on the planet. Safety in diving and for everything you do aboard the boat is extremely important.
Scuba diving equipment for diving at Bikini Atoll
Notes from The Scuba Doctor.
Whatever level of training you have, either the minimum required for Bikini Atoll or higher, we prefer you dive in the configuration you are most comfortable with. In general, you should be comfortable diving with manifold twin cylinders, with at least one stage cylinder.
We provide dual steel 12 litre 300 bar cylinders typically filled with 250–260 bar of air, plus at least one aluminium 11 litre (80 cu.ft.) cylinder typically filled with 200–220 bar of EAN50. The manifold valves will accommodate DIN regulators.
Minimum equipment requirements
You will need to bring the following items:
Backplate and wing — A wing and back plate system capable of carrying twin 300 bar 12 litre steel cylinders and at least 1 x 11 litre aluminium stage cylinder. A dual bladder wing is recommended. The wing should have a minimum of 45 lbs of lift. Note: Standard type BCD's, even if recommended for use with twins, are unacceptable.
Dive Computer — You need a dive computer capable of switching between a minimum of 3 gasses, i.e. Air, 60% Nitrox, 100% Oxygen. You must make sure your computer can handle repetitive decompression diving.
Backup depth and bottom timer — or a second dive computer which would typically run in gauge mode.
Two high performance DIN regulator sets configured for twin cylinder operation. First and second stages. — Recommend 5-7 foot hose on one second stage, SPG, BC low pressure inflator hose.
Note: Yoke regulators are unacceptable.
Stage DIN regulator set — Suitable for breathing up to 100% O2. (Typically used for your EAN60 or EAN50 stage cylinder.)
Minimum of two dive torches (primary and back-up) capable of handling 60 metre depths.
Surface Marker Buoys (SMBs)

One red/orange coloured surface marker buoy
One fluro yellow coloured emergency surface maker buoy, preferably with the word 'emergency' printed along it. A slate should be fixed to the top to state details of emergency.

Reels, or spools

One with a minimum 15 metres of line
One with a minimum 50 metres of line.

Mask and spare mask — Spare mask to be carried on all dives.
Dive slate — A dive slate is to be carried on all dives. Note: This is in addition to the slate used with the emergency surface marker buoy.
Fins — Split fins are not recommended.
Protection — 3–5 mm full wet suit. Some divers like to also use a hood or helmet, boots and lightweight gloves.
Please note: The above are minimum equipment requirements. You are welcome to bring more, for example, a spare set of regulators, should you be more comfortable with the additional equipment.
Second stage cylinder: The Scuba Doctor recommends you consider diving using a fourth DIN regulator set for a 7 litre steel stage cylinder with EAN95. This stage cylinder can be hung on the deco bar for your use at the end of the dive.
Inspect and test ALL equipment before the trip
We would like to stress the point that the dive equipment you bring for scuba diving at Bikini Atoll should be properly inspected and tested. Most equipment manufacturers require a minimum of an annual service. We recommend, even if your equipment is within its service period, you have at least a "bench" test performed by a qualified service technician like The Scuba Doctor. It is important to have this done before you come to Bikini Atoll as we do not have the ability to provide maintenance on customer's dive gear while on the trip.
You'll be a very long way from any source of spare dive equipment. If you have dive gear that needs special batteries, or special replacement components, please bring spares. You don't want to have your ability to dive at Bikini Atoll ruined because of faulty, unfixable dive kit.
Training certifications for diving at Bikini Atoll
It's so important to ensure that you have the required training, skills and experience for a trip of this magnitude. The diving environment on the nuclear fleet at Bikini Atoll is certainly unique and as such requires special procedures.
However, contrary to what most people believe, Bikini Atoll is actually a very benign environment for deep diving as we have a clear, warm water lagoon with no discernible current. The average maximum depth of dives is 50 metres (165 feet), however the flight deck of Saratoga is at 28 metres (90 feet), and the bridge at 14 metres, so afternoon dives can be much shallower than 50 metres.
Minimum training qualifications and experience
Advanced Nitrox or equivalent.
Appropriate technical diving certifications and experience will greatly enhance your experience at Bikini Atoll. These include:
TDI - Advanced Nitrox & Deco Procedures;
IANTD - Tech Nitrox;
NAUI - Tech Nitrox & Deco Techniques;
ANDI - Technical Nitrox; and
PADI - Tec 50.
These qualifications will address decompression procedures, dive planning, emergency procedures and appropriate equipment configurations.
For CCR divers you will need the rating on the unit that you will be diving with, plus an up-to-date log book detailing your experience in these depth areas.
You don't need to be a "Super Tech Diver" to dive at Bikini Atoll. However, good buoyancy and ascent rate skills, plus Advanced Nitrox certification, are an absolute necessity.
When you book onto the Bikini Atoll trip we will be asking for your latest instructors contact details. We will contact them and inquire about you. Please do not be offended by this. This is for EVERYONES enjoyment and safety. If the wrong people with inadequate training and experience, come on this dive expedition it will make things really uncomfortable for all when we cannot allow diving operations to take place for these people because their skills are not up to safe standards.
We do not offer training courses on Bikini Atoll trips. We advise our customers to take the various training classes that might interest you before you get to Bikini Atoll. Please call The Scuba Doctor to organise an appropriate training program.
If you doubt whether you are prepared enough for the diving at Bikini Atoll, please contact us and we will Skype or call you on the phone. We will gladly spend the time going over some ideas to assist you in your preparations. It's worth it to be prepared. That way we can all have a great time and not worry about unskilled divers and safety problems.
More highly qualified and experienced is better
The minimum qualifications may not equip you to be able to experience all that diving at Bikini Atoll has to offer. Basically, you'll get the most out of this trip if you're an Extended Range diver (max depth 50 metres), or normoxic trimix diver (max depth 65 metres). Even better if you have wreck or cave penetration certifications and experience.
Please note: The higher your skill level and the more experience you have, the more you will enjoy the diving on Bikini Atoll.
Safe diving at Bikini Atoll
Bikini Atoll is without a shadow of a doubt the best wreck diving you will do in your diving career. All the hoopla ever spoken about the sunken nuclear fleet at Bikini Atoll is all true! But you'll be a long, long way from help, so safe diving procedures are essential.
Dive frequency and times
At Bikini Atoll you'll typically be doing mostly deep, long decompression dives ranging from 30 metres (100 feet) to 55 metres (180 feet) in depth. For most, the dive program includes two dives per day (morning and afternoon), for a total of 17 dives. Each dive ranges from 60 to 120 minutes in duration. Plenty of bottom time on the magnificent wrecks in bathtub-like conditions — warm water all the time, no current, no surf and very clear.
However, the MV Windward will be typically moored over the wreck of the USS Saratoga during the surface interval between the morning and afternoon dives so you can get into the water when ever you want. Most places would say "Unlimited Diving", but in reality the majority of the diving is deep and long stuff, so realistically you will only probably manage a max of two dives a day. Remember absolute care must be taken to ensure your health and safety at all times in such a remote place.
Dive planning is up to you, so if you want to do a 3 hour runtime, then we will plan for it. Again, taking safety into consideration, conservative diving is essential!
Dive operations
Before each dive the dive masters give a full briefing about the history of the vessel being dived, its unique characteristics and a comprehensive dive plan. For the morning dive the briefing is typically at 08:00 am. For the afternoon dive it's typically at 14:00 pm.
Typically MV Windward will be moored to a buoy on the wreck when you are diving on the USS Saratoga. You'll enter the water using a giant stride from the side doors, or from the rear dive platform. You'll make your way to the buoy line at the bow and descend down to the wreck. At the end of your bottom time you'll come up the buoy line and at about 12 metres, make your way to the deco bars that will be hanging at the stern of MV Windward. When you've completed your deco and safety stop obligations you'll make your way to the stern dive ladder of MV Windward, pass up any stage cylinders, pass up your fins, and exit the water.
When diving on the other wrecks at Bikini Atoll, MV Windward will typically run live. It will pass by the marker buoy for the wreck being dived. You'll enter the water when instructed to do so via a giant stride from the side doors, or from the rear dive platform, and descend down to the wreck using the buoy line. At the end of your bottom time you'll come up the buoy line. The MV Windward's tender will be moored to the buoy line with the deco bars hanging below it. At about 12 metres, you'll make your way to the deco bars. When you've completed your deco and safety stop obligations you'll make your way to the starboard side of the tender and pass up your stage cylinders. You'll then make your way to the line at the stern of the tender. MV Windward will come in close, and when you're told to do so, you'll swim on the surface to the stern dive ladder of MV Windward, pass up your fins and exit the water.
Gas management
The Scuba Doctor recommends open circuit divers plan on having dual steel 12 litre cylinders, typically filled with 250–260 bar of air. Then a carry stage aluminium 11 litre (80 cu.ft.) cylinder typically filled with 200–220 bar of EAN50. Finally, a second stage steel 7 litre cylinder typically filled with EAN95 and hung on the deco bar.
There will be an aluminium cylinder with EAN50 hung on a line from the support vessel at 15 metres, plus a second aluminium cylinder with EAN95 hung at 6 metres. These are for use by all divers in an emergency.
Dive planning
The Scuba Doctor recommends very conservative dive planning. If you plan to simply dive your mixed gas dive computer, then we recommend a conservative setting. We also suggest that after your dive computer has cleared all deco obligations and your safety stop, you still spend an additional 10 minutes in the water at 3–6 metres.
Penetration diving at Bikini Atoll
Notes from Bikini Atoll Divers.
This is a special note for those who would want to spend a lot of time penetrating the wrecks on Bikini Atoll. As a result of being hit by two atomic weapons blasts and being beneath the sea for over 60 years, in October 2006 the towering, massive bridge structure of the USS Saratoga finally began to collapse inward toward the forward hanger elevator shaft. It now appears that the demise of the bridge area is going to be a slow, ongoing process and may take many months before the bridge is finally at rest and not a potential threat to divers. Due to this unstable condition of the USS Saratoga, penetration diving and swims through the hanger deck of the vessel may be limited.
We apologise to our new and returning guests for any inconvenience, but as always the safety of our customers is our number one priority on Bikini Atoll. The evaluation of the current situation has taken many dives and several months of careful consideration for us to arrive at this conclusion. However, the majestic, awe-inspiring and astounding beauty of the USS Saratoga can still be experienced by the dives we arrange on her if conditions don't allow for penetration diving.
When the USS Saratoga's forward hanger deck and the aft section of the hanger deck permit exploration, there is a lot of ordnance scattered on the floor. These dives are within view of light and exit at all times ("cavern") and the possibility of a "silt out" (when the silt gets disturbed by improper fin kicking and the visibility is completely lost) is very low due to the size of the hanger deck.

Video showing scuba diving inside the forward section of the
USS Saratoga (CV-3) at Bikini Atoll.
Credit: Loneshark Productions. (2:58)
The USS Saratoga offers many other possibilities for penetration, but these areas are very tight and restricted with there always being a chance of one getting lost in a maze of corridors. Proper knowledge of line protocols and techniques is required to allow you to visit some of the permanent lines that our team has installed. Laying and following a line properly is much more complicated than it seems at first. Again, there are times when the USS Saratoga cannot be explored in this fashion — even by the most experienced divers — due to the current instability of the vessel's massive bridge structure.
As part of our normal diving schedule we still penetrate the HIJMS Nagato on two different dives, and with smaller groups we occasionally explore a small portion of the USS Arkansas.
If you really want to learn a lot about diving and improve your diving skills, we recommend that you get cave certified, even if you will never dive caves in your life. Most of the skills learned in the cave course can be applied to general diving and especially penetration wreck diving. Of course, a wreck is different than a cave and as such offers its own set of risks (like falling structures and the possibility of entanglement).
We reserve the right to strictly limit and control who does what penetration dives and when at Bikini Atoll. Some penetration dives are best done with a maximum of two or three divers in the team. But ships like the USS Saratoga have many penetration options, thus we can allocate different teams to different penetration dives quite easily.
The USS Saratoga is a unique vessel when it comes to penetration diving. There is no other vessel anywhere in the world where you can prepare yourself for a penetration dive on this great ship. The Full Cave Diver courses offered by numerous training agencies will prepare you with the skills and disciplines needed to safely carry out penetration dives within the USS Saratoga.
Everyone who visits Bikini Atoll goes through a check-out dive on the first dive day regardless of the level of your certification. It is important that you show us underwater that your skills match your credentials so as to enable us to do everything we can to accommodate your needs. Our mission is always to give you the best experience possible based on your skill level.
Be aware that accidents do occur even if a diver has done nothing wrong on the dive. In case of an accident there is a recompression chamber available on the MV Windward.
Risk/Diving isolated areas
We don't want to scare you off, but with dive expeditions like this it is extremely important to really understand the magnitude of such a trip. This is not for everyone and with the sheer isolation of where we are, you really need to make an informed decision on whether you want to come or not.
The biggest thing is to understand that we will be onboard a 24 metre vessel for 14 or so days out at sea. We will be 25–30 hours away from the nearest help which is a USA missile testing base, so they aren't thrilled that we are going through there in the slightest. There is an airfield in Bikini Atoll where turbo propped planes can land. This will be the only immediate access we have to the outside world if it all turns to custard! However, operational availability of the airstrip can't be guaranteed.
Medical considerations
Diabetics Please Note: Because of the repetitive decompression diving we do at Bikini Atoll, we do not recommend that diabetics dive Bikini Atoll unless there has been careful consideration and clearance by a physician. If you are a diabetic and have been cleared by a doctor for diving on Bikini Atoll, you should have a full understanding of the consequences and dietary needs of doing this kind of diving.
Tour notes:
Conditions Apply — prices are based on 2012 prices and subject to change due to price increases and USD currency fluctuation.
Credit Card Payments:
Should you choose to pay via Visa Card or Mastercard a surcharge fee of 1% will be applied to price of your holiday.
Should you choose to pay via Amex or Diners card a surcharge fee of 3% will be applied to the price of your holiday.
Please check your passport for a minimum of 6 months validity from day of departure. And that you have secured your ESTA visa for USA.
Dive insurance
ALL divers who dive with us at Bikini Atoll MUST have DAN dive injury Master or Preferred plan insurance or they will not be able to dive with us. No exceptions will be made.
We generally look for three main characteristics in a dive insurance plan:
Ability to evacuate an injured diver anywhere in the world.
Ability to pay for medical treatment of an evacuated diver anywhere in the world.
Ability for the diver to dive below 40 metres (130 feet) anywhere in the world and still be covered by the insurance plan.
Thus The Scuba Doctor strongly recommends, and will only accept, DAN Preferred Plan (maximum depth of 50 metres) or Master Plan (maximum depth up to 100 metres) dive insurance. The DAN Standard Plan which covers DCI only is not acceptable.
Please note: DAN dive insurance is conditional on you having appropriate certification for the dive, and that you are using appropriate breathing gas mixes and equipment during the dive or repetitive dive series.
We also recommend you have appropriate medical evacuation insurance, plus travel insurance.
Booking requirements
To secure your place on this amazing wreck diving expedition a non-refundable deposit of $2000 per person is required.
For bookings or more information, please contact The Scuba Doctor.
Please view/download:
2014 Trip 1:
Bikini Atoll 2014 trip 1 leaflet (Adobe PDF | 244.71 KB)
Bikini Atoll 2014 trip 1 Dive Adventures booking form (Adobe PDF | 286.65 KB)
2014 Trip 2:
Bikini Atoll 2014 trip 2 leaflet (Adobe PDF | 244.9 KB)
Bikini Atoll 2014 trip 2 Dive Adventures booking form (Adobe PDF | 286.82 KB)
See also:
Articles from previous scuba diving trips by The Scuba Doctor to Bikini Atoll:
Diving the Nuclear Ghost Fleet at Bikini Atoll - 2013
From Hermes To Saratoga - 2010
USS Saratoga (CV 3) - 2007
Bikini Atoll 2005 - 2005
I don't know the meaning of fear because I'm not very bright.
— Old diver's proverb