Oxygen Delivery
Emergency oxygen gas delivery systems including masks, hoses and regulators from The Scuba Doctor dive shop.
Category Path: SCUBA / WATERSPORTS > Cylinders / Tanks > Cylinder Accessories / Parts
The Alpha Oxygen Pin Index Post to F Din Adaptor lets you connect an Oxygen PIN Index Regulator to a common 200 bar DIN cylinder valve. Emergency...
Category Path: SAFETY / RESCUE > Rescue / Safety / Signal > Oxygen Delivery
The Hudson Non-Rebreather Adult Oxygen Therapy Mask with Reservoir Bag features an elongated oxygen mask moulded of soft transparent PVC plastic. ...

Max: 5
Monthly Specials For August

Shearwater Research Perdix 2 TI Dive Computer
$1,649.00
$1,484.10

Save: (10%)
Information
Payment
Safe & easy online payment
100% Australian Owned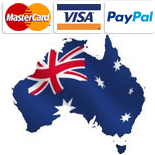 Trusted online retailer since 2006!