Suits / Wetsuits
Scuba wetsuits transform us from lumbering, hairy terrestrial mammals, into graceful, sleek underwater creatures. More importantly, they keep you warm.
A wetsuit keeps you warm by trapping a layer of water against your body which heats the water and acts as an insulator. Hence the name 'wet suit'. Not the most original but it gets the point across.
So how do you choose the right wetsuit for your scuba diving needs?
As with all diving equipment you have to start by figuring out what kind of diving you'll be doing.
If you dive in mostly tropical locations you'll need something different than if you dive in mostly cold water.
This guide shows you how to review scuba wetsuits and select the right one for your diving needs.
Types of Scuba Diving Wetsuits
Scuba wetsuits come in all kinds of styles and configurations.
Rash guards
Shortys
Steamers
Semidry
And more...
Each type is more, or less, appropriate for different types of scuba diving.
Thicknesses of Scuba Diving Wetsuits
Whether you are diving in the tropical waters of the Pacific, or temperate water diving in Southern Australia, your wetsuit is what will keep you warm and protected. The thickness of the neoprene is what makes a wetsuit suitable for either warm or cold water.
A 1 mm rash guard isn't going to cut it in Southern Australia, while a 7 mm full body semidry suit is over kill in the tropics.
Fitting Scuba Diving Wetsuits
We'd like to say that finding a wetsuit that fits is as easy as picking small, medium, or large and you're done. Unfortunately it's not that easy, especially for women.
If a wetsuit is too tight it will be uncomfortable, restrict your movement, and maybe even make it hard to breathe.
If it's too loose it will let water flow too freely and you'll get cold faster, making your dive uncomfortable or worse, leaving you with hypothermia.
Maintenance and Care
Taking good care of a wetsuit will ensure it has a long life, and if you learn a few basic repairs you can save both time and money.
Putting it All Together
Before you buy a wetsuit you have some thinking to do. Not about how good you look in the mirror with this skin tight suit on pulling everything into place, but about what kind of diving you will be doing.
If you dive mostly on vacation in warm tropical waters on shallow coral reefs, you might only need a rash guard, shorty or 3 mm steamer.
If most of your diving is cold water, you will want something thicker.
Be honest with yourself and make a list of what you need in a wetsuit
Start reading reviews and manufacturers specifications on scuba wetsuits.
Do your homework and you'll have a piece of gear that you'll enjoy and be able to dive with for years.

Wetsuits

Wetsuit Undergarments

Wetsuit Accessories / Care
Monthly Specials For August

Garmin Descent G1 Solar Watch Dive Computer
$999.00
$896.00

Save: (10%)
Information
Payment
Safe & easy online payment
100% Australian Owned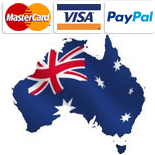 Trusted online retailer since 2006!