Special Purchase, Stock Clearance, Close-out, and Discontinued Merchandise Bargains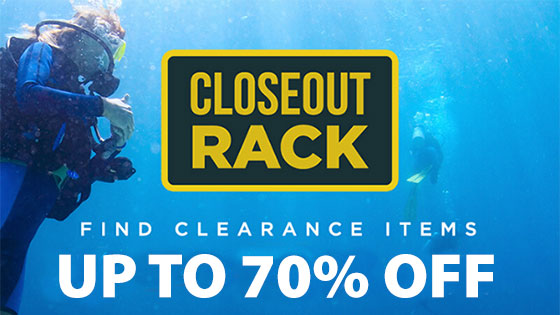 Closeout Rack - Find Clearance Items Up to 70% Off!
Save big with discount scuba gear. Our high-quality gear is inexpensive simply because of business reasons like newer versions having been released. This is your chance to enjoy top brands at low super bargain prices.
This is where you'll find our stock clearance items and special offers on scuba diving, freediving, spearfishing and snorkelling gear at huge discount prices to clear. End of line or just discontinued products can be found here ready for you to snap up a bargain. The reduced prices reflect how keen we are to clear this stock, so check back often if you want a great bargain.
The Rules and Not So Fine Print: The items listed on this page change frequently and represent special purchase, close-out, discontinued and clearance inventory.
Unless otherwise stated, all items are new or unused with full manufacturers warranty. Any item that is used, damaged or has significant cosmetic flaws will be clearly identified as such. Some of these Bargain and Clearance promotions are one-offs and unfortunately cannot be returned or exchanged. We may not be able to offer an exchange on clearance items due to a limited supply of stock.
This page is up-to-date, but all items are subject to prior sale and may sell out overnight. No back-orders on these items, so don't plan on anything until we e-mail you the notice that we have accepted your order and that it will ship. In some circumstances your order may take several days before it ships. We reserve the right to limit quantities.