Dive Perfect Stubby LED-1000 Dive Light - 1000LM

[DP-TL3209]
$195.00

Excellent torch for my needs, which is basically recreational night and low visibility diving. It's affordable, bright, robust and easy to handle. You do need both hands to turn on and off but that's probably the trade-off for robustness.
Date Added: 21/08/2016 by Rob Paule
Brand Info
Information
Payment
Safe & easy online payment
100% Australian Owned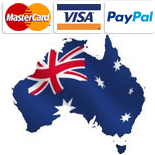 Trusted online retailer since 2006!