Dive Perfect Stubby LED-1000 Dive Light - 1000LM

[DP-TL3209]
$195.00

The Stubby dive light is excellent! It's compact size makes it not only an amazing backup light but also a great primary dive light. It's really handy for a day time cray diving light when you want to sneak a peak and see what interesting things are hiding in small crevices. Much easier than the big diving torches.
Date Added: 16/02/2017 by David Callan
Brand Info
Information
Payment
Safe & easy online payment
100% Australian Owned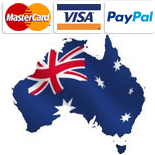 Trusted online retailer since 2006!