Dive Perfect 2nd Stage Regulator / Octopus

[DP-REG-2ND 120/60]
$299.00
$295.00

Save: (1%)

I bought this product recently and very happy with the way it breathes. It has a pre-dive switch and breathing inhalation adjustment knob which you don't usually get on anything near this price. Dived with it in 11 degree C water in early July and used it as my primary regulator. I was surprised how flexible the hose is even under pressure which helps with hose routing. I will shortly buy another one to replace my occy.
Date Added: 05/07/2016 by Randal Hughes
Brand Info
Information
Payment
Safe & easy online payment
100% Australian Owned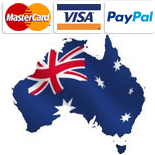 Trusted online retailer since 2006!