IST Proline Gauge Reader Mask - Bifocal +1.75

[IST-MP207]
$130.00

Bought this as a backup mask, found it nicer to wear than the other much more expensive masks that I have. I have a moustache and find this leaks much less than any other mask I have tried.
Date Added: 08/07/2021 by William T.

Shearwater Research Perdix 2 TI Dive Computer
$1,649.00
$1,484.10

Save: (10%)
Brand Info
Information
Payment
Safe & easy online payment
100% Australian Owned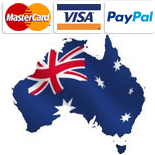 Trusted online retailer since 2006!