Kerford Road Pier
Pier Dive | Shore access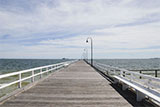 Kerford Road Pier | © Film Victoria
Depth: 2 metres (6.6 feet) to 5 metres (16 feet)
Level: Open Water and beyond.
The historic Kerford Road Pier juts from the foreshore at Albert Park.
Constructed in 1889, the pier is of historical and architectural significance to the Albert Park area. Hailed as a rare example of a pier built predominantly for recreational purposes, the pier is also one of the few substantially intact 19th-century piers in Port Phillip.
Latitude: 37° 50.985′ S (37.849746° S / 37° 50′ 59.09″ S)
Longitude: 144° 57.045′ E (144.950752° E / 144° 57′ 2.71″ E)
Datum: WGS84 | Google Map
Added: 2012-07-22 01:00:00 GMT, Last updated: 2019-05-30 00:04:28 GMT
Source: Google Earth
Nearest Neighbour: St Kilda Pier, 2,276 m, bearing 136°, SE
Depth: 2 to 5 m.

---
---
DISCLAIMER: No claim is made by The Scuba Doctor as to the accuracy of the dive site coordinates listed here. Should anyone decide to use these GPS marks to locate and dive on a site, they do so entirely at their own risk. Always verify against other sources.
The marks come from numerous sources including commercial operators, independent dive clubs, reference works, and active divers. Some are known to be accurate, while others may not be. Some GPS marks may even have come from maps using the AGD66 datum, and thus may need be converted to the WGS84 datum. To distinguish between the possible accuracy of the dive site marks, we've tried to give each mark a source of GPS, Google Earth, or unknown.