The Scuba Doctor Dive Shop
COVID-19 Notice: For the safety of our staff and customers during the Coronavirus COVID-19 pandemic, we've had to make changes to our In-Store Opening Hours, plus impose Coronavirus COVID-19 Restrictions. However, The Scuba Doctor Online Dive Shop is still open 24 hours per day, 7 days per week.
---
The Scuba Doctor is Australia's local dive shop. We're a specialised dive shop handling the needs of recreational, technical, commercial, military and rescue scuba divers, plus snorkellers, freedivers, spearos and other water sports enthusiasts Australia wide. We're located at Rye on the beautiful Mornington Peninsula south of Melbourne in Victoria, Australia. If you're diving in Melbourne from Portsea, Sorrento, Blairgowrie, Rye, Rosebud, the back beaches, or Flinders, please drop in for cheap air fills, or just a friendly catch-up.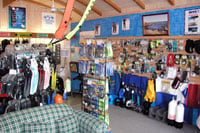 The Scuba Doctor dive shop in MelbourneOur bricks and mortar dive shop is located in Rye, south of Melbourne. In-store we have more products to select from than any other dive shop in Victoria. There's great diving and snorkelling equipment for all of the family, including our special Kids' Corner.
Visit The Scuba Doctor Online Dive Shop — Australia's Largest
In our online dive shop we have an even more comprehensive product range, featuring quality brands, including: Apeks, Apollo, Aqualung, Backscatter, Catalina Cylinders, Cressi, Dive Perfect, Dolphin Tech, Faber Cylinders, Fourth Element, Garmin, Isotta, IST Sports, Light & Motion, Mares, Miflex Hoses, Nautilus LifeLine, Northern Diver, Probe Wetsuits, Seiko, Shearwater Research, Suunto, Tusa, and many more.
Everyday Low Prices: We have the widest range of scuba diving, snorkelling, freediving, spearfishing and watersports equipment at low prices every day. Whether you're looking for your first snorkelling mask, or a full set of scuba diving gear, we have equipment packages that will meet your requirements and budget.
Great Advice: If you need any dive equipment advice, we have the seasoned recreational and technical divers, plus the best service and repair professionals, on hand to provide it. The Scuba Doctor test dives what we sell and we hand select the manufacturers that we deal with so that you only get the very best scuba diving equipment. We sell and rent/hire dive gear at very competitive prices.
Buy Online, or come by and see us in-store at Rye, Melbourne, Victoria. You can also call us on 03 5985 1700 for a chat, or e-mail us on diveshop@scubadoctor.com.au. We're here to help. More about: Online Dive Shop - Carefully chosen products at great prices

Weedy Seadragons at
Flinders Pier on a Guided DiveHave one of our professional guides take you out for a Guided Dive to explore a local dive site. Even on a shallow pier dive you can see the Nudibranchs at Blairgowrie Pier, the Seahorses and Octopus Garden at Rye Pier, or the Weedy Seadragons at Flinders Pier. Have a fun, relaxed dive with The Scuba Doctor. More about: Melbourne Guided Dives - Let The Scuba Doctor take you diving in Melbourne...
Want to go diving in Melbourne, but need to hire some dive gear? The Scuba Doctor has a large range of scuba diving rental equipment available, from complete setups, to cylinders/tanks, wetsuits and weights. All of our scuba hire equipment is great quality diving gear and it's available for rental by the day, two days, or week. More about: Scuba Equipment Rental - Scuba diving gear hire in Melbourne from The Scuba Doctor.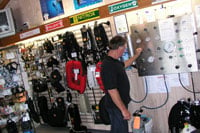 The air, nitrox, trimix fill panel at
The Scuba Doctor in Rye, MelbourneWe provide clean Air, Nitrox and Trimix fills at the cheapest prices in Melbourne and quite possibly Australia! You can use our Nitrox and Trimix calculators to work out the price for your required fills.
At The Scuba Doctor in Rye you get to park really close to the dive shop entrance. Plus, we have a trolley you can borrow to make getting your dive tanks in and out of the dive shop much easier. Boat owners can easily drive in and park their tow vehicle with boat trailer, wash down their boat while waiting for air fills, and drive out when done. More about: Air, Nitrox and Trimix Fills - Clean filtered Air fills in Melbourne to 300 bar, plus Nitrox, Trimix and Oxygen
New, Modern, Expanded Service Centre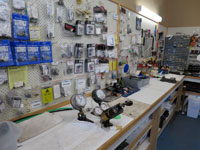 Scuba Doctor Service and Repairs
WorkshopScuba Doctor Service and Repairs has relocated into new, larger premises on the corner of Melbourne Rd and Peninsula Ave in Rye, next door to the dive shop. You can call the Service Centre on 03 5985 5440 for a chat, or e-mail us on scubadoc@scubadoctor.com.au. For full contact details, please see Contact Us.
Scuba Doctor Service and Repairs carries out annual Cylinder Testing and Regulator Overhauls. We Service and Repair all of the scuba equipment and dive gear we sell, plus many other brands. Everything required to keep you safe underwater. More about: Service & Repairs - 30+ years experience in scuba gear service and repairs
Sometimes you just have to get out of Melbourne. The Scuba Doctor offers dive vacations all over the world. Join us as we travel on one of our carefully selected interstate or international dive holidays. If you're looking for the challenge and rewards of the ultimate wreck diving experience, join us on a liveaboard dive expedition to Bikini Atoll. More about: Dive Trips - Make your next holiday a great diving experience
We have and recommend only the best scuba diving instructors, for both recreational and technical divers. The Scuba Doctor recommends diving instructors who provide recreational, technical and instructor courses. Everything from beginner Open Water to Advanced Technical Tri-mix diver.
Advanced Divers... You've been hearing and reading about nitrox, trimix, DIR and rebreathers. Let the instructors recommended by The Scuba Doctor introduce you to the ever growing realm of "tech diving". We also stock all the latest and greatest in technical dive gear, plus we possess the knowledge and the expertise to be sure that the gear is right for you. More about: Dive Courses - Bespoke Open Water through to Advanced Technical Trimix Courses
The Scuba Doctor is always looking for ways to make scuba diving a more rewarding experience. We share what we find via the Dive Resources section of this web site. There's information about Melbourne Dive Sites, Diving Articles and More about: Dive Resources - Dive Sites, Articles, Downloads, Links and more
Melbourne Dive Clubs
The Scuba Doctor is a proud supporter of a number of independent dive clubs and diving related research and non-profit organisations. The Bass Strait Aquatic Club, GetUnder Dive Club, and Victorian Sub-Aqua Group (VSAG) all make regular use of our facilities.
Dive Shop Newsletters
Read the latest Scuba Doctor Scuba Doctor Newsletters and media releases.
---
We acknowledge the Boon Wurrung / Bunurong people(PDF, 2MB) as the traditional custodians of these lands and waters, and pay our respects to their Elders past, present and emerging.