Bulk Buy Trimix Fills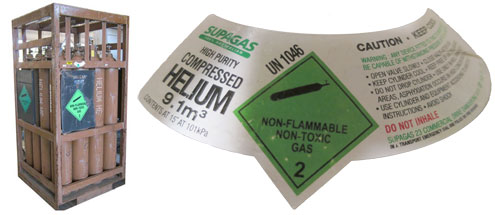 At The Scuba Doctor we have just made trimix fills cheaper with another innovative idea for regular trimix divers — bulk buy Helium.
How It Works
The Scuba Doctor buys 1 x "G" size (50 litre water capacity) cylinder, which is supposed to come holding 9,100 litres of High Purity Helium (i.e. a purity grade of 99.99%) at 182 bar pressure. Our cost price for this is currently $442 inc GST*. You pay this price of $442, i.e. 4.86 cents per litre.
12 months rental for the Helium cylinder is also charged at our current cost: $35 inc GST per month = $420 per year*. This fee is only payable once per annum, up front, regardless of the number of full Helium cylinders purchased through the year. The Helium cylinder is stored at The Scuba Doctor for free.
When you get a Trimix fill, we deduct the Helium used from your "virtual Helium cylinder", which you've already paid for at the much lower bulk price. You only pay our standard prices for the Air and Oxygen components of a Trimix fill, along with the $10 blending fee.
If you're using plenty of Helium for Trimix fills each year, this bulk buy scheme works out to be a significant saving on normal dive shop prices for Helium.
Also avoided are the costs of decanting whips, cylinder storage and compressors at home.
Our qualified gas blenders can do Trimix fills on a "while you wait" basis. However, in busy times and for best fill accuracy we prefer you to leave cylinders for Trimix fills overnight with us.
* Prices accurate as of 23 March 2015.
The above prices are subject to change without notice.