Suits / Drysuits
With a little practice, dry suits can provide unparalleled warmth and comfort during a dive, as well as leaving you nice and dry between and after dives.
The purpose of a drysuit is to ensure the wearer is kept dry and to provide thermal insulation or passive thermal protection to the wearer while immersed in water. Although these suits are predominantly worn by divers, other users such as boaters, water sports enthusiasts, and others who work or play in or near cold water also benefit from these suits. A dry suit normally protects the whole body except the head, hands, and possibly the feet, this is were the need for hoods, gloves and boots are greatly increased. In some configurations, however, all of these are covered as well.
The main part of the drysuit is a waterproof shell made from a membrane type material, neoprene or a commercial foam rubber.
Types of Dry Suits
Scuba drysuits are made from a few different materials.
Neoprene
Tri-Laminate
Vulcanized Rubber
And more...
Each type of suit comes with its own unique set of pluses and minuses.
Drysuit Features
A dry suits features are what turns it from a big person shaped water bag, into something that can keep you warm and dry in even the coldest water.
Multiple valves, zippers and seals all come together to form what looks to be a deceptively simple suit, but is actually a sophisticated piece of environmental survival equipment.
Fitting Drysuits
Because they are worn baggier than a wetsuit and an exact fit isn't necessary, fitting a dry suit is very easy.
But be aware: different brands can vary in their sizing.
The best thing to do is try on the suit while wearing whatever thermal under garment you plan to wear while diving.
Try squatting down to see if you can do so comfortably. Reach your hands over your head, hug yourself, bend twist and generally move around. If you feel like you have a good range of motion in all angles and directions without the suit being too baggy or tight, then the suit fits.
Make sure the boots fit, as this will be your biggest source of discomfort if not sized properly.
If you can't find something off the rack, then you'll have to get measurements done and order a custom suit.
Putting it All Together
There is no way around it, buying a drysuit is probably the most expensive piece of equipment the 'average' diver will buy. That's IF you can call anyone who is looking for a way to dive in freezing cold water and/or weather 'average'.
If you take a look at each of the above sections you'll have a good head start on picking out a great suit.
If you're lucky and have some dive buddies that own drysuits and are willing to let you try theirs, or a knowledgeable local dive shop like The SCUBA Doctor, them you'll be a lot further ahead.
Take the time to do your homework and you'll find the right suit that hopefully won't empty your bank account.

Drysuits - Neoprene

Drysuits - Trilaminate / Shell


Drysuits - Surface

Drysuit Undergarments

Drysuit Seals

Drysuit Accessories
Monthly Specials For August
Information
Payment
Safe & easy online payment
100% Australian Owned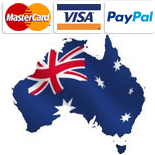 Trusted online retailer since 2006!