Opening Hours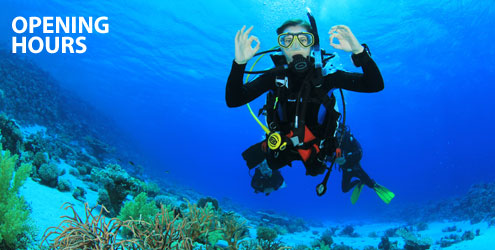 The Scuba Doctor Online Dive Shop is open 24 hours per day, 7 days per week.
The Scuba Doctor Dive Shop New COVID-19 Hours
We are processing online orders, answering email and phone calls and allowing customers into the dive shop from 9 a.m. till 5 p.m. on every day except Tuesday.
Last updated: 30-Oct-21
---
The usual opening hours for the Dive Shop in Rye are:
9 a.m. till 5 p.m. (or later) on Saturday, Sunday & Public Holidays
(except Christmas Day)
9 a.m. till 5.00 p.m. on Monday, Wednesday, Thursday and Friday
Closed Tuesday
ONLY THREE customers allowed in the dive shop at any one time
Please note: For most of the year the dive shop is usually Closed on Tuesdays. In December and January it's usually open on Tuesdays.
Please note: The Scuba Doctor Australia dive shop may close early on weekends and public holidays if adverse weather conditions exist.
The normal trading hours at our physical bricks and mortar location, The Scuba Doctor Dive Shop, in Rye south of Melbourne, go out of the window during the peak summer holiday season.
Right now at the dive shop it's: Tuesday, 7th December 2021 4:39 am
Of course, you can always call on 03 5985 1700 to check if the dive shop is still open.
Please see Coronavirus COVID-19 Restrictions for more details.