Bridgewater Bay

Shore Dive | Shore access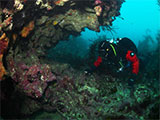 Bridgewater Bay | © Phil Watson
Depth: 4 metres (13 feet) to 8 metres (26 feet)
Level: Advanced Open Water and beyond
From the carpark at the end of St John's Wood Road, Blairgowrie, on the Mornington Peninsula, you take the track east where a steep staircase descends from the cliffs to the beach at Bridgewater Bay. At the eastern end of Bridgewater Bay is 'The Bridge'. At the western end is Graham's Reef which leads you further west around Koreen Point and to Fowler's Beach.
See WillyWeather as a guide for the tide times and the height of the tide.
See also, Parks Victoria: Bridgewater Bay.
Always keep an eye on sea conditions throughout any dive on the Back Beaches of the Mornington Peninsula. Please read the warnings on the web page Diving the Back Beaches before diving or snorkelling this site.
Latitude: 38° 22.446′ S (38.374098° S / 38° 22′ 26.75″ S)
Longitude: 144° 46.014′ E (144.766899° E / 144° 46′ 0.84″ E)
Datum: WGS84 | Google Map
Added: 2012-07-22 01:00:00 GMT, Last updated: 2019-06-02 07:07:20 GMT
Source: Google Earth
Nearest Neighbour: Pearses Beach, 919 m, bearing 139°, SE
Depth: 4 to 8 m.

---
---
DISCLAIMER: No claim is made by The Scuba Doctor as to the accuracy of the dive site coordinates listed here. Should anyone decide to use these GPS marks to locate and dive on a site, they do so entirely at their own risk. Always verify against other sources.
The marks come from numerous sources including commercial operators, independent dive clubs, reference works, and active divers. Some are known to be accurate, while others may not be. Some GPS marks may even have come from maps using the AGD66 datum, and thus may need be converted to the WGS84 datum. To distinguish between the possible accuracy of the dive site marks, we've tried to give each mark a source of GPS, Google Earth, or unknown.
Clear skin and good teeth are fleeting but diving is forever.
— Old diver's proverb