Meet The Team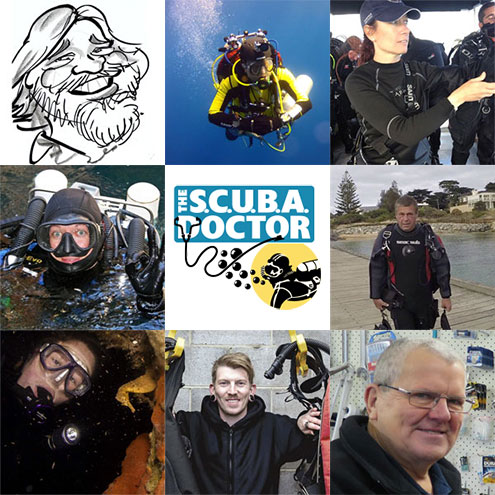 The Scuba Doctor staff on the front line and behind the scenes, are all working hard to ensure your experience with us is the best it can be. Our success is built upon the dedicated work, enthusiastic joy and warped humour of our wonderful team who go out of their way to delight customers everyday. We value our customers and want to ensure they have everything they need for the dive of their lives. Got a question? Not sure on something? Get in touch and let us help you.
These fine folks are who lovingly help make The Scuba Doctor the go-to local dive shop for all Australians.
Lloyd Borrett
Owner, The Scuba Doctor Australia
TDI Advanced Nitrox & Deco Procedures Diver

Lloyd Borrett, Owner,
The Scuba Doctor AustraliaLloyd spent more than 35 years in the Australian Information and Computer Technology (ICT) sector. He started his IT career with BHP Corporate Data Processing in Melbourne during the mid-1970s as a technical programmer. He initially worked on BHP's mine planning system and later was one of the team of three who created BHP's first oil and gas seismic exploration system, which was also sold to Woodside and other energy exploration companies. As Senior Systems Programmer at BHP, Lloyd was responsible for IBM and Control Data mainframes, plus Data General minicomputers, at locations all over Australia. In the 1980s he co-ordinated the introduction of Personal Computers into BHP.
During the 1980s Lloyd started Australia's first column on IBM PCs for Your Computer magazine, and later wrote for Today's Computers, PC Magazine and BRW. In 1984 Lloyd founded the Melbourne PC User Group, which today is still the largest such user group in the world www.melbpc.org.au. He also edited and published PC Update magazine.
From the mid-1980s, Lloyd was a regular or guest on numerous radio shows. In the early-1990s he joined with three others to produce a pilot for what could have become Australia's first technology lifestyle show on TV.
From 1996 to 2000, as General Manager, Lloyd was instrumental in taking a 6 person, $600K per year software services business and profitably growing it into a 130 person, $20m per year business. He then moved and in just three years from March 2000 as a key member of a small management team, took a private, 60 person, $12m per year software services business to a public, 300 person, $46m per year business. Lloyd understands business growth challenges.
In the 1980s, Lloyd was a pioneer of online communities and shopping in Australia via a multi-user, dial-up Bulletin Board System, PC Connection Australia. He's been an Internet user since the mid-1980s. Since the mid-1990s he has helped many businesses effectively leverage the world wide web to sell and deliver goods and services. He helped a local shop become Australia's largest online store in its category, selling goods across Australia and overseas. Lloyd had direct responsibility for growing online sales from $2m to more than $15m per year for one software company. His personal web site has received more than 500K hits per day. Lloyd knows how to effectively leverage the Internet.
Lloyd was drawn to the ocean early in his life. First swimming and snorkelling at the Whyalla beach as a child, and then sailing with his father and cousin as a teenager. He then took up gliding, soaring over the wheat fields and mallee country of South Australia and Victoria. Strangely enough, this then led to horse riding and living on a 95 acre bush block.
In early 2006, Lloyd learnt to scuba dive in Melbourne. Later that year he joined the Victorian Sub Aqua Group (VSAG), the world's second oldest scuba diving club. He soon joined VSAG's committee, built a website for the group, later took over as editor of Fathoms magazine, plus in 2016 co-authored and published VSAG's 60th Anniversary book.
Also in 2006, Lloyd joined in the efforts of the Victorian Artificial Reef Society (VARS) to obtain and sink the HMAS Canberra warship in Melbourne. He built the VARS and ex HMAS Canberra websites, helped with VARS marketing and communications, and later joined the VARS committee.

Lloyd Borrett
at Bikini AtollIn August 2010, Lloyd qualified as a TDI Advanced Nitrox Diver and Decompression Procedures Diver to dive on the wreck of the HMS Hermes aircraft carrier in Sri Lanka. In 2012 and again in 2013 he dived on the USS Saratoga aircraft carrier at Bikini Atoll. That leaves only the USS Oriskany aircraft carrier in Florida, USA to complete the three diveable aircraft carrier set!
Lloyd has also dived on the SS President Coolidge shipwreck at Espiritu Santo, Vanuatu, plus on the many wrecks in the ghost fleet at Chuuk Lagoon, Micronesia. Lloyd's recreational diving trips have taken him to dive on the Great Barrier Reef, to various dive locations in Bali, plus Apo Island in the Philippines, and Darwin Island and Wolf Island in the Galapagos Islands, Ecuador.
Lloyd has written many Dive Articles over the years. One 'hobby' since 2006 has been compiling as a comprehensive resource the details of Melbourne Diving and Snorkelling sites, currently found on The Scuba Doctor website. He is a firm believer that the widest range of the best scuba diving in the world is right here in Victoria. But don't ask him about critters, because he cranks on wrecks!
Looking for a sea change from the IT industry, in August 2013 Lloyd took over as the owner of The Scuba Doctor dive shop and Deep Blue Imports Australia, which had been operating successfully since 2002. He has greatly grown the business, especially the online presence, with it now being seen by many as Australia's local dive shop.
Lloyd Borrett lives on the Mornington Peninsula, Victoria and, when he's not working, he goes scuba diving, listens to his eclectic music collection, watches a wide range of movies and documentaries, reads a vast array of books and magazines, and spends time with family and friends.
Lloyd's only regret is not to have taken up scuba diving earlier in life, so don't put off learning to dive.

Hon Bruce Billson, Director of Small Business and Enterprise at Deakin University, interviews Lloyd Borrett, Owner of The Scuba Doctor dive shop about combining a bricks and mortar retail shop with an online shop. From the Future Learn series at Deakin University in 2018.
Hannah Smeeton
PADI IDC Staff Instructor
PADI Gas Blender Instructor
TDI Advanced Nitrox & Deco Procedures Instructor

Hannah Smeeton,
The Scuba Doctor AustraliaOriginally training to be a teacher through a double degree in Education/Arts and then obtaining a Diploma in Frontline Management, Hannah Smeeton took a change in her career path when she caught the diving bug in the 1990s.
Hannah started her professional diving career in the cold waters of the U.K. where her first foray into the business side of diving was the establishment of an independent dive club in 1999. Returning to Australia she established and ran a successful Victorian dive store.
While still developing her skills as a diver, Hannah took a professional hiatus from working in the dive industry to pursue a career in Project Management with Melbourne University. This also funded her obsession with diving around the globe, having now dived extensively in Oceania and all but one of the continents. Hannah continued to expand her knowledge of the underwater environment by pursuing numerous courses in Marine Archaeology, Marine Biology and underwater photography.
Hannah returned professionally to the Victorian Diving Industry a number of years ago — simultaneously working full time with a charter company, dive shops and dive wholesalers.

Hannah Smeeton,
Rebreather DiverHannah holds rankings as PADI IDC Staff Instructor, Gas Blender Instructor and SDI/TDI Adv Nitrox & Deco Procedures Instructor. She has earned numerous technical and CCR certifications within the CDDA, NAS, SSI, IANTD and TDI. In 2003 Hannah beat the Guinness World Record for the Longest Submergence on a Single 12.0 lt, 232 bar cylinder of air (7 hr 25 min 8.5 sec).
With over 4000 dives and 500 student certifications under her belt, Hannah has turned her attention to managing a network of dive subsidiaries dealing with importing and exporting, retail and web-based sales.
Currently living on the Mornington Peninsula and residing two minutes from work and ten minutes from the hub of the Victorian diving, she continues to surround and immerse all facets of her life with diving. Holding office in a number of independent dive clubs and consulting for several dive related businesses, Hannah, in her spare time, speaks to various groups nationally on issues such as Women's Health in Diving.
Geoff Rodda
PADI Open Water Instructor
PADI Specialty Instructor
TDI Gas Blender
AMSA Master <24 NC (Master 5)

Geoff Rodda,
The Scuba Doctor AustraliaAs a young boy in the 1960s my favourite television show was Sea Hunt (the original with Lloyd Bridges, not the weak remake with Ron Ely). My mum even made me a set of twin cylinders out of cardboard boxes and string and I used to run around the backyard battling sea monsters and the bad guys in the black wetsuits. This was out of character for me as I could not swim and was very much afraid of putting my head underwater. But I persevered and would practice putting my head in the bath whilst wearing my sister's cheap plastic face mask until I developed some confidence.
Jumping forward to my early teens where a couple of mates and myself decided that spearfishing was the way to go. We read and re-read Ben Cropp's Australian Skindivers Handbook and kitted ourselves out with Nemrod Bali masks and Voit Slazenger fins. Armed with handspears we braved the waters of Port Phillip and I bagged my first fish on my first attempt — I was hooked! We then frequently rode our push bikes from Oakleigh to Table Rock Point for a day of spearfishing or caught the train and bus to Mornington and Mt Martha to test the waters there.
As luck would have it the High School I attended was just down the road from a Dive Shop and we quite often spent our school lunch breaks there. Eventually, at the age of 15, we all signed up for a Scuba Diving Course with them. For the princely sum of $50.00 (it could have been less, my memory fails me here) we were immersed in the ways of FAUI. In those days a dive course took many months to complete as it incorporated many pool and theory sessions, as well as a plethora of open water dives, including a night dive and diver rescue practice. And this was diving with a true single hose regulator — no octopus, no BCD, no contents gauge, in fact no gauges or timers of any sort! If you ran low on air you simply pulled the handle on the J valve and breathed the reserve.
Armed with our new knowledge and certification we now rode our push bikes to dive sites with a scuba cylinder strapped to our backs (try doing that nowadays). A favourite dive was the HMVS Cerberus at Black Rock.
We still spearfished (not on SCUBA as we considered that this put the fish at a great disadvantage) and some of us joined a club that catered for both spearos and bubble blowers. I entered a few Victorian Underwater Federation spearfishing competitions and even attended the Australian Championships held at Triabunna, Tasmania in the summer of 1978. But it was SCUBA diving that interested me most and the great thing about the club we were in was that there was always someone with a drivers licence and a car to take us to some out of the way dive sites. I have fond memories of trips to Mount Gambier and spending a summer at Green Cape, Eden (on the New South Wales south coast) both spearing and SCUBA diving.
With the help of my parents I bought my first underwater camera (a Nikonos 3) at the age of 16 and gradually added accessories to it. By the end of my Nikonos stage I had 3 camera bodies (a III, IV and V), 2 strobes, 4 lenses from 17 mm to 80 mm, and a host of macro tubes.
As I got older, and had more money, I started to travel to international dive destinations. First Fiji, where the clear water of the Coral Coast blew my mind, and then to Micronesia. I have since been to Bali, The Philippines, Mexico, The Maldives and Hawaii. I have been to most of these places several times because once is just not enough!
My first trip to Chuuk (Truk) Lagoon was in 1991 and this is when I decided to become a divemaster/instructor, eventually gaining many specialty instructor certifications — deep, wreck, navigation, search and recovery, night, underwater photography, nitrox etc. I was then working for the Mornington Peninsula and District Water Board (now defunct) in Civil Engineering design and due to the State Government's push for privatisation of these authorities I was offered the choice of a redundancy payout. I grabbed the money and ran and bought into a dive shop at Mornington which I then operated for the next 10 years.
This particular establishment operated a charter vessel out of Flinders (operating between Phillip Island to the east and Cape Schanck to the west) and this is where I found a love for skippering boats. I got my hours up and completed my coxswain certification and then continued to become an unrestricted Master 5. I closed the dive shop and divested the charter business in 2001 and dabbled in wholesaling of scuba equipment for a while, but it was as a freelance vessel master that I found steady work.
I had previously supplied a vessel along with commercial and scientific diving duties to the Marine and Freshwater Resource Institute (involved in long term abalone and rock lobster research), the Seal Rocks Corporation (during the redevelopment of the Sea Life centre at The Nobbies and the construction of the camera tower at Seal Rocks), and to the Civil Aviation Safety Authority (testing of airborne liferaft and emergency supplies deployment). As such I had made a number of valuable contacts. I now regularly skippered vessels for the Victorian Abalone Industry and for various dive charter companies operating at the southern end of Port Phillip, as well as performed offshore water sampling for Melbourne Water at Gunnamatta.
In the late 2000s I relocated to Brisbane and ran dive charters around Moreton and North Stradbroke Islands for The Beuchat Dive Centre. From here I moved to Thursday Island in the Torres Straits as a vessel master for the Australian Reef Pilots (where eventually I managed the Pilot Station) until I moved back to Melbourne and skippered dive charter boats out of Portsea and then ferries on the Yarra River.
I also worked as a casual vessel master on the Port of Melbourne's survey vessel the MV John Norgate and as a load supervisor (stevedore) for grain ships on Appleton Dock.
I have been with The Scuba Doctor dive shop as general scallywag since early 2016. Through the week you will find me out the back preparing and dispatching the online orders. On the weekends I'll be in the shop helping you with your product selection, as well as lovingly blending your nitrox and trimix fills.
Michelle Rutowicz
PADI Divemaster
TDI Advanced Nitrox & Deco Procedures Diver

Michelle Rutowicz,
The Scuba Doctor AustraliaMichelle started diving in 2013, quickly gaining dive experiences and specialty certifications which include Enriched Air Nitrox, Night Diver, Wreck Diver, Deep Diver and Sidemount Diver. By qualifying as a Dive Master, Michelle gets to combine her passion for local diving with showing others our local dive sites and critters. Michelle has taken on the world of technical diving as well.
Michelle joined The Scuba Doctor team in late 2017, bringing to us her multifaceted retail experience together with a background in warehousing, dispatching orders, and maintaining stock levels.
Through the week you will find Michelle out the back handling customer calls, ordering products from suppliers, checking in deliveries, and finding places to put stock. On weekends Michelle is in the shop helping you with your product selection, as well as lovingly blending your nitrox fills.
Sam Glenn-Smith
PADI Instructor

Sam Glenn-Smith,
The Scuba Doctor AustraliaMy diving journey began in Fiji, 2010 where I was instantly hooked. Diving for me was a new frontier, a new world where I experienced things I could never dream of — the feeling of weightlessness, the immense spectrum of colours and the throng of life around me, from the tiny shrimp hiding in crinoids to the behemoth tiger shark. Diving very quickly became my fixation.
My passion for the ocean began to surge in 2015 when I met Marine Biologist Daniel Geary at Atmosphere Resort in the Philippines. My eyes were opened to a wonderful world of macro diving and tiny little critters that appear to be from another world — but more so I was introduced into the world of underwater photography. This new age of previously unheard-of equipment provided me with immense motivation to learn more about the ocean and share my findings with the world.
I have become truly passionate about underwater photography and marine conservation — with a desire to continue finding, photographing and hopefully inspiring people around me to learn more about the wonderful, unique and mysterious oceans on this planet. I love talking all things marine and photography and am always open for a phone call, a chat in store or even better a dive with camera in hand.
Peter Fear
Owner, Scuba Doctor Service and Repairs
TDI Geriatric Diver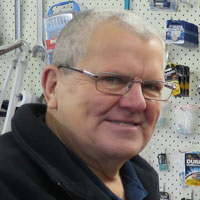 Peter Fear, Owner,
Scuba Doctor Service and RepairsPeter Fear is well known and highly regarded throughout the Australian dive industry for his meticulous scuba equipment servicing and repair work. Peter's reputation has been established over more than 35 years in the Victorian dive industry.
Peter owned and operated dive shops in Melbourne for many years as a recreational and technical scuba diving instructor. Eventually he took over Dive Victoria and transformed it into Victoria's #1 dive charter operation, based in Portsea. His skills as a dive boat captain and knowledge of local dive sites are legendary.
Peter sold the Dive Victoria charter boat business in 2002 and started The Scuba Doctor in Rye, to cater for the equipment care needs of recreational, technical, commercial, military and rescue scuba divers. Eventually it became a full service dive shop. In 2013 he sold The Scuba Doctor dive shop to Lloyd Borrett, but continued the equipment care side of the business as Scuba Doctor Service and Repairs.

TDI Geriatric DiverPeter has dived extensively all over the world. His favourite diving destination is Bikini Atoll, in the Marshall Islands, where he has been on expeditions to dive on the sunken nuclear fleet at least five times.
Out of respect for his age and experience the team at SDI/TDI Australia produced a unique TDI Geriatric Diver certification card for Peter some years back on a significant birthday. Peter takes great delight in presenting it when asked to show his diving qualifications by overseas diving operators.