How to Familiarise Your Kids to Snorkelling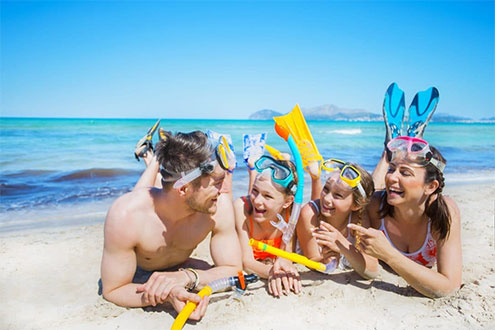 Snorkelling is not a sport that is designated solely for adults, in fact, the sport really is one that is for a wide range of ages. Children are especially fascinated with most things water-related. They splash in the bath tub, jump in every puddle they see and you can never seem to get them to come out of the rain. Water is and will continue to be a part of their lives.
We want our children to be able to experience many things but we also want them to enjoy them in a safe manner. This article is written to help you do just that but it is with the idea they already have the basic understanding of water safety and are somewhat versed in the fundamentals of swimming. If they are not, enroll them in swimming classes otherwise the task of getting them familiarised with snorkeling may be too monumental of a task. When dealing with younger children, patience is needed.
Kids love to be a part of the decision making process so it is a good idea to involve them as much as possible. If you are planning a family vacation you might want to see if there is an internet site of your destination that may have video clips that you can watch as a family. You can often find fun clips of your vacation spot on YouTube.
Involve the kids in picking out their own kids gear and if you're purchasing online, have them with you. They will be proud that they had a part in choosing their equipment and they will be more likely to want to show it off and take better care of their gear. (If you are local, we are in Rye, Victoria, so bring them into the store and will be happy to talk to them.)
It is important that the gear that you purchase, is the correct size and not something that they will 'grow into'. There is a definite difference between adult and kids gear, the only exception would be if your child is wearing teen sized clothing, or is in adult shoes for their fins.
When their snorkel gear arrives, get them involved in preparing and putting everything together, it will give your kids a sense of ownership with which comes responsibility.
If time allows before the vacation, taking them to a pool with the equipment is an excellent idea. We do advise you to have them learn how to use each piece of gear separately. (Parental supervision at all times is considered a requirement, not an option). Get them used to wearing a snorkelling mask followed by the snorkel and finally the fins. This progression will increase their comfort level without overwhelming them. If the adult is a first time user, they, too, need to be familiar with their own gear before introducing the child to theirs.
Exposure protection should be considered a must for the child. Body heat is lost so fast in the water and kid's rarely admit to being cold when they are having fun in the water. A neoprene based shorty or sping suit will help to slow down this heat loss. If the child begins shivering, it is time to get out of the water.
If your destination is a beachfront property then depending on your arrival time and the child's disposition at the moment, make it a point to take a walk to the beach with your kids so they can see it. Let them point the cool stuff to you. A child's first look at the vastness of the ocean is a moment to remember. Take a walk into the water to a level that is comfortable for your child (holding on to their hand if necessary). They may not want to snorkel the very first day as the sheer size of the ocean is a lot for them to process.
Talk about some of the stuff that you both might see while you are in the water together. Fish Identification cards and books are a great way to introduce them to the wonders that they will see. Many of these cards are even able to be brought into the water with you. Reinforce the 'look but don't touch' rule of which all water lovers should abide. Fish and corals have a protective coating that if disturbed could expose them to bacteria or parasites.
When they are ready to go in the water, work together as "buddy" team. A Buddy team is 1 adult to 1 child. Have them check to make sure that no hair is breaking the seal of your mask and you do the same for them. This let's them know that you are relying on them as much as they are relying on you.
When you enter the water, take your time and let them point out all the cool and neat stuff that they see. Each discovery is a memory in the making and will serve to build their confidence. Be aware of your kids at all times. When you are familiarising the kids to snorkelling, you need to remember what it was like to be a kid again.
Spending quality time together is often a recommendation of psychologists, psychiatrists and family counselors, but often it is difficult to find a family oriented activity that everyone will enjoy. Snorkelling is a great sport for the entire family. It's a wonderful way to builds bonds and reinforce positive relationships between everyone.
Please check our our full range of snorkelling gear for kids in our Kids' Corner.