Learn to Dive in Melbourne
Divers often joke about whether they are "certified" or just "certifiable". Often the answer is both! :-) Here's what you need to know to join this off-beat tribe of underwater explorers by doing an internationally recognised Open Water dive course that certifies you to dive not just in Melbourne, but anywhere in the world.
Can You Handle Diving?
Experienced divers actually try not to swim very much (to conserve air), but it is important to be comfortable in the water and in reasonably good shape. Before doing your Open Water certification course you will need to complete a comprehensive medical statement.
PADI Medical Statement (Adobe PDF | 113.12 KB)
If you answer YES to any question, are under 16 years old, or are aged 45 or more, you will be referred to a qualified physician for a Diving Medical assessment that conforms to Australian Standard AS4005-1. Overseas dive medicals are generally not accepted unless they are equal or better than the AS4005.1 standard.
Essential Diving Skills
Obviously there are some skills to learn in order to get yourself underwater with a breathing apparatus. You need to learn these skills from highly-skilled diving instructors via an Open Water dive course from one of the sport's major certification organisations. The Scuba Doctor has diving instructors available who are certified to the highest levels within the PADI streams of diver training.
Open Water Certification in Melbourne
The common name for the dive course that will enable you to go out and dive with a dive buddy is "Open Water". Typically an Open Water course certifies you to dive to a maximum depth of 18 metres (60 feet).
An Open Water Course is the first official step in scuba diving training, where you will learn all the fundamentals to help you become a confident scuba diver. No prior scuba experience is necessary and upon successful completion of the course you will receive an Open Water Diver certification card, which is a lifelong, internationally recognised scuba diving rating and can be used anywhere around the globe.
There are dive courses, with names like "Scuba Diver" and "Advanced Adventurer", that only qualify you to dive with a dive professional to a maximum depth of 12 metres (40 feet). Don't be tricked into doing one of these courses. You need to do a full Open Water course in order to be certified to dive with a buddy and enjoy exploring the underwater world.
Your Open Water course will be the most important dive training course you ever do. And we'll do everything we can to make sure it's fun to do as well. Yes, it can be expensive, but the certification is valid for life.
Australian Standards
All of the diver training courses we arrange are guaranteed to exceed the requirements of the training certification organisation the training is being conducted under, plus Australian Standards. Many dive centres cut corners and try to do the minimum they think they can get away with, rather than comply with, or exceed best practice.
For your reference, here are some things included in the Australian Standards:
Australian Standard - AS 4005.1-2000
Training and certification of recreational divers
Part 1: Minimum entry-level SCUBA diving

1.2 OBJECTIVE The objective of this Standard is to specify the organizational and syllabus requirements to train recreational divers to operate safely and competently to a depth of dive of 18 m using SCUBA.

1.6 SELECTION CRITERIA The trainee shall comply with the following requirements:

Be at least 14 years of age. Persons who have reached 12 years of age may in some cases be eligible to train for conditional certification which allows the young person to dive with a certified diver with the consent of parents or guardians.
Effectively demonstrate a 10 min period of floating/treading water without the use of mask, fins, snorkel, or flotation equipment.
Be certified as being medically fit for diving by a medical practitioner in accordance with Appendix A, within 12 months prior to commencement of training. NOTE: An original statement of health or a verified copy should be provided by the trainee.
Before certification, demonstrate the ability to swim 200 m on the surface (any style) without the use of mask, fins, snorkel, or flotation equipment.

Some of the guidelines for Open Water training specified under the Australian Standard include:

An open water training dive shall consist of a dive of at least 20 min underwater time to depths of between 4 m and 18 m.
The training time shall be gained during four or more open water dives. During two of these dives, the trainee shall descend to depths between 10 m and 18 m. At least one of these dives should be to the depth of between 15 m and 18 m and one should be made from a boat.
Trainees shall not participate in more than three open water training dives on any given day.
The maximum number of trainees for in-water training in open water shall not exceed eight trainees per SCUBA instructor or ten trainees per SCUBA instructor with a certified assistant.
Are You Old Enough?
At The Scuba Doctor we start everybody learning to dive with an Open Water level course where they will be qualified to dive to 18 metres. We require students to be at least 14 years of age.
Some dive training agencies permit kid's younger than 14 to learn to dive and some dive shops will do that here in Australia. Some will conduct a full Open Water course, but many will run a "Junior Open Water" course where the qualified diver is restricted to a depth of 12 metres. However, we prefer to go along with the recommendations in the Australian Standards (see 16.1.1 above) and the guidelines of the South Pacific Medicine Society (SPUMS).
The SPUMS Diving Medical

A4.2 Age
The SPUMS does not recommend diving for children under the age of 14 years. Any medical risk assessment of children under the age of 16 should include parents or guardians. This assessment should establish the child's physical and psychological maturity. Between the ages of 16 and 18 years it is preferable to consult the parents or guardians before conducting any risk assessment.
We know a local diving doctor who is an active diver and former SPUMS director. He wouldn't let his own children learn to scuba dive until they were 16. These kids were comfortable in the water and active strong swimmers and snorkelers, but he still decided 16 was the more appropriate minimum age for scuba diving. This diving doctor won't do a dive medical for any child younger than 16. We think the parents or guardians of children under 16 should consider this very carefully.
At The Scuba Doctor any child younger than 16 years old is required to get a dive medical certificate – see Diving Medical.
Are You Too Old?
We're not aware of any upper age limit for scuba diving. Indeed we know Melbourne scuba divers in their 80s who get in more dives each year than most scuba divers. The SPUMS recommends that from the age of 45 years, all divers should have regular assessments at no longer than five yearly intervals. We think this makes good sense.
However, if your age is 45 years or older, we will require you to get a dive medical certificate – see Diving Medical.
Melbourne / Victorian Diving
It's more difficult to learn to dive in Melbourne, Victoria than at a tropical resort. The diving conditions in Melbourne are typically much more challenging and the water is colder. Thus you're in a thicker 5 or 7 mm wetsuit which will be more restrictive than anything typically used in the tropics. Because the wetsuit is more buoyant you'll need more weight on your weight belt. But learning how to overcome these challenges is certainly worth it.
People who only learn the bare minimums elsewhere, or here in Melbourne, often fail to cope with the more difficult diving conditions in Melbourne. Thus they only dive elsewhere and miss out on magnificent Melbourne local diving.
Some Melbourne dive centres don't include boat dives in their Open Water training courses. We believe that an Open Water course conducted in Melbourne should include a boat dive. There is a good chance that you'll be diving from a boat from time to time, so you should be properly prepared for it.
If you are taught to dive properly in Melbourne conditions, we believe you are just about ready to dive almost anywhere in the world. Plus you'll be able to make the most of the unique, world class shore and boat dives available to you locally in Melbourne.
Please don't fall into the trap of buying on price and getting a bare essentials Open Water course, only to find out later you'll need to pay a lot more for additional training dives so that you are adequately trained to begin your dive adventures locally.
Know What You're Getting
There are plenty of dive centres offering learn to dive courses in Melbourne. Some are using group/discount buying web sites like Scoopon, Groupon and Cudo to promote their cheap courses. But not all of these dive centres are offering a full Open Water dive course, instead it's often a "Scuba Diver" course. They just make it look like it's an Open Water course to lure you in.
Some dive centres in Melbourne are offering an Open Water course based on pier dives only. No boat dives are included in their courses. Gradually swimming out from a pier, following the sandy bottom down to a depth of between 16 to 18 metres deep is relatively easy. Learning to descend in Open Water from a boat on the surface straight down to a 16 to 18 metres bottom depth, requires more skills and better prepares you for real diving in Melbourne and elsewhere. That's why the instructors used by The Scuba Doctor include boat dives in their Open Water course.
If you're thinking about doing your Open Water course with some other dive centre in Melbourne, use the above information to ask them if the dive course they will provide you with a full Open Water certification? If so, will their Open Water course include a boat dive? Does their Open Water dive course exceed Australian Standards and local best practice, or does it just barely comply with the minimums set by certification agencies based on easier diving conditions elsewhere.
You need to know just what other dive centres are leaving out of their Open Water dive course so that they can offer you such a cheap price. Plus you need to know how much extra they will charge you for the additional dives you'll need to properly attain the valuable skills they left out.
Private Tuition in Melbourne
We offer bespoke, personalised, private tuition in Melbourne and on the Mornington Peninsula. You will be the one and only priority of your diving instructor. That is, unless you opt to share your instructor with a family member, partner or friend.
This lets you learn at your own pace and enjoy your Open Water Course. It's an unrushed experience. Working together with your personal Scuba Instructor you can choose which times of day you want to schedule your dives and training.
Our personalised Open Water dive programme simply mean more focused training, customised scheduling, and no down time waiting for others. The result is better divers and more time on each ocean dive to explore with your instructor.
Open Water Course Prices
Private Bespoke Training - ONE on ONE
(1:1) - A$1,500.
Private Bespoke Training - Couples Rate or Two to Three Students
(2:1) - A$1,500 for the first student and $1,250 per extra student.
Gear Up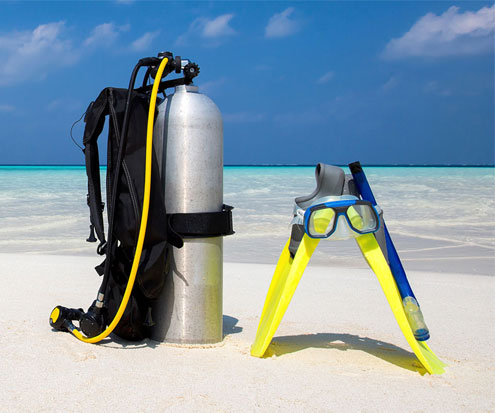 To get started with your open water certification you'll want to purchase a mask, snorkel, fins and boots that have a personalised fit to optimise your experience. As you progress in your diving you'll want to consider personalising all your gear to get the most out of your diving lifestyle!
You will learn more about the rest of the gear you will use to scuba dive using your Open Water Course. While terms like regulator, BCD or dive computer may seem foreign to you now, these items are easy to use and will make your diving experience feel as natural as sitting at your computer — but much more fun!
Dive equipment falls into three categories: Personal, Required and Gadget.
Personal Dive Gear includes a mask, snorkel, fins and dive boots. Many dive centres will require you to already have these items, and we'd suggest you do to. The Australian Standard for diving suggests you should also have a Diving Compass and a cutting implement (Knife).
Typically other dive centres will charge you close to full retail price to buy these personal items. They expect to make lots of money selling you dive gear and thus often price dive courses as a "loss leader". You can save heaps by buying your personal items from The Scuba Doctor Online Dive Shop.
Required Dive Gear includes a buoyancy compensator (BC), regulator, octopus, dive computer, dive cylinder, surface pressure gauge, weight system, weights and often a wetsuit. Typically the rental of these required items is included in the price of your Open Water dive course.
Gadget Dive Gear is usually associated with a particular type of diving — night diving, underwater photography, or search and recovery — and includes knives, underwater slates, cameras, strobes, video recorders, lights, lift bags, lines, reels, and even underwater laser pointers. You typically don't need these items during an Open Water dive course.
Your own mask, snorkel, wetsuit, fins and dive boots are worth owning because a proper fit makes all the difference. We can help you choose the right type of personal dive gear for the diving you're likely to do, plus save you heaps of money. Check out the information in our Online Dive Shop, and/or call us to talk to an expert.
Speak the Language of Diving
Some scuba diving terminology you might need to know includes:
BC:

Short for buoyancy compensator, a jacket-like device that secures a tank to the diver's back. It can also be inflated or deflated to allow divers to become neutrally buoyant.

Regulator:

A mouthpiece unit that attaches to a diver's tank. The regulator includes a primary mouthpiece, an alternate mouthpiece (often called an "octopus"), a pressure gauge (to measure the amount of air in the tank) and a depth gauge.

Dive tables:

A series of charts used by divers to plan appropriate depths and times for given dives. Dive computers are electronic versions of the tables that can be taken underwater.

The Bends:

Layman-speak for "decompression sickness", a painful and sometimes fatal injury caused by spending too much time too deep or by surfacing too quickly.

Hand signals:

A universal underwater language. The most common signals are "thumbs up" for ascend, "thumbs down" for descend and the "OK" sign. Creative divers also have informal hand signals, ranging from "Shark!" to "I'm nervous" to "Come here you $%$!@!". See Underwater Hand Signals.
Need to know more?
If we've left some of your questions unanswered, then please take a look at our Dive Course FAQs page, or give us a call, or drop an email to us. More about: Dive Course FAQs - Answers to frequently asked questions about scuba diving courses