Dive Computer Battery Change
It used to be the case that a Dive Computer was the reserve of only the elite divers and dive instructors out there, but not any more. The advances in dive computer technology (and dare we say relative reductions in their costs) have made them a core part of every active divers kit list.
Of course dive computers only assist us in our diving if they are in full working order, and if the dive computer battery is dead, or dying, then they are little more than an ornament. So should the inevitable have happened (normally just before your special dive trip) and you want to be assured of a fully approved dive computer battery change, right here in our purpose built scuba service centre, we're here to help.
We cater for Suunto, Cressi, Shearwater, Mares, Oceanic, Aqualung, Apollo, Scubapro, Tusa, and Uwatec dive computers, along with most other major brands of dive computers.
Fully Qualified and Manufacturer Trained Scuba Technicians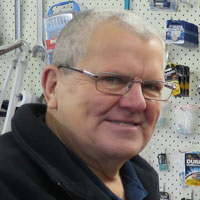 Peter Fear, Owner,
Scuba Doctor Service and RepairsScuba Doctor Service and Repairs is headed by Peter Fear — well known and highly regarded throughout the dive industry for his meticulous scuba equipment servicing and repair work.
Your dive computer is in good hands whilst we complete the dive computer battery change for you, as all of our scuba technicians are directly trained and certified by the dive computer manufacturers themselves. This focus on maintaining close links with the manufacturers ensures you only ever get the best possible levels of service.
Suunto Authorised Service Centre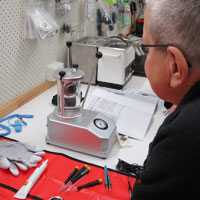 Pressure testing a Suunto dive computer.Scuba Doctor Service and Repairs is a Suunto Authorised Level 1 Service Centre for all Suunto dive products. Any Suunto product returned under warranty will be assessed, fixed or replaced in-line to the highest standards as required by the Suunto warranty procedures.
Battery changes for all Suunto dive computers and transmitters are performed on-site, and are fully pressure-tested to give you peace of mind.
Specialist Tools and Original Parts
We only ever use specific tools, as issued directly by the dive computer manufacturers, in order to ensure no damage to your units during the battery change process. In addition we do not use third party components, and only ever install original parts (batteries, O-rings etc.) supplied direct from the relevant dive computer manufacturer.
We offer dive computer battery changes for a wide range of dive computers. We always strive to minimise lead time on all equipment servicing and battery changes.
You can access the Scuba Doctor Service and Repairs Centre dive computer battery change facilities by dropping by:
Scuba Doctor Service and Repairs
Corner Melbourne Rd and Peninsula Ave
3/106 Melbourne Rd
RYE VIC 3941
AUSTRALIA

Melway: 168 C6 More about: Location

tel. 03 5985 5440

email. scubadoc@scubadoctor.com.au
If you are a little further afield then please use our Remote Servicing Option.
Need a new dive computer? Take a look at the new dive computers we have available in our dive shop.