Fin Care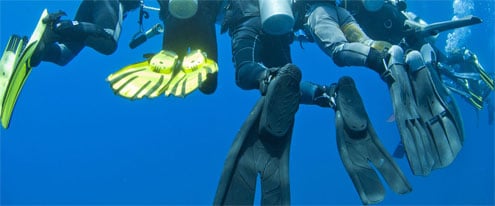 How to Put On Diving/Snorkelling Fins and Walk In Them
Most fin damage occurs when putting fins on or walking in them. Please take the time to read through the steps below to maximise the life of your fins.

Download the Fin Use and Care Guide (Adobe PDF, 1 page, 22 Mb)
How to Care for Diving/Snorkelling Fins Before and During Use
Avoid standing your diving/snorkelling fins on the tips of the blades for any extended period of time.
Avoid hot temperatures and hot surfaces as these can damage the fins.
Avoid placing the fins in a car trunk on hot days as the temperatures inside car trunks can exceed the temperature tolerances of the fin and the blades may distort.
How to Care for Diving/Snorkelling Fins After Use
Rinse thoroughly with fresh water and towel dry before final storage.
How to Store Your Diving/Snorkelling Fins
Store in a cool, dry and protected place out of direct sunlight.
Diving/Snorkelling Fins and Chemicals/Solvents
Avoid any contact with alcohol, oil, gasoline, aerosols, or chemical solvents.
Do not expose any part to aerosol spray, as some aerosol propellants attack or degrade rubber and plastic materials.
Do not use any type of alcohol, solvent or petroleum based substances to clean or lubricate any part.
Do not store your equipment near any oil, gasoline, chemicals, or solvents.
If you have any specific enquiry about how to care for your dive gear, please feel free to contact Scuba Doctor Service and Repairs by email to scubadoc@scubadoctor.com.au or by a telephone call to 03 5985 5440.