Melbourne Other Dives
Some of Melbourne's dive sites simply don't fit into the classifications of Bommie, Drift, Pier, Reef, Shore, Wall and Wreck. So we've put them here.
Boat access

Chinamans Hat is an octagonal structure serving as a shipping channel marker and haul-out for local brown fur seals, in the South Channel of Port Phillip. Earlier structures on the site once served as navigation beacons. In early 2002 the old structure was demolished and a new one built nearby.

Chinaman's Hat is often referred to as a 'Taj Mahal' for seals. It's one of four haul outs or resting sites for Australian Fur Seals in the bay. It's a popular destination for scuba divers and snorkellers.

See also, Wikipedia: Chinaman's Hat (Port Phillip)).

Latitude: 38° 17.385′ S (38.28975° S / 38° 17′ 23.1″ S)
Longitude: 144° 43.515′ E (144.72525° E / 144° 43′ 30.9″ E)
Datum: WGS84
Google Map
Added: 2012-07-22 01:00:00 GMT, Last updated: 2018-01-14 22:59:07 GMT
Source: GPS
Nearest Neighbour: William Salthouse, 2,543 m, bearing 317°, NW
Seals.
Depth: 2 to 12 m.

---

Boat access

Latitude: 38° 17.794′ S (38.296567° S / 38° 17′ 47.64″ S)
Longitude: 144° 37.854′ E (144.6309° E / 144° 37′ 51.24″ E)
Datum: WGS84
Google Map
Added: 2012-07-22 01:00:00 GMT, Last updated: 2018-01-14 23:00:12 GMT
Source: GPS
Nearest Neighbour: The Plateau, 366 m, bearing 28°, NNE
Depth: 30 to 103 m.
Dive only on: SWF.

---

Shore access

Depth: 4 to 7 metres

Level: Open Water and beyond.

Shark Dive at the Melbourne Aquarium

Experience the huge adrenaline rush of coming face-to-face with a shark! Take the plunge inside Melbourne Aquarium's 2.2 million litre Oceanarium. It's all part of an adventure where you'll encounter creatures of the deep and have an experience you'll never forget.

Take the plunge, dive in at the deep end for the ultimate challenge. Your thrilling underwater guided tour will bring you face-to-face with Grey Nurse and Sandbar Whaler Sharks, Giant Stingrays and hundreds of exotic fish.

Fully qualified instructors will ensure your dive is a thrilling, never-to-be forgotten experience! The dive is suitable for non-divers (a brief resort-style dive course is included) and certified divers.

Latitude: 37° 49.264′ S (37.821061° S / 37° 49′ 15.82″ S)
Longitude: 144° 57.489′ E (144.958158° E / 144° 57′ 29.37″ E)
Datum: WGS84
Google Map
Added: 2012-07-22 01:00:00 GMT, Last updated: 2018-01-16 02:56:55 GMT
Source: Google Earth
Nearest Neighbour: Kerford Road Pier, 3,255 m, bearing 191°, S
Depth: 4 to 7 m.

---

Boat access

Take part in an adventure to one of the most exclusive part of Port Phillip Bay. The Mud Islands are the largest exposed sand bank in Port Phillip and are located about 6 km North East of Portsea. They are forever changing shape due to storms, tides and sand movement and are home to a delicate and unique ecosystem.

The lower areas of these islands are covered with dense seagrass and mud flats, while the dunes are covered in shrub-land and salt marsh. It provides and nursery and breading area for a range of marine species including King George Whiting, Oysters, Muscles and Scallops.

Mud Island is also a birdlife photographers dream. The islands are a RAMSAR international wetland conservation area, with up to 70 species of birds. There provide important breading habitats for pelicans, spoonbills, cormorants, silver gulls and terns to name a few, while many long distance migratory species and a number of endangered species can also be found here.

While you have the day to explore the island your interests may lie in soaking up some sunshine on the beach or in the shallows, viewing the skyline of Melbourne and the Portsea, Sorrento cliffs, while watching the ships navigate the channels.

To hop from island to island you may need to wade through water up to knee deep, so dress suitably and wear shoes such as wetsuit boots or sandals that can get wet. Bring a day pack with drink bottle, lunch, hat, sunscreen and a weather proof jacket and remember your camera and binoculars.

Latitude: 38° 16.205′ S (38.270083° S / 38° 16′ 12.3″ S)
Longitude: 144° 45.514′ E (144.758567° E / 144° 45′ 30.84″ E)
Datum: WGS84
Google Map
Added: 2012-07-22 01:00:00 GMT, Last updated: 2018-01-14 22:58:24 GMT
Source: GPS
Nearest Neighbour: Medea, 3,544 m, bearing 291°, WNW
Ideal for Snorkelling

---

Boat access

The very deepest spot anywhere in Victoria, this is the bottom of the ancient River Yarra just inside the Port Phillip Heads in the main shipping channel. This area is now called the Entrance Deep. At 103 metres this is not a dive for the faint hearted. It's very black, barren and rocky with incredibly treacherous currents. The ascent must be started while the tide is still coming in, slack water is very short, and the ascent must be back up the shot for as long as possible as the outgoing tide will quickly push you back over Rip Bank with a minimum depth of 20 metres. Pick up will be outside Port Phillip Heads.

Latitude: 38° 18.021′ S (38.30035° S / 38° 18′ 1.26″ S)
Longitude: 144° 38.350′ E (144.639167° E / 144° 38′ 21″ E)
Datum: WGS84
Google Map
Added: 2012-07-22 01:00:00 GMT, Last updated: 2018-01-14 22:59:42 GMT
Source: GPS
Nearest Neighbour: Nepean Wall, 28 m, bearing 158°, SSE
Depth: 30 to 103 m.
Dive only on: SWF.

---

Boat access

The West Channel Pile is an active two-storey, octagonal lighthouse in Port Phillip, Victoria, Australia. It was built in 1881, replacing a lightship installed in 1854, to mark the North-East end of the West Sand.

Latitude: 38° 11.663′ S (38.194383° S / 38° 11′ 39.78″ S)
Longitude: 144° 45.405′ E (144.75675° E / 144° 45′ 24.3″ E)
Datum: WGS84
Google Map
Added: 2012-07-22 01:00:00 GMT, Last updated: 2018-01-14 23:01:37 GMT
Source: GPS
Nearest Neighbour: Seabird, 1,162 m, bearing 225°, SW

---
Total of 6 dive sites.
---
DISCLAIMER: No claim is made by The Scuba Doctor as to the accuracy of the dive site coordinates listed here. Should anyone decide to use these GPS marks to locate and dive on a site, they do so entirely at their own risk. Always verify against other sources.
The marks come from numerous sources including commercial operators, independent dive clubs, reference works, and active divers. Some are known to be accurate, while others may not be. Some GPS marks may even have come from maps using the AGD66 datum, and thus may need be converted to the WGS84 datum. To distinguish between the possible accuracy of the dive site marks, we've tried to give each mark a source of GPS, Google Earth, or unknown.
If you don't understand the differences between the different ways coordinates are given, plus how different datum come into play, you might find the article GPS Conversions by Lloyd Borrett (100 Kb, 5 pages, Adobe PDF) a useful read. It describes the problems associated with locating dive sites using a GPS receiver.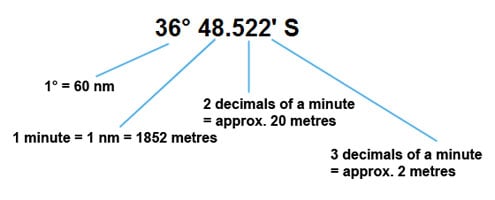 ---
Scuba Doctor Dive Map KML File
In the true spirit of making it easy to obtain, utilise and share the information, you can now Download/view the Scuba Doctor Dive Map GPS Marks in the Keyhole Markup Language (KML) file format used to display geographic data in an Earth browser such as Google Earth and Google Maps.
Some marine GPS units can import the information from a KML file. For others you can use use a file translate program (e.g. GPSBabel) to convert the KML file into an import file format (e.g. GPX) supported by your GPS unit.
---
Please Help Us To Correct GPS Marks and Add More Melbourne Dive Sites
If you have have information about other dive sites you'd be happy to see added to the information available here, or any corrections and/or updates to the diving site GPS marks listed here, please feel free to Contact Us.