Dive Bag Buying Guide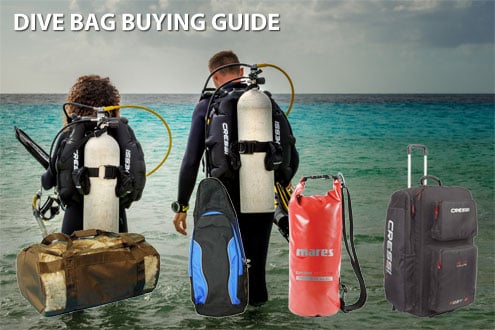 Dive bags come in a huge range of varieties from simple mesh bags to all singing and dancing roller bags and that is because a dive bag can mean something completely different from one diver to the next. Choosing the right bag for you will depend entirely on what YOU need it to do.
When looking at a dive bag it is surprisingly important to think about what you want it for and you might even find yourself with a selection of bags to suit different jobs. One might be your everyday general duffel style dive bag but you might have a lightweight wheeled bag for travelling and a drawstring mesh bag to store your bits and pieces on the boat.
Why You Need a Dive Bag
Even if you rent the majority of your diving gear, it is still a good idea to have a dive gear bag for your scuba supplies.
Most people are required to own a few pieces of scuba gear — fins, mask, snorkel, gloves, and boots — prior to taking an Open Water certification class. In addition to these items, is it a good idea to have a few replacement items (extra mask strap, spare fin straps, O-ring kit, anti-fog agent, extra batteries, etc.) on hand in case something should unexpectedly break or fail. Having all of your gear in one place, e.g. a dive gear bag, allows you to protect your gear and keep it organised, allowing you to find just what you need right when you need it.
Duffel Dive Bags
Duffel bags are your basic main dive bag and are usually designed around a simple main compartment with big zip access and two carry handle concept. It works well for fitting in plenty of dive gear at the end of the day and because of it's simplicity it is often a cheaper option and there isn't much to go wrong with it.
Climbing the price scale will get you some extra features, more pockets, some wheels maybe and of course there are lightweight and heavy duty variations on the theme.
Pros
Simple design keeps costs down
Wide variety of sizes, colours and material choices
No rigid framework or panels allows it to be squeezed into smaller places.
Cons
Can be heavy and awkward to carry over long distances when fully loaded.
Backpack Dive Bags
The main advantage of Backpack Dive Bags is that they are great for carrying your kit for a longer distance over a rough surface. The weight is more even spread over the shoulders unlike a duffel bag and dragging a wheeled bag over rough terrain can be challenging and destructive to the bag. More expensive models will sport roller bag type features like wheels and telescopic handles as well as more internal and external pockets.
Pros
Come is a wide range of sizes and materials
Typically soft sided making them easy to pack and travel with
Keeps your hands free
Cons
Needs to be sensibly packed as a full set of kit can weigh a lot
Can be more expensive compared to the same size duffel bag
Roller Dive Bags
Wheeled Roller Dive Bags are ideal for getting around airports or any where else with flat surfaces. A fully loaded bag becomes effortless to move over great distances, usually come with a telescopic handle as well as grab handles for lifting and often feature external pockets to organise your travel documents and other essentials. Roller bags are available in sizes designed for full diving kits for extended trips but also come in cabin size versions for those short trips.
Pros
Wide choice of sizes and weights
Easy to move
Most are designed to stand upright
Cons
Models with rigid panels can take up a lot of storage space
Some packing sense required to ensure heavy items are at the bottom when stood up
Hard Cases
Hard cases are simple, rugged and usually designed without any drainage hoses which makes them great for loading into the boot of the car and not having to worry about everything else getting wet after a dive. Some are simple stackable grates whilst others have more elaborate hinge designs, come with wheels or even pull handles.
Pros
Strong and rugged design
Protect your kit well
Keeps water in, keeping whatever you put them in nice and dry
Cons
Bulky. Even if they only have one item in them still take up the same space
Can be pretty heavy and difficult to carry over longer distances
See our Watertight Hard Cases Buying Guide for more details.
Mesh Dive Bags
Mesh bags come in all sorts of shapes and sizes including duffel, backpack and simple drawstring bags. They make excellent boat bags for your accessories like mask, snorkel, fins, reels, etc. The mesh allows the kit inside to dry quickly so you could always just dunk the wash tank after a dive and set aside to dry whilst you enjoy a post dive beverage.
Regulator Bags
Regulator Bags do the obvious task of protecting your valuable life support equipment from knocks and bangs during transport. There aren't many ways you can design a regulator bag so you're looking at something with a large main compartment and a handle on the outside for carrying.
See Regulator Bags for our full selection.
Dry Dive Bags
Most dry bags are simple tube style bags with a roll down top that is clipped shut. They are perfect for keeping your clothes, keys and wallet dry on a boat. They do come is a range of capacities from tiny ones for just your keys and essentials to huge ones.
See Dry Bags for our full selection.
What You Need To Consider
Storage and Purpose
If you are a boat diver, you may want to consider a gear bag that will allow you to maintain your balance and keep your hands free. Therefore, a large backpack-style bag will most likely be the best choice.
A general purpose storage bag (a.k.a. not one intended for a great deal of travel) should have plenty of pockets that will allow you to organise your gear in a way that works for you. A large fin pocket keeps your fins together and keeps your regulator hoses from wrapping themselves around your fins and fin straps. Having another pocket that can be dedicated to repair and last-minute details is also a highly-desired feature. This allows you to know exactly where your extra fin strap, anti-fog solution, etc. are located right when you need them. Be kind to your dive buddy. Know where your items are in order to avoid delaying the dive unnecessarily.
Dive Bag Material / Weight / Construction
Dive Bags are often biased towards either durability or lightness. They will either be built with heavy duty materials, reinforced stitching and big chunky zips designed to withstand years of regular abuse, or they will be finished with lightweight materials and alloy framework that allows you to maximise the amount of kit you can fit in a flight weight allowance.
Dive Bag Size
If a dive bag won't hold all of your gear, it is a poor item to purchase. Take an inventory of your dive equipment and then think about what scuba gear you plan on purchasing in the next couple of years. Once you have a strong idea of how much room your gear will need, you'll know what size of bag to purchase.
A pair of fins, regulator, octopus, gloves, repair kit, mask, snorkel, BCD, gloves, hood, and boots will not fit in a compact backpack. To accommodate that amount of gear, a large bag will be required. If you plan on traveling from a cold-water location to a warm-water location, then you may only need your mask, snorkel, light, and gloves. If that is the case, then a more compact bag will probably be sufficient.
Be realistic about your needs and think about any problems you might encounter like flight size restrictions. A monstrously huge bag may fit all your dive kit in and still have space for the kitchen sink but can you still pick it up?
Strap and Handles
A lot of bags (especially those higher up the price scale) are fitted with multi-purpose or removable straps that allows the bag to be adapted to suit a number of uses or transport requirements.
Think carefully about what you want. Lugging a 20 kg duffel bag about is fine if you are just moving it from the back of the car a few steps to where you are kitting up but over a distance it's hard work. A couple of shoulder straps could make all the difference.
Dive Bag Wheels
Wheels are almost a necessity for airports. Trolleys aren't always available and you can often end up walking quite a distance between collection points.
They can be a hindrance as well though, adding weight to a bag and being next to useless over rough ground, loose sand or pebbles meaning you'll have to carry the bag anyway.
Dive Bag Compartments
Do you want plenty of separate pockets for your fins, regulators, documents and accessories or you happy with lumping everything in together. More pockets makes the bag more expensive but it does help to protect your equipment.
Some bags have external fins slots that allow them to act as rigid side panels, giving the bag structure even when empty.
Your Choice!
Ultimately it is only you that can weigh up the options and consider what you'll be using the bag for most, whether you want something that is satisfactory for all uses or want several bags that are specialised.
If you are overwhelmed, stuck between a couple of choices or have a question about a particular bag we are always ready to offer our advice so just give us a call, send us a message, or pop in and see us.
Top Dive Bags
Here is our selection of the best dive bags we have available in our extensive range.
Top Travel Dive Bag

Cressi Moby 5 Bag with Wheels - 115 lt
RRP: $399, Our Price: $359, You Save $40 (10%).
This nicely sized and spacious dive travel bag features a large main compartment, side fin pockets, plus two smaller front compartments.
Top Dry Dive Bag

Fourth Element Drypack Dive Bag - 45 lt
RRP: $111, Our Price: $105, You Save $6 (5%).
Adventurous diving is always going to need the right equipment to transport your gear. Designed to carry a wetsuit and other essentials, the Fourth Element Drypack is versatile and rugged enough to go with you wherever your diving takes you.
Top Fin Bag — Freediving / Spearfishing

Ocean Design Moana Long Freediving and Spearfishing Fin Bag
RRP: $60, Our Price: $54, You Save $6 (10%).
This is a great fin bag for carrying your freediving and spearfishing long fins. It has a front pocket for your mask and snorkel, plus a shoulder strap to make it easy to carry.
Top Fin Bag — Scuba / Snorkelling

Trident Deluxe Snorkelling Bag
RRP: $108, Our Price: $97, You Save $11 (10%).
Room for a mask, fins and snorkel with shoulder straps, carry handle and big front accessory pocket. This is also an awesome underwater hockey gear bag!
Top Mesh Dive Bag

If you want a wet bag, where you keep your kit together on a dive boat but it can drain easily after the dive, then go for mesh bag. This one is our favourite because it's spacious and tough. It also comes with carry handles and a shoulder strap for easy carrying. This is by far our best selling mesh dive bag.
Top Regulator Bag

The Scuba Doctor 5mm Neoprene Reg Bag (Plastic Zip)
RRP: $59, Our Price: $55, You Save $4 (7%).
Keep your regulators and expensive instruments separate from the rest of the gear. This protective padded bag enables you to transport and store your regulators and instruments safely. It's large enough to hold your 1st and 2nd stage regulators, gauges, and an octopus.
Dive Bag Accessories
Most people overlook the care of their dive bags. Some simple preventative maintenance, especially of the zips, will greatly extend the life of your dive bag.
Zip Care

Gear Aid Zipper Cleaner and Lubricant (59ml)
Our Price: $14
Prevent sand and grime build-up in your dive gear bag zippers. Protect and clean the zipper of you bag to make it last a long, long time.
For more dive bag product options, please see Dive Bags.