Watertight Hard Cases Buying Guide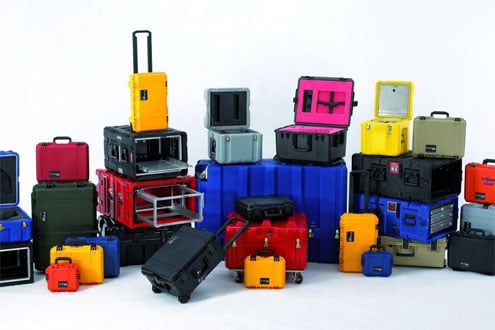 Some scuba divers supplement their dive bags with watertight hard cases. These gear cases are rigid, hinged boxes that are available in a wide variety of sizes. If you regularly travel with your dive gear, or are just concerned about your gear, a watertight hard case is a sound investment for you.
Having all of your breakable gear (regulator, octopus, camera, etc.) in a hard-sided case allows you to protect your gear and keep it organised. Even if you never travel with your gear, a few cases on hand might be something you'll find very useful.
These watertight hard cases are extemely popular with underwater photographers and videographers as a way to protect their precious cameras, strobes and lights. Some make good laptop watertight hard cases as well.
When browsing through the variety of scuba gear watertight hard cases, there are some things to keep in mind.
Hard Case Size
When you have a task at hand, the right tool for the job can make a world of difference in the success of the endeavor. The same is true when selecting a watertight hard case for your scuba gear.
Purchasing a 60 cm (24 inch) by 90 cm (36 inch) by 30 cm (12 inch) case to keep your cell phone and wallet dry doesn't make a whole lot of sense. Likewise, buying a case that is too small for its intended contents will do nothing but collect dust. Dive case manufacturers like Underwater Kinetics and Pelican offer watertight cases small enough to carry an MP3 player and large enough to carry tanks, a BCD, a regulator, and fins.
Some gear hard cases are made to float, which is nice for those who take their eyeglasses, car keys, and cell phones onto a boat and find their belongings have accidentally fallen into the water. A floating case is much easier to locate than a case that sinks like a rock.
Hard Case Materials
Some dive cases are built to withstand the abuse inflicted by airport employees. Other cases are built to withstand being loaded into your vehicle and the general wear and tear of daily dive life. If you plan on taking your case onto an airplane, make sure it is identified by the manufacturer as worthy of air travel.
Internal Protection
Some watertight hard cases include high-density foam that can be cut, much like a puzzle, to perfectly accommodate your gear. You can remove a section (frequently the foam comes perforated) so that your piece of gear (perhaps a camera) fits snugly and won't bounce around inside of the case. The foam also keeps your gear safe from potentially damaging vibrations that are experienced during travel.
Travel
A hard case is only watertight if it has good O-rings. Cases do require occasional maintenance and care. If grit or sand gets into your case's seals, it is quite likely that you'll wind up with wet gear. When evaluating gear cases, make sure the clasps are sound. A wimpy clasp will break easily; if you have a broken clasp, your case will not be able to create enough pressure on the O-ring(s) to create a watertight seal.
Some people use their cases to keep the water in, instead of out. They use the cases to keep water away from the interiors of their vehicles. Wet gear can lead to mildew inside a car's trunk; by keeping wet gear in a watertight case, you can protect your car from unwanted moisture, grit, and sand. For those who use cases to contain wetness, having a drain built into the case allows for the easy removal of the water when the time is right.
Some divers use their cases as a washing basin for their gear. A built-in drain allows them to easily contain the fresh water and then drain it when the gear is clean and ready to dry.
Wheels and Handles
If you're considering a large watertight hard case, think about how you plan on transporting the case. A case with a built-in handle and wheels will quickly become your best friend. Dragging a case around will protect your gear, but the case's life will be greatly shortened.
There are a variety of handle styles that are available. Think about your favourite piece of luggage; what kind of handle does it have? Most likely, you'll want a dive hard case with the same general carrying/pulling design.
The Scuba Doctor has a full range of Waterproof Hard Cases available.