Scuba Mask Features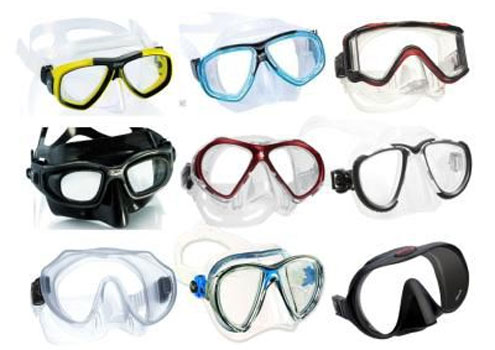 Huge range of masks
at The Scuba DoctorYour mask is a vital piece of diving, snorkelling, spearfishing or freediving equipment, creating an air space in front of your eyes and allowing you to focus underwater. They also enclose the nose in a pocket, so you can equalise your ears as you descend underwater. (Goggles, used for swimming, don't allow this. See Goggles vs Masks.)
It is imperative to have a comfortable, watertight mask to enjoy your time in the water. Your mask is a mandatory piece of personal equipment.
So when buying your scuba mask it's important to know what the different mask features all mean so that you can make the right choice.
Masks are your window on the underwater world. The most important factor with masks is that they feel comfortable to wear, that they fit and seal well around your face and that you have good vision through them. Another factor important for those who wear glasses or contact lenses is whether or not the mask can be fitted with prescription/corrective lenses.
Mask Skirt and Frame Features
Silicone Skirt Masks
All quality mask skirts are made out of silicone, but the thickness and suppleness varies from mask to mask. In general the better quality masks have high quality silicone skirts that mould to your face like a second skin, creating a comfortable, watertight seal. Some manufacturers add different surface textures in the forehead and cheek areas to further increase comfort and improve the seal.
Generally avoid plastic/siltex skirted masks (similar to those you purchase in beach shops). They look the same as our masks with high quality silicone skirts but are a fraction of the price. You are not buying like for like and although it would seem like a great deal, you will only end up throwing it away. Such masks often cause face rashes, are uncomfortable and more prone to leak.
Clear vs Opaque/Black Mask Skirts
With high quality silicone skirt mask you often have a choice of a clear skirt, or an opaque/black one.
Clear mask skirts maximise the amount of available light they allow into the mask. This can be a real plus when diving in shadowed or green water. Some divers claim the clear skirt gives them better peripheral vision. However, when diving in bright tropical waters over a white sand bottom, all that reflective light streaming through a clear skirt can be blinding. New divers generally prefer clear mask skirts because they feel less claustrophobic.
Many divers find Opaque/Black mask skirts a bit more claustrophobic at first. However they are great for blocking reflective light, which is why underwater photographers and spearos love them.
Frameless vs Framed Masks
The lenses in frameless mask designs generally will sit closer to your eyes offering a little wider field of vision in all directions. Frameless designs are also typically lower volume than rigid frame designs.
The lack of a thick rigid frame means frameless styles can be folded up very flat and easily stowed in a pocket as a 'backup' mask.
Most people find that the traditional rigid frame designs offer the most stable and secure fit. Select a framed design if you are one of those rare individuals who have difficultly finding masks with a good fit.
Mask Lenses
Mask Field of View
Optimising your field of view, both horizontally and vertically, is the primary goal of a good mask. But having a good downward view is of particular importance. After all, downward is where you'll find your gauges, buckles, D-rings, BC pockets, weight ditch handles and just about everything else you're going to want to grab. The better your downward view, the easier it is to see and to access your gear.
Single Lens Masks
Some users find that a mask with only one single lens as opposed to two (a left and a right) gives the feeling of a more open, spacious mask because of the absence of the nose bridge. Because there is no solid nose bridge dividing the front window, you can look off to the left or right without losing binocular vision. This can also be a big plus when looking straight on at close subjects. However, single lens masks are typically heavier than double lens mask because there is simply more glass. Also, single lens mask cannot accept true corrective lenses.
Twin/Double Lens Masks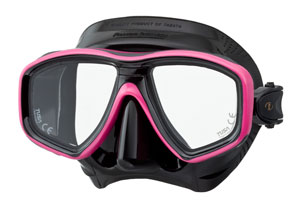 Most masks use a twin/dual lens construction as this positions the viewing glass closer to your eyes, which can increase field of view. Double lens styles are also usually lower volume than single lens designs for easy mask clearing. The extreme teardrop lens shapes offer better 'look down' vision, but at the expense of increased volume. Dual lens masks are the best for divers who may want to install prescription lenses or corrective lenses to improve the underwater vision..
Multi-Lens Masks
Multi-lens masks are essentially single- or dual- lens masks with side windows to increase peripheral vision, as well as to let in more light. This contributes to an airy, open feel that's good for divers who are prone to claustrophobia. However, the intersection of the front and side lenses, while producing a seamless joint when wearing the mask in air, can create blind spots and distortion at depth. Some divers think it's worth it to be able to see what's on their flank, but for others, the distortion is too much of an aggravation.
Prescription/Corrective Lens Masks
If you normally wear glasses, we can provide some mask models within some brands with corrective lenses fitted. Whether negative or positive dioptre correction is available, or bifocal correction, varies with each mask and brand. Corrective lenses are typically available in half dioptre increments. Should your prescription fall between two lens strengths, go for the stronger of the two as you eyes are unlikely to get any better. These corrective lenses replace the glass lens in the mask and are not just bonded to the mask, making the mask much lighter that traditional bonded solutions (and better looking as there is no glue).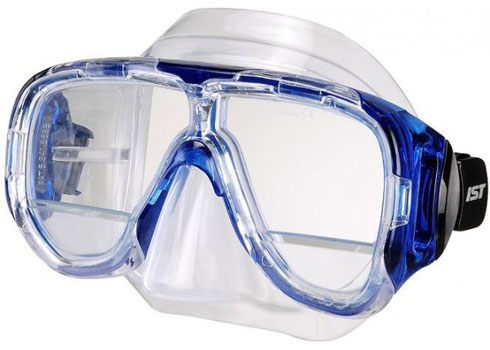 Bifocal lens mask with gauge reading correction lenses.
Normal vision for top two thirds and "reading" (plus) correction for bottom third.
Supplied with the bifocal lenses fitted, plus the original normal lenses.
For a comprehensive run down on what to consider when buying a prescription or corrective lens mask, plus what options we have available, please see Prescription Lens Masks section of The Scuba Doctor online dive shop.
Tempered Lens Masks
Almost all the masks we sell have safety or tempered glass, similar to that in the windscreen of a car, that will not shatter on impact. A few masks have plastic lenses to reduce the weight of the mask, yet these too are resistant to shattering.
Mask Colours
Masks come in a wide variety of styles and colours, so you can typically choose one to match the rest of you equipment.
Low Volume Masks
Low volume masks have been designed to have very little space between a diver's face and the mask glass. This means they hold very little air and thus require less air to equalise and clear. This can be a huge advantage for freedivers, apnea divers, spearfishers and many technical divers who prefer low volume masks.
Many of the low volume masks are "frameless" designs, so are thinner and more compact than "regular" masks. They create less drag when cruising through the water column, and they tend to provide a wider field of view because the front lenses sit closer to your eyes.
Some of the low volume masks we offer are very low volume and sit very close to the face, making them a poor choice if you have a large nose or facial hair.
Mask Purge Valve
For divers who just can't get a mask to seal, buying a mask with a purge valve, to make clearing water from the mask easier, just might be the only solution. Those with a moustache, or who smile a lot underwater, often find these traits cause persistent leaking.
Mounted in the bottom of the nose pocket, a purge valve is designed to keep water from building up inside a leaky mask. All you have to do is ensure that the valve is at the lowest point and exhale through your nose whilst holding the mask against your face to force the water out. The best purge valves will drain without any effort; at worse all you have to do is blow gently through your nose to get it going.
Mask Buckle/Strap Systems
Some buckles are easy to operate and make strap adjustment a dream. Others are simply a pain in the ass.
The buckle systems on many modern masks mount on the skirt rather than the frame. This offers a number of advantages, including improving the range of motion for strap positioning, and enabling the buckles to be folded flat against the lens for stowage or packing.
Make sure that you can easily adjust the mask strap. If you have long hair, then it is an excellent idea to get a Mask Strap Wrapper to reduce the risk of entanglement and hair breakage.
Mask Care
For details about preparing and looking after your mask, please see Dive Mask Care.
---
For a large range of Masks for various applications and conditions from the The Scuba Doctor Dive Shop, please visit:
Please Note: All masks for scuba diving are also suitable for use as a snorkelling mask. Most scuba masks can also be used for freediving and spearfishing.