Dive Compass Buying Guide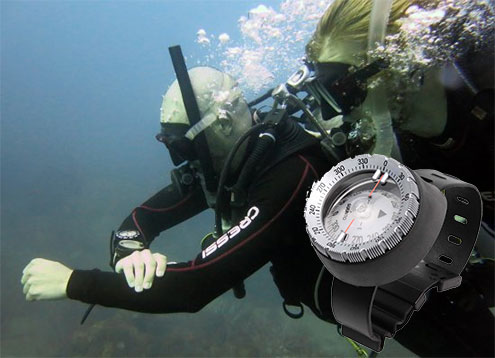 The basic technology of a compass hasn't changed in centuries. With an underwater compass for diving you want to consider how well it works on a tilt, how clear it is to read, how bulky it is, how long it'll last, and if it's balanced for the zone you'll be diving in. There is a trade off. A large compass is easiest to read, but needs to be quite deep if it's to tolerate being tilted.
Many divers take diving compasses for granted, considering them just an accessory to an overall dive gauge console system. Trying to navigate with a poorly designed, or improperly functioning, compass can be one of diving's more frustrating events.
Why Do You Need a Dive Compass?
A top recommendation for staying safe during a dive is to have the best dive compass available at all times. It will provide you with accurate bearing readings for navigating underwater, which will make the dive much more enjoyable, and it could save your life.
A dive compass is actually one of the few ways to orient yourself in the water. It can be easy to get lost while diving. Distractions happen and it's easy to get sucked into the beauty of the scenery or wildlife, causing you to veer off course.
Many experienced divers think they don't require a dive compass because they know how to navigate using the environment. But what happens when they're at a complex, or unfamiliar dive site. Sometimes currents can quickly sweep you into an unknown area, or the visibility is bad. A good dive compass can be the only tool that helps you make it back to safety.
Having a dive compass and knowing how to use it is fundamental safety in diving practice.
Dive Compass Basics
The dive compass is a waterproof instrument used by divers to navigate above water, on the surface and at depth. It determines direction by means of a free-rotating, magnetised card or needle that always points toward magnetic north.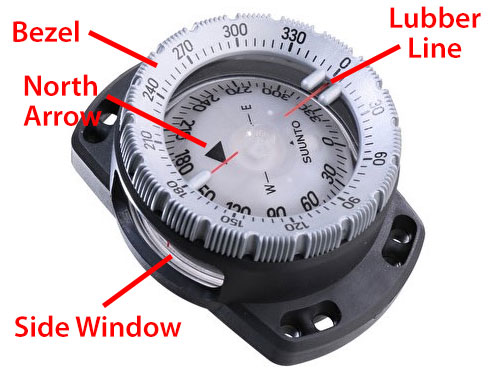 In addition to the North arrow, which rotates as it floats freely inside the body of the compass beneath the compass's clear faceplate, the compass has several other moving parts and features.
The numbered calibrated ring around the outside of the face is the rotating bezel. It may also display N (North) and S (South) reference marks, or just 0 to 360 degree markings.
Typically there is a red lubber line, which extends top to bottom through the face of the compass. The lubber line represents the diver's direction of travel when held out front pointing straight forward. Thus it corresponds to your centreline (being the customary direction of movement). The line represents 0 degrees and is therefore the zero-point from which relative bearings are measured, e.g. twenty-degrees to port (or twenty-degrees to left).
Most wrist mount diving compasses have a side-view window which allows you to hold the compass between your eye and your destination and read your course.
Dive Compass Features
Easy to Read — If you can't easily read your dive compass there is little point in having it. Make sure the compass markings are sufficient for your requirements and easy to read. The compass bezel on the better ones have compass headings in 30-degree numbered increments, plus indicator marks for every 5-degrees.
Tilt Tolerance — This refers to how far off a zero degree plane you can tilt the compass before the needle gets stuck. The bigger the tolerance, the better. The best dive compasses have a tilt potential of +/-30 degrees. This is two or three times greater than in conventional diving compasses. A high tilt tolerance means that the compass card will spin freely even when the unit is not held completely flat, helping you to navigate effectively in all diving conditions. You don't want a dive compass that forces you to concentrate as much on holding it flat so it won't stick, as navigating.
Night Reading — Key points on the compass, including the north end of the needle, should be marked with phosphorescent, or self-luminous materials which can be charged with a diving light. Simply point your torch at the compass face for around 30 seconds and you will be able to navigate in confidence in poor light, and even in complete darkness.
Lubber Line — The rotating bezel has twin heading indicators for alignment of compass course and a lubber line across the compass face showing the direction straight ahead. Once you've set your bearing using the lubber line you'll be able to follow the compass in a straight line towards your target. Always make sure that you keep an eye on it so you don't get lost.
Side View Window — Many analog dive compasses have a side window. This makes it easier to use while setting the lubber line. After the lubber line is set you can follow it by looking straight down at the compass.
Size — Most underwater compasses are approximately the same size. What is important is that your compass is easy to see and read particularly in low visibility or dark conditions. A bigger one will be easier to see and the better choice, though perhaps heavier.
Dive Compass Mounting Options
Compasses vary greatly as to where they are worn/attached and this is down to personal diver preference. From wrist mounted compasses with straps or bungees, to a gauge mounted compass, or even retractor mounted compasses, there are many variations.
Console — It's common to see a compass incorporated into an instrument console. A console mount compass is convenient, but the fairly short high-pressure hose makes the console awkward to hold so that the compass is both level and easy to see. For divers that can't add a dive compass to their existing console, some dive compasses are able to be hose mounted.
Wrist — We prefer to use a wrist-mounted compass as they're easier to manipulate. They are roughly the size of a large watch and can be worn on the same wrist, or on the opposite arm, of your dive computer. Wrist mounted dive compasses usually come with a strap, or bungee cord. If you're wearing a thick wetsuit with long sleeves, make sure your dive compass comes with a large enough wrist strap to help you fit around the extra material.
Retractor — Some divers prefer to retractor mount their dive compasses. Thus they can clip the retractor end off to a D-ring somewhere on their BCD and quickly deploy the dive compass when needed.
Slate — For precise survey work you'll want a board/slate mounted compass. You'll hold it level to take an accurate bearing. But such a bulky setup is not convenient to take on a dive where you don't need that sort of accuracy.
Diving Compass Balance Zones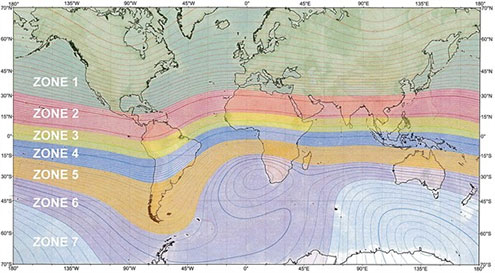 Do you understand the difference between a Southern hemisphere and a Northern hemisphere compass? Compasses are designed for use within a certain area of the globe because the earth's magnetic field not only varies horizontally, but also vertically, causing the needle to dip downward when the case is held level. The compass needle card is balanced with a small weight to counteract the downward dip so the needle card does not drag or stick on the top or bottom of the capsule.
Most diving compasses are balanced for either the Southern hemisphere or the Northern hemisphere, with a few degrees of overlap. If you take any dive compass to a significantly different part of the globe than where it was balanced for, you need to check the compass carefully before relying upon it.
It's absolutely essential that you use an underwater compass that is balanced for the zone in which you're diving in. Be extremely careful when buying a dive compass online, especially from an overseas web site, to make sure you're getting a compass balanced for your zone.
Dive Computer Digital Compasses
Digital compasses are becoming a popular feature in dive computers, and they do not have balance zones. Digital compasses are universal because they have a user calibration feature, which is performed in the region where the diver plans to use the compass. A change in region simply requires a recalibration before use in the new location. So, have you calibrated your digital compass? If you don't know how to do this, please consult your dive computer owners manual.
Best Diving Compasses
At The Scuba Doctor, we only stock the very best underwater and diving compasses to ensure that you are on track at all times. We use and strongly recommend the Suunto range of wrist mount dive compasses, but have plenty of options from other brands as well. See Scuba Diving Compasses.
Suunto have been making excellent compasses since 1936. They make the world's best diving compass — the Suunto SK-8 — and it's competitively priced. Just choose whether you want the wrist strap or bungee option. You can also convert the wrist strap model into a retractor mount. Plus the Suunto SK-8 is available in top and back mount options for Suunto instrument consoles. To safely navigate underwater in Australia, use a Suunto SK-8 balanced for the Southern Hemisphere.
Best Wrist Mount Dive Compass
Best Console Mount Dive Compass
Best Retractor Mount Dive Compass
For more diving compass options, please see Scuba Diving Compasses.