What Snorkelling Gear Do You Need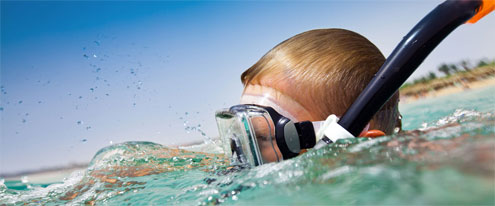 Watersports across the board all require equipment be used that is relative to that particular sport and snorkeling is no different. There are basic pieces of gear that are needed to actively participate in this sport and it includes a mask, snorkel and fins. As simplistic as this sounds, it is easy to be quickly overwhelmed with the wide variety of styles and the various bells and whistles associated with each specific item.
Snorkelling Masks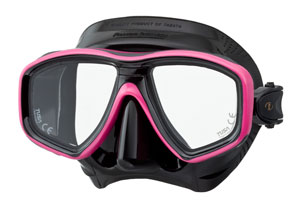 The mask is a viewing device, which, when worn on the face allows you to view the underwater world. Without it, everything viewed under the water would be a blur. It creates an air space in front of your eyes which is what they need in order to be able to focus correctly. Features, materials and styles of masks are diverse. And remember, masks suitable for scuba diving are also suitable for snorkelling, but the reverse is not always true.
Our Favourite Snorkelling Masks
Medium to Large Adult Faces
Apollo SV-2 Pro Mask
RRP: $129, Our Price: $89, You Save $40 (31%).
Exceptional visibility and low-volume comfort while incorporating a soft mask skirt that fits most medium to large adult faces. The Apollo SV-2 Pro Mask is also available in a wide range of negative dioptre corrective lenses, plus gauge reading, bifocal lenses, for those that need assistance seeing clearly underwater.
Small to Medium Adult Faces
Tusa Freedom Ceos Mask
RRP: $140, Our Price: $119, You Save $21 (15%).
A low-profile, low volume, two window mask that delivers superior fit, comfort and performance. It both looks cool on your face and offers unparalleled vision, both in terms of clarity and field of view. The Tusa Freedom Ceos is also available in a wide range of negative and positive dioptre corrective lenses, plus gauge reading, bifocal lenses, for those that need assistance seeing clearly underwater.
Kids and Petite Faces
Apollo Nemo Childs Mask (8-16 yrs / Petite Adult)
RRP: $49, Our Price: $39, You Save $10 (20%).
Specifically designed for children's faces the Apollo Nemo Mask is also made from the same quality materials as the full Adult sizes. Perfect for children as well as petite/small/narrow adult faces.
Snorkelling Snorkels
The snorkel apparatus is a tube which allows you to breathe while at the surface while their face is submerged. Since the average human head weighs around 4.5 kg (10 pounds), the snorkel could also be described as an energy saving device as it eliminates the energy expenditure needed to lift the hear clear of the water in order to inhale air.
Snorkels are either adult or child specific with respect to the size and the length of the barrel. There are essentially three designs with additional comfort features.
Snorkels suitable for scuba diving can also be used for snorkelling, but snorkels specifically indended for snorkelling are not suitable for scuba diving.
Our Favourite Snorkelling Snorkels
Adult Dry Snorkel
Tusa Hyperdry Elite II Snorkel
RRP: $88, Our Price: $75, You Save $13 (15%).
Great for snorkellers and scuba divers who like to ensure water doesn't enter the snorkel tube when the snorkel is in use.
Adult Snorkel
Apollo SV Dry Flex Silicone Snorkel
RRP: $50, Our Price: $32, You Save $18 (36%).
The streamlined oval-shaped bored tube and lower flex tube combine to make this snorkel perfect for both snorkelling and scuba diving. The snorkel has a Splash-Proof dry guard that virtually eliminates water intake through the top of the tube.
Kids Snorkel
Apollo Kids Snorkel SV Junior (6-12 yrs)
RRP: $30, Our Price: $22, You Save $8 (27%).
Designed for Children and those with smaller mouths. The streamlined oval-shaped bored tube is made for smaller and younger snorkelling enthusiasts.
Snorkelling Fins
Fins are worn on your feet and are used for in-water locomotion. They make it easier to move through the water allowing greater distances to be achieved than would be possible without them. They attach to your feet by way of a either a shoe-like foot pocket (full foot fins), or a half foot pocket with heel strap (open heel fins). Some styles are environment specific while others may be for specialised use.
Our Favourite Snorkelling Fins
Full Foot Fins
Cressi Pluma Full Foot Fins
RRP: $59, Our Price: $49, You Save $10 (17%).
Great for snorkellers and scuba divers these fins deliver high performance, extreme lightness, easy fining, and comfort.
Open Heel Fins
Tusa Solla Open Heel Fins
RRP: $200, Our Price: $159, You Save $41 (20%).
A very capable open-heel fin that does everything well — and at a friendly price. Worn with neoprene socks or dive boots.
Travel Fins
Tusa Sport Reef Tourer Snorkel Fins - Open Heel Barefoot
RRP: $45, Our Price: $39, You Save $6 (13%).
These open heel barefoot snorkelling fins are designed for snorkelling, surfing, or any outdoor water sport. The Small size option is a great child's junior size. It's a great fin for holiday fun that will fit for a few summers and not just one!
Exposure Protection
While the aforementioned items are deemed essential to this sport, there is an additional piece of equipment that should be considered. The item is in the form of exposure protection which can consist of neoprene rubber based shorties or wetsuits, lycra based jumpsuits, or rash guards. The purpose is multi-fold but and can include thermal insulation, protection from the burning rays of the sun and even protection from accidental contact with various types of marine life.
Highly Recommended
There is quite a variety of other snorkelling accessory items which are designed to enhance your in-water snorkelling experience making it infinitely more enjoyable. Equipment care items such as defog and cleaners, comfort items like padded fin or mask straps, and even fish ID books and cards designed to further introduce and educate you to beauty and wonder of our world beneath the waves. Give yourself a moment or two to explore the various equipment categories available via our online shop. Check back often as content is added or updated frequently.
What Is The Best Snorkelling Gear For You
Once you know what snorkelling gear is actually needed, cursory research often leads to the belief that the 'best' gear for you is the most expensive. If anything is to be learned when researching equipment, it should be that there is an order of importance with respect to equipment as to which factors are more important than others when determining which is the 'best' for the user.
Comfort — It should go without saying that if something is physically uncomfortable to wear or to use, then that feeling will have a negative affect on both performance and overall enjoyment.
Fit — Snorkelling gear that is ill fitting is almost a guarantee that the users experience will not be as pleasant as it could. This is especially true in the instance of masks and fins. A mask that does not fit will allow water to enter while in use. Fins whose foot pockets are too tight or too loose will either cause cramping or irritation in the form of blistering.
Materials — One should take into account the materials of which the equipment is made. Lesser quality materials used in key areas of the equipment can have an adverse affect on that item's durability and in many cases its fit and comfort capabilities.
Features and Benefits — Explore the options available with regard to items being considered. Certain options on a particular piece of equipment may further enhance the comfort value for the user. Read the bells and whistles that are available.
Replacement Parts — When researching equipment, taking into consideration the availability of user-friendly replacement parts should be more than just a fleeting thought. Unless it is excessively abused, quality snorkelling equipment should last a person many years. While this longevity does require some responsible effort from the owner, there will be instances of wearing parts that might need replacement such as mask and fin straps. It is in one's best interest to make sure that there suitable replacement parts are available.
Affordability — Affordability is probably the next thing to be considered when deciding which is the best snorkelling equipment. Most people have a basic idea of how much they want to spend and those that don't would be best to research using the above criteria as a base for budgeting.
Knowing the basic snorkelling equipment needed as well as being able to build that information into an understanding of what is needed with regard to that equipment not only helps to create a more informed consumer but will also build confidence and increase enjoyment and appreciation in this amazing sport.
Check out the great range of Snorkelling Gear in our online shop.