Coronavirus COVID-19 Restrictions
Rye VIC 3941 is in the Shire of Mornington Peninsula which is included in Metropolitan Melbourne. Thus from 6 pm on Sunday 2nd August 2020, we are in Coronavirus COVID-19 Stage 4 Lockdown for six weeks. You cannot travel to come to the dive shop.
You may travel up to 5 km radius from home to exercise. Exercise outside of the home is only be allowed for one hour per day, with one other person. Recreational activities including diving, snorkelling, kayaking, SUP, boating, fishing etc. are banned.
The Coronavirus COVID-19 situation is having an impact on all of us. It's a constantly changing situation. We've been trying to keep our customers, suppliers and the general diving community up-to-date with what we're doing via regular posts on our Facebook page, plus email newsletters. However, we felt it best to bring it all together here in one easily accessible location.
The health, welfare and safety of all divers is an overriding concern for The Scuba Doctor and it is recognised that the coronavirus outbreak, subsequent spread and associated media publicity can heighten awareness and concern.
The Scuba Doctor continues to monitor current government advice to assess the risk as appropriate. We also work closely with industry sources in order to assure a considered and appropriate response.
Last Updated: Wednesday, 05 August 2020, 8 p.m.
Dive Shop Coronavirus COVID-19 Restrictions
Shopping Online
Our online dive shop is open 24x7. We are processing online orders, answering emails and phone calls from 9 a.m. till 5 p.m. on Monday, Wednesday, Thursday and Friday.
Shopping In-Store
Our physical bricks and mortar location, The Scuba Doctor Dive Shop, in Rye on the Morning Peninsula south of Melbourne is closed for all in-store retail activity, air fills, etc.
It is currently illegal to visit the dive shop.
Guided Dives and Dive Courses
Due to the Coronavirus COVID-19 pandemic related restrictions put in place by the Victorian state government, diving is currently not allowed in Victoria. We will be providing Guided Dives and Dive Courses again when these restrictions are removed.
Given the current rapidly changing situation and unknowns, we've decided that it's prudent to put in place these restrictions. They could change at any time.
Given we typically do one-on-one or one-on-two Guided Dives, the first change is not a big one for us. However, for the time being we've suspended all in-water diver training courses.
Please see Melbourne Guided Dives.
Click and Collect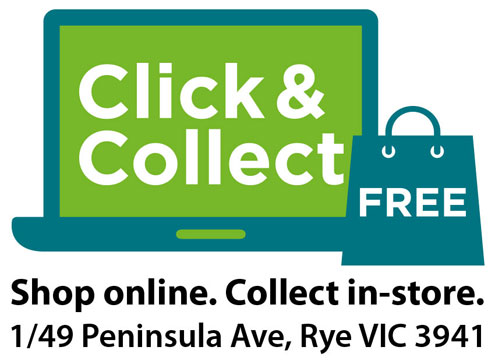 While the COVID-19 Stage 4 Restrictions apply, we are not doing Click and Collect.
Air and Nitrox Fills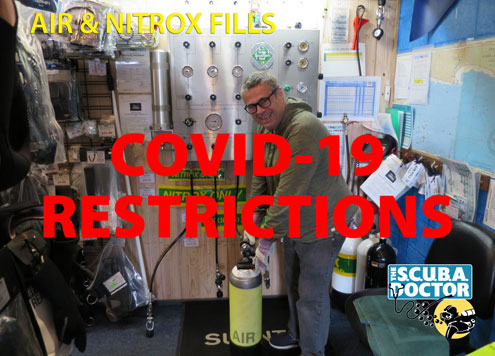 Air and Nitrox fills for Commercial Customers Only.
We won't be doing air fills for anyone but commercial divers. No-one else is allowed to go diving or snorkelling. Please stay at home.
Given the current rapidly changing situation and unknowns, we've decided that it's prudent to put in place these restrictions. However, they could change at any time.
The process of compressing gases generates heat during the compression process that should kill any virus inadvertently to enter the air intakes. Helium and oxygen supplies for producing gas mixes are always be from a reputable source for breathing gases. Consequently, the gas in your diving cylinder should remain safe to breathe.
The greatest potential for transmission of the COVID-19 virus is through surface contact around the top of the cylinder and pillar valve. Compressor operators, people transporting cylinders and those assembling scuba sets should avoid touching or otherwise contaminating the outlet of the cylinder or the first stage of the regulator that connects to it.
See also, Air, Nitrox and Trimix Fills.
Scuba Gear Rental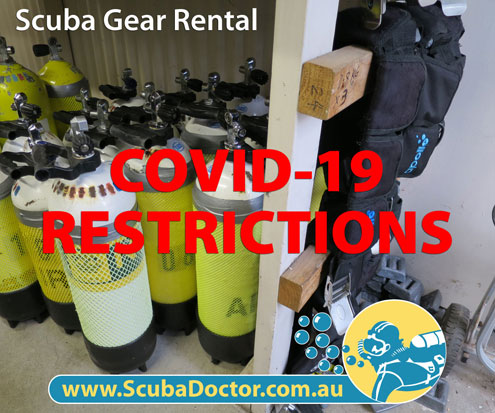 Under the current Coronavirus COVID-19 Stage 4 Restrictions in Victoria, you are not allowed to go diving. BY LAW WE ARE NOT ALLOWED TO PROVIDE ANY RENTAL GEAR of any kind during the restriction period. Please stay at home.
Please Note: There are only two products we trust to properly clean and disinfect scuba gear against COVID-19, while at the same time not damaging the scuba gear. One is Virkon S Tablets, the other being Steramine Quaternary Sanitizing Tablets. We normally use Steramine and ordered more stock of Steramine in early February and it's still not here. In the meantime, we've run out of it. In May, we managed to find a source for Virkon S Tablets. However, we'd prefer to keep everyone safe by simply not renting out BCDs, Regulators, and Wetsuits.
See also, Scuba Equipment Rental.
Eight Simple COVID-19 Risk Reduction Steps For Divers
PADI has introduced eight simple COVID-19 risk reduction steps for divers to be taken into account while doing any diving related activities.
COVID-19 primarily spreads by by inhaling small droplets exhaled by an infected person (respiratory transmission), and by touching the eyes, nose and/or mouth after touching something an infected person touched or sneezed/coughed on (contact transmission). By staying aware of both, risk reduction is usually straightforward. Keeping things simple usually works well.
Don't go diving if you have or may have (symptoms), or have been exposed to any infectious disease. Isolate until healthy and clear according to medical advice.
Support the space program. On the surface and out of the water, apply social distancing and give each other the local minimum required separation.
Keep your dirty mitts off! Sanitise/wash your hands before and after touching any dive gear (including your own), even if touching was in underwater. Don't touch someone else's gear unless absolutely necessary. It's not clear that immersion reduces COVID-19 contact risk, so assume that it doesn't. Note: Recommended hand sanitisers are 70%+ alcohol and highly flammable. Do not use hand sanitiser near oxygen or a fire source. Be sure hands are fully dried before using either.
Don't clam up: Medical mask etiquette. My mask helps protect you. Your mask helps protect me. Let's follow local protocols and not be shellfish.
COVID-19 hates scuba. Your mask reduces eyes and nose contact-risk, and keeping it on is the best habit whenever you're in the water anyway. Breathing from a regulator reduces your respiration transmission risk.
Be a lean, clean, sanitary machine. Use defog. Disinfect masks, snorkels, regulators and BCDs before another person uses them, and before storing them. Don't sling the ... stuff ... out of your mask after a dive. Rinse it somewhere appropriately. Avoid spitting/blowing nose etc. into the water where others will be/are. Use tissues and discard them appropriately. Wash/sanitise your hands after touching high contact surfaces like railings, door pulls, safety handles, etc.
Sharing air is bad. At the surface. Diving, dive gear and wind affect the direction and distance our exhalations travel. Stay aware and avoid being on , and having someone on the "receiving end" when clearing snorkels, breathing hard after freediving, etc. Regulator-breathing helps protect you, but your exhalations might affect someone who's too close and not using a regulator.
But sharing air might be really important underwater. So, don't test breathe your alternate second stage. Test purge it during checks, but leave it disinfected in case someone needs it. Or, test breathe it, then re-disinfect it.
Disinfecting Scuba Equipment
We only trust two products to safely disinfect scuba gear from COVID-19, without damaging the life support equipment, when used properly. One is Virkon S Tablets, the other being Steramine Quaternary Sanitizing Tablets.
Virkon S Multi-Purpose Sanitiser Tablets (50 Pack)
RRP: $75, Our Price: $69, You Save $6 (8%).
Virkon S Tablets are a US EPA registered, broad spectrum virucidal bactericidal fungicidal disinfectant. Virkon S has been fully tested by the Royal Australian Navy and is used extensively by them, but especially by the clearance divers.
During this period of risks from COVID-19, additional precautions may be considered to include any personal equipment that is intended for use by another diver in an emergency (AS and BC mouthpieces) can additionally be soaked in a suitable disinfectant solution for 10 minutes. Any equipment soaked in disinfectant solution should be thoroughly rinsed in fresh water before further use and allowed to air dry thoroughly before storage. If owners are concerned this might impact on the equipment they should contact the manufacturer for advice.
It is essential that manufacturers guidelines are followed when considering any means of disinfecting regulators and BCDs. Any chemical that could interact with the moving parts, valves and perishable components within the regulator could interfere with the working and/or performance. If owners are concerned this might impact on the equipment they should contact the manufacturer for advice.
Hand Sanitiser
We've finally come up with a great solution to our problem sourcing hand sanitiser for the dive shop. Somerville, Mornington Peninsula based Chief's Son Distillery is now making hand sanitiser.
It's a quality medical grade product which is ethanol 80% v/v, water, glycerol and hydrogen peroxide based in accordance with WHO standards, FDA and TGA approved. There are options they can deliver and options that are pick up only at the distillery door. The quality you can order online is limited, but you can call them on 03 9013 0859 for bulk orders.
We purchased five of the 250ml glass spray top bottles, five of the 500ml refill glass bottles, plus a bulk 10 litre pack. When we've used up the contents of the 250ml bottles we'll switch the spray tops over to the larger 500ml bottles, which are a better size for use in the dive shop. Then we've got the bulk supply of 10 litres to refill the 500ml bottles from. We can just go back for more bulk hand sanitiser as required. A great, environmentally friendly, ongoing solution.
If you need hand sanitiser for your home, business, school or medical facility, we strongly recommend you contact Chief's Son Distillery.
Face Masks
We have for sale the Australian Made range of Sharkskin Envirus fabric/cloth face masks.
Sharkskin Envirus Everyday+ Face Mask
RRP: $30, Our Price: $27, You Save $3 (10%).
This face mask is easy breathing, flexible, and comfortable. Specifically designed to be used for long periods every day. The outer layer has water repellent properties with an anti-microbial/anti-bacterial treatment. The inner finer stitched fabric allows for better filtration and is permanently anti-microbial thanks to the inherent highly flexible liquid titanium woven into the fabric.
Sharkskin Envirus Hydrophobic Face Mask - Antimicrobial PPE
Our Price: $38
This is a multi-layer design based on the best scientific data available. Sharkskin have worked with scientists, fabric experts, industrial and technical wear manufacturers to ensure to offer the best protection they can.
We've been using the surgical face masks, made in Shepparton, Victoria, Australia, by Med-Con Pty Ltd.
Model 170506, High Filtration Surgical Face Masks with Earloops, Level 2, Green colour are available in boxes of 50 masks.
They are way more comfortable than the P2/N95 respirator face masks we see being used by some people. However, these surgical face masks are needed for use by medical professionals and others at risk of exposure to COVID-19. Med-Con's full production output is now being diverted for this purpose.
Other Resources