BCD Servicing
Don't forget to have your BCD serviced this year. The Buoyancy Compensator Device (BCD) is one of the most expensive items of required scuba gear, after the regulator, as well as one of the most important. Most divers are well aware that a scuba regulator requires routine post-dive care and yearly service, but did you know that the same also applies to your BCD? Scuba Doctor Service and Repairs can give your BCD the service overhaul it needs to keep it functioning properly and looking its best.
All major brands of BCDs are serviced by our fully qualified technicians including: Apeks, AP Diving, Apollo, Apeks, Aqualung, Beuchat, Boss, Cressi, Dacor, Dive Rite, Dolphin Tech, Genesis, Halcyon, HOG, Hollis, IST, Mares, Mirage, Oceanic, OMS, Poseidon, Sea Hornet, Scubapro, Seac Sub, SeaQuest, Sherwood, Tusa, Zeagle etc. plus many more are all catered for.
Please remember that an integrated extra second stage (i.e. inflator octopus) is really part of your air delivery system and should be serviced accordingly.
Professionally Trained and Experienced Scuba Technicians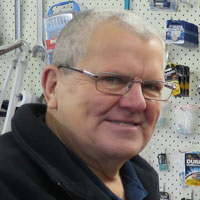 Peter Fear, Owner,
Scuba Doctor Service and RepairsOur scuba technicians are fully trained and manufacturer approved, with many years of experience behind them. This high level of training and experience ensures you the highest of standards of BCD servicing and reliability. An ongoing dialogue and interaction with the manufacturers also guarantees we only ever use the most up to date procedures.
At Scuba Doctor Service and Repairs, we will only do a BCD overhaul one way — the right way — and pride ourselves on not taking any short cuts.
Here at Scuba Doctor Service and Repairs we are fully authorised and approved for all of the scuba equipment servicing we offer, and as such we only ever use official manufacturer supplied parts and test procedures.
BCD Service Steps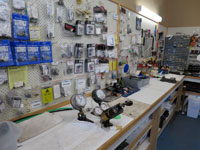 Scuba Doctor Service and Repairs
WorkshopDuring a BCD overhaul at Scuba Doctor Service and Repairs, your unit is taken apart into its component parts. All the appropriate parts are then cleaned, de-greased and de-scaled ultrasonically. Each part is fully inspected for defects and wear indications that may cause problems for you later on. Bladders and inflator hoses are checked for leaks and repaired or replaced as required. O-rings are automatically changed even if they don't show deterioration.
Once the strip and clean phase is complete all equipment is laid out ready to be re-assembled. During the assembly phase metal threads and O-rings are lubricated and special tools are used to reinsert the tiny pieces. Coaxing O-rings into place requires patience and a steady hand.
Our scuba technician will check all moving parts on your BCD and verify that its air-holding capacity is not compromised. When the BCD overhaul is finished, your BCD will be like new.
Why Annual BCD Servicing?
Together with most dive manufacturers, Scuba Doctor Service and Repairs recommends that you have your BCD overhauled every year or every 40 dives, whichever comes first. It cannot be assumed that a BCD is in good working order on the basis that it has received little use since it was last serviced. Remember that prolonged or improper storage can still result in internal corrosion and/or deterioration of your BCD.
Chlorinated swimming pool water is an especially damaging environment for scuba equipment, due to the high levels of chlorine and pH balancing chemicals which cause certain components to rapidly deteriorate. Similarly, the water found at many Australian cave diving sites is also damaging to scuba gear.
Plan Ahead and Miss the Mad Rush
If you want Scuba Doctor Service and Repairs to service your BCD, please plan ahead. Many people only think about having their annual BCD overhaul done a few days before they want to go scuba diving. Thus we tend to get most overhauls in the peak of Summer as people decide to go diving. A better time would be in Autumn, just before that great Winter dive vacation, or in Spring as you start to think about the local dive season. This is also a good time to get your Regulator Overhauled, Scuba Cylinder Tested, or your Dive Computer Battery Changed. Then your gear is ready to go when you want to use it. Please keep this in mind as you make plans.
If you need some advice or information on BCD or other scuba equipment service and repairs, please feel free to Contact Us. We'll be glad to help.
BCD Maintenance Tips
To ensure that your BCD performs well between overhauls, please read and follow our Buoyancy Compensator Care Guide.
---
Scuba Regs, BCs etc. Service Prices
Service Item
Price
inc GST
Regulators
(parts not included)
1st Stage Only
$ 40.00
2nd Stage (or Ocy) Only
$ 40.00
Alternate Air
$ 60.00
Hourly rate for poorly maintained equipment
$ 60.00
Buoyancy Compensators
(parts not included)
Power Inflator & Dump Valves
$ 35.00
Power Inflator Only
$ 30.00
Dump Valves Only
$ 10.00
Dive Computer Battery Change
(parts not included)
Labour Only — charge by Scuba Doctor Service and Repairs
$ 35.00

Full Service Price List

PLEASE NOTE: All prices are correct as of 22 February 2016.
All prices do not include parts (unless stated).
All of the above prices are subject to change without notice.
Need a new BCD? Take a look at the new BCs and BCDs we have available in our dive shop.