Buoyancy Control

This is a buoyancy control exercise, not meditation. Try it sometime.
Scuba diving has three essential skills: breathing, buoyancy control and surfacing before the gas supply runs out. All other skills are add-ons, although they will make any dive more comfortable and safer. Of the three major skills, breathing will have been mastered prior to scuba training, and surfacing before the gas supply runs out should be fairly easy to master. The major scuba diving skill to learn and keep monitoring is buoyancy control.
How do you decide if your own buoyancy control is good? Do you sink or ascend if you stop finning? Are you known to kick silt up? Can you ascend a shot line without holding on? Can you hold a 3 or 5 metre safety stop at the end of the dive, with low cylinder contents?
Here's a simple test. Swim horizontally at an underwater object. If you breathe in slowly, you should rise slightly, and if you breathe out slowly, you should sink slightly. Do you?
Does it matter? Well, many diving incidents have deficient buoyancy control at their core. So yes, it matters!
Get Your Dive Weighting Right
We recommend you record the gear you use and the lead dive weights you're using for every dive in your logbook. Thus you can easily lookup what dive weight you should need for different dive equipment configurations.
Then you check your buoyancy and trim in the water. If you think it's a bit off, make a mental note to do a proper buoyancy check at the end of the dive. With 50 bar left in your cylinder(s) (dump air if necessary to achieve this), you want to be neutrally buoyant at 3 metres with no air in your BCD. (Shallow water pier and shore divers might want to make that 1 metre.) If that's possible, then your ballast weight is correct for the dive gear configuration you're using. Of course, if you're in a dry suit, you also need to have very little air in your dry suit. Just enough to prevent pinching, no more.
See Perfect Scuba Diving Weighting for more detail about doing a proper buoyancy check, plus our Dive Weights Buying Guide for help choosing the best diving weight system.
Setting Buoyancy Control Goals
You can steadily get better at this buoyancy control lark. What helps is setting goals.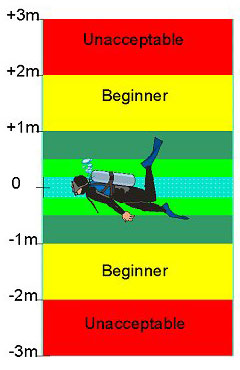 Buoyancy control range chart An initial goal would be getting close to you being 100% confident you can maintain a position in the water +/- 1.0 metres, no matter what happens.
An intermediate goal would be to stay within a +/- 0.5 metre range of your desired depth.
A challenging goal would be to eventually expect you being able to do better than this and get to +/- 0.2 metres, even in very stressful situations where dive buddies are panicking, whilst multitasking (which of course for anyone is virtually impossible even when on dry land!), gas switching, shutdown drills at a 3 metre stop, mask clearing, and deploying DSMBs. But it's going to be a long process to get there.
The first rule is to try to keep breathing normally, instead of falling into the trap of holding your breath when concentrating on a task.
And you need to be progressive. Don't try and maintain your buoyancy within too tight a range at the beginning. Aim for +/- 1 metres at first. Then +/- 1 – 0.5 metres, and finally +/- 0.2 metres.
Try and get it a bit better on every dive, but don't become too obsessive. Of course, when you think you have really sussed it, something will happen to shatter your confidence.
Once you think you have a goal sorted, start to task load yourself by checking your gas, or writing on a slate with a reference in sight such as the bottom, or a marker on the shot line, and then moving on to deploying DSMBs.
Good Trim
Make sure your trim is correct. By this we mean adjust your weighting and kit configuration so you can sit totally horizontal in the water and totally stop finning whilst maintaining your buoyancy. It's more difficult that it sounds.
Good buoyancy and trim is so important because a relaxed and comfortable scuba diver is experiencing very much lower stress levels, both physical and psychological. Consequently such a diver is much more able to deal with any unforeseen problems in a logical and methodical way, use less gas, reduce his/her propensity to suffer many diving ailments and enjoy their diving more.
Diving happiness is fine buoyancy control and good trim. After all, one of the attractions for many in diving is the enjoyment of the feeling of weightlessness underwater. The ability to move almost effortlessly in three dimensions once achieved properly, not only makes diving easy, but also allows you to do other things, like take pictures or resolve minor problems, without task loading.
If scuba diving was a competitive sport then skills based around perfect buoyancy control and good trim would be a key part of any competition. A few years back DAN Europe ran a MasterTrim contest with the support of the Green Bubbles Project. Maybe this should happen more.