Buying Scuba Diving Hoses
After generations of rubber as the status quo in scuba hoses, technology has finally been used to improve this important product used by every diver. Every aspect of the double-braided polyester hoses out perform rubber hoses. Double-braided is much more flexible, at least a third lighter, much more durable, kink resistant and enormously stronger. Recent updates with high-pressure fittings have addressed the early issues and these too are now better than found on rubber hoses. The only issue remaining has been price, and now even that has reached parity or better at The Scuba Doctor.
Only a handful of companies have the technology to make double-braided polyester hoses, although these same hoses are sold under a variety of different names. The Scuba Doctor mostly sells the Italian made, premium quality, Miflex brand. We stock the full range.
As ever when looking to purchase a new product, you should also ensure you check what you require before ordering.
We offer a choice of colours, lengths and fitting combinations and have added a large range of Hose Adaptors to assist where our standard fittings may not be suitable for your requirements.
Identifying the Right Scuba Hose
Replacing old hoses on your regulator can feel like a minefield with all of the different size threads available. First you need to be able to identify what the hose is for, then what fittings the hose has at each end and finally, what length the hose is.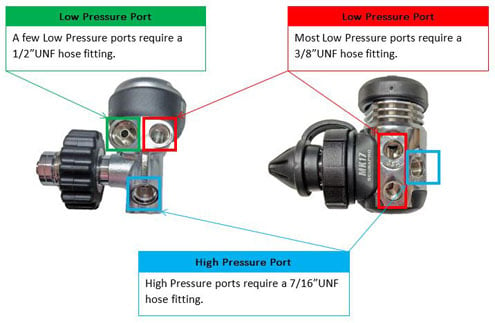 All regulator first stages will have:
At least one 7/16" high pressure port usually marked with HP stamped next to it
Multiple 3/8" low pressure ports for second stages and inflator hoses
Some regulator first stages will have:
One 1/2" low pressure port for a primary second stage and multiple 3/8" ports for other low pressure hoses
There are three commonly used screw threads for low and high pressure hoses connecting to a first stage and your second stage. On the first stage itself you will find:
3/8"-24 UNF (Outlined in RED)
1/2"-20 UNF (Outlined in GREEN)
7/16"-20 UNF (Outlined in BLUE)
Measuring the Hose Fittings and Threads
If all else fails you can take a ruler and measure the internal diameter of a port from the root of the thread across to the opposing root and the external diameter of a hose from crest to crest to see what size it is as a fraction of an inch.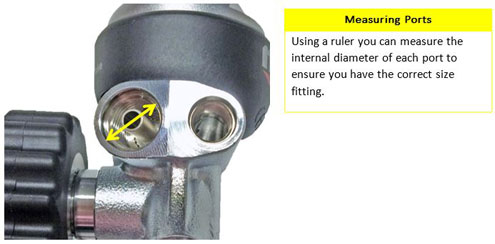 Scuba Hose Bore Size
High pressure and low pressure hoses can be easily told apart by looking at the male end of the hose. A low pressure hose will have a fairly large bore hole for improved airflow compared to the high pressure hose's pin hole sized bore. The small bore of a high pressure hose is due to the high pressures they deal with where the internal volume needs to be kept to a minimum.
Selecting the Right Scuba Hose
The right scuba diving hose is the one that's best for your application. Regardless of how well we do our research on "standard hose lengths" someone always needs a hose of a different length or colour.
Regulator Hoses
The majority of regulator and octopus hoses have a 3/8"-24 male UNF thread for the first stage connection with a standard 9/16"-18 female UNF scuba style nut for connection to the second stage regulator.
Certain Mares and older Apeks first stage regulators have larger 1/2"-20 female UNF thread ports. We have low pressure first stage adaptors to convert from 1/2"-20 UNF to standard 3/8"-24 female UNF thread ports.
We strongly recommend the range of Miflex Low Pressure Regulator Hoses, available in lengths from 15 cm to 210 cm and ten different colours.
BCD/Inflator/Jacket Hoses
On our BCD/Inflator hoses, these are all supplied with a 3/8"-24 male UNF thread for first stage connection and a Seatec style quick disconnect/release couple, fitted with an internal Schrader valve.
Our Inflator hoses are also suitable for dry-suit applications as well.
Some BCD inflator units incorporate a combined octopus/backup regulator. A standard inflator hose can't supply enough air for the regulator section of the unit. So the manufacturers have their own hoses, typically a regulator hose, with their own non-standard inflator quick disconnect fittings at the end. This stops you from using a standard inflator hose with these units.
To replace such hoses, we recommend you use a Miflex regulator hose with an adaptor to convert the regulator hose to the combined inflation and octopus fitting. Generally there are two types of these special quick disconnect, low pressure, male fittings:
For the Apeks Octo Plus, SeaQuest AirSource (including 1, 2 and AirSource3 QD), Zeagle Octo-Plus, Aqualung Air Mic, Mares Air Control, Beauchat Venturi, US Divers Air Mic, Oceanic Air XS, Aeris AirLink and compatible BCDs.
For the ScubaPro Air II, Tusa Duo-Air, Sherwood Gemini, DiveRite RiteSource, H2Odyssea Inflator plus, Atomic Aquatics SS1 or Zeagle Octo-Z Breathable and compatible BCDs.
We keep these low pressure BCD hose adaptors in stock. If you are unsure what you require, please drop us an email or give us a call.
We strongly recommend the range of Miflex Low Pressure BCD/Inflator/Jacket Hoses, available in lengths from 15 cm to 120 cm and eight different colours.
High Pressure Gauge Hoses
The typical HP hose has a 7/16"-20 male fitting at the end that screws into the first stage regulator HP port, and a 7/16"-20 female fitting at the end that screws on to the submersible pressure gauge (SPG).
The Miflex Carbon HD range of high pressure gauge hoses bring clear benefits when compared to traditional rubber HP hoses to better suit the majority of divers requirements. Slim-line and lightweight design, approximately 35% lighter than traditional HP hoses with a burst pressure in excess of 2,000 bar (29,000 psi).
We strongly recommend the range of Miflex High Pressure Gauge Hoses, available in lengths from 15 cm to 120 cm.
Air Spools — Please note that most high pressure hose applications use an 'air spool' with two tiny O-rings to mate the swivel connector on the hose to the fitting on the gauge. The air spool is not included with the hose, but we recommend replacing the air spool when replacing the hose. The standard 'shoulder' air spool has the flange in the centre. Some SPGs, typically the plastic body ones, may only accept a 'bullet' spool without a shoulder. We stock the standard 'long' bullet air-spool as well as the less commonly used 'short' bullet air-spool.
Measuring Your Hose Length
A common question we are asked is about how to measure your diving hoses and what lengths to choose.
The measuring of lengths is relatively simple as this is end-to-end including the fittings.
What length you require is down to your configuration, or the style of equipment you have. At The Scuba Doctor we believe we are able to assist in most of your hose requirements, as we have added to the range as customers have asked for different lengths and colours.
All hoses when produced have a manufacturing tolerance and therefore occasionally these may vary slightly from the lengths indicated.
Recommended Hose Lengths
Most sport/recreational divers will be using the standard hose lengths supplied by the manufacturers of their regulators, BCD, drysuit and SPG or console. More advanced sport divers will have modified their hose setup for improved safety. Technical divers will dive with hose configurations specific to the type of diving there's doing. Most rebreather and sidemount divers still seem to be working out what hose setup works best for them. Well we've got all bases covered, but here is what we think you need to know to make an informed choice.
Regulator Hose Lengths
"Standard" Setup: The most common hose lengths found on 'standard' primary 2nd stage SCUBA regulator setups (the one on the black hose that's typically in your mouth) is 71 cm (28 inch) or 75 cm (30 inch). The most common hose length found on the 'standard' "Octopus" 2nd stage SCUBA regulator setups (the one on the yellow hose that's typically clipped off or in an occy holder) is 90 cm (30 inch), though some people prefer a longer 100 cm (40 inch) backup/octopus hose length.
For many divers, the "standard" primary 2nd stage SCUBA hose length is too long and will cause the hose to "bow out", and create unnecessary drag and tug on the mouth. This makes for an uncomfortable dive, particularly in current. Some experienced divers and instructors choose the slightly shorter hose lengths of 56 cm (22 inch), 60 cm (24 inch) or 65 cm (26 inch), feeling it is more comfortable with less drag and pull. We like the 65 cm (26 inch) hose length.
Experienced Recreational/Sport Diver / Streamlined Setup: *** Recommended *** Increasingly we see experienced single tank divers using a 100 cm (40 inch) to 150 cm (60 inch) in length, primary 2nd stage SCUBA LP regulator hose routed under their arm with the regulator on a 20/70/110° swivel, or a 90° swivel (we prefer the 20/70/110° swivel). We also prefer the 'in between' 120 cm (48 inch) hose length. Experienced divers figure this is the hose that their buddy will grab, or they will donate, in an emergency, thus it should be the longer hose and black, neon yellow, or yellow in colour. They use a shorter 56 cm (22 inch), 60 cm (24 inch) or 65 cm (26 inch) (we prefer the 60 cm) in length, black coloured LP regulator hose for the backup/octopus 2nd stage regulator they will end up breathing from. In this setup, the backup/octopus regulator is typically hung on a necklace directly below the diver's chin.
Stage Regulator Hose Setup: The 100 cm (40 inch) length hose is the common choice for technical diving stage, pony and deco regulators. Different hose colours are often used to make it easier to identify which hose is attached to which breathing gas cylinder.
Long Regulator Hoses: Many advanced divers and instructors believe the common hose lengths are too short in out-of-air situations and now use a much longer hose, often 150 cm (60 inch) for those who dive open water exclusively. Many technical divers have adopted a length of 210 cm (84 inch) for overhead environments.
BCD/Inflator/Jacket Hose Lengths
Our most popular BCD/Inflator/Jacket hose lengths are 60 cm (24 inch) or 65 cm (26 inch) long. Some people prefer a shorter length of 56 cm (22 inch) for the shorter BCD inflation assembly often found on back inflation wings.
Our most popular Dry Suit Inflator hose lengths are 81 cm (32 inch) and 90 cm (36 inch).
High Pressure Gauge Hose Lengths
Our most popular High Pressure (HP) Gauge hose lengths are:
15 cm (6 inch) long for connecting SPGs to the first stage regulator on deco/stage/pony cylinders, and also air pressure transmitters to first stage regulators on your back cylinder
60 cm (24 inch) long for doubles
70 cm (28 inch) or 75 cm (30 inch) long for singles
80 cm (32 inch) long for consoles
For most sport/recreational divers, the common high-pressure hose length of 80 cm (32 inch) is long enough to be run under the left arm, across the chest and clipped off on the right shoulder D-ring. A few divers with a large chest, or who like to hold their instruments well out from their body when reading, require a longer hose length of 100 cm (40 inch). Some recreational divers seeking very streamlined configurations are routing their HP hose with a compact SPG over their left shoulder in the same manner they route their BC hose and those divers are using HP hose lengths as short as 60 cm (24 inch) and even 55 cm (22 inch). We prefer a 75 cm (30 inch) length SPG hose with a compact SPG.
Technical divers almost always carry a standalone SPG clipped off to the left waist D-ring. For use with double cylinder configurations, the typical HP hose length is 60 cm (24 inch), although some divers find that length slightly too short. It's almost always too short when used with a single cylinder configuration. Many divers clipping to their waist D-ring find a HP hose length of 70 cm (28 inch) or 75 cm (30 inch) works well with both singles and doubles. We prefer a 75 cm (30 inch) length SPG hose. Cave and wreck divers also remove the SPG boot for the same reason they remove the cylinder boot, because the boot surfaces have been known to ratchet divers into tight spots, making extraction difficult.
Choosing Your Scuba Hose Colour Scheme
The Miflex Xtreme low pressure regulator and inflator/jacket/BC hose line up features a wide range of colour choices including: Black, Carbon Black, Fluro Yellow, Mellow Yellow, Blue, Red, Green, Pink, Purple and White. Thus you are free to create your own unique colour scheme. (Note: Not all colours are available in all hose lengths.)
Technical Diver Hose Colours
Most technical divers have all of their dive hoses coloured Black — regulator hose, BCD inflator hose, drysuit inflator hose, and stage reg hose. (They're just not fashion conscious). They always donate their longer hose primary 2nd stage regulator, and usually don't colour code any of their regulator hoses.
For stage/deco/pony cylinders we suggest using a Green or White coloured regulator hose for 90+ percent Oxygen mixes. As for gas mixes greater than 21% and less than 90%, we'd suggest using a Fluro Yellow or Mellow Yellow hose, but just take your pick from the many colours available.
We also like using Blue for all inflator hoses.
Sport/Recreational Diver Hose Colours
For sport/recreational diving with the industry standard regulator hose configuration, we suggest you stick with Fluro Yellow or Mellow Yellow for the backup/octopus regulator hose. You could choose any of the other non-yellow colours for your primary regulator hose, but we'd stick with Black or Carbon Black.
For sport/recreational divers using a streamlined configuration, we prefer both the primary and backup/octopus regulator hoses to be black. If you'd like to introduce some colour, they we'd suggest using Fluro Yellow or Mellow yellow for the longer primary regulator hose that will be donated in an emergency. The short hose attached to your backup/octopus 2nd stage regulator hung around your neck should be Black or Carbon Black. But of course you can also use whatever colour choice you prefer for either hose.
Again, we also like using Blue for all inflator hoses. Of course, these are the hoses that many people like to colour code with their favourite colour(s).
Reduce Jaw Fatigue
To reduce jaw fatigue and provide better regulator hose routing, many experienced divers like to have a 360-degree omni-directional swivel adaptor, or a 20/70/110-degree swivel adaptor, at the second stage end of their regulator hose. No matter how the diver's head is turned, the swivel will allow the hose to find the point of least resistance, thus eliminating jaw fatigue. This also allows improved regulator hose routing by making it easier to have the hose go down the diver's chest and/or under the arm, eliminating hose push and giving you a more comfortable bite on your mouth piece. Your regulator hose will lay closer to your body (under your arm) helping to eliminate tangles and improve streamlining.
Sonar LP 360° Omni-Directional Swivel Adaptor for Regulator
RRP: $38, Our Price: $36, You Save $2 (5%).
The Omni-swivel adaptor installs between the low pressure regulator hose and second stage regulator. The rotating 360° swivel action increases comfort and reduces jaw fatigue.
Sonar LP 20/70/110-Degree Swivel Adaptor for Regulator
RRP: $24, Our Price: $22, You Save $2 (8%).
Enables comfortable, streamlined underarm routing of the regulator hose. We prefer this 20/70/110-degree adaptor over a 90-degree adaptor because it angles the regulator hose slightly away from the neck and face.
Fitting Your Dive Hoses
Whenever working with scuba hoses and fittings, always use the proper tools and proper size wrenches. This will prevent galling or scratching from the wrench. When removing or installing hoses onto the first stage regulator, support the first stage lightly in a soft-jawed vice to hold it securely.
Regulator manufacturers use different sized screw threads when connecting all of the hoses to their first stages so that nobody can accidentally attach a low pressure hose to a high pressure port and damage their regulators. Before installing a hose in the first stage, make sure it is the correct hose (either high or low pressure) and install it only in its correct port in the regulator (often labelled "HP" or "LP" accordingly). As many regulator parts are made out of marine grade brass, which is quite a soft metal, attempting to screw two different threads together can damage the threads and be very expensive to fix, or in most cases replace.
When installing a hose properly, it should go all the way to the O-ring by hand easily, and then be tightened with a wrench the rest of the way. If there is any resistance at all, the threads should be checked immediately. Hoses and blanking plugs only need to be screwed in with 5 Nm of Torque, which is just over hand tight. Too much force and you can strip the threads.
We always recommend that for reasons of safety, that all hoses are only changed and fitted by a competent person and would suggest that this is done for you at your local dive store and/or diving service centre.
We offer this suggestion and recommendation, as we only wish for you to gain maximum benefit from your dive hoses and sometimes the fitting of hoses requires specific tools and torque levels to prevent potential and unnecessary damage to your equipment.
All hoses with O-ring seals only have a torque requirement of circa 5 Nm and please be aware that over tightening could potentially cause damage to your equipment and hose fittings.
Safety First
Please remember safety is of absolute importance to you and for us, so always ensure you are using the right hose for the right application and if in doubt please seek advice.
At no time should you consider cutting your scuba hose and reconnecting any type of fitting to the hose, or to try and reconnect the hose fittings, as this will reduce all safety in your hose.
All Miflex hoses are patented and manufactured with fittings specifically designed for purpose and then during the manufacturing process are individually tested to ensure each and every product is of the highest quality.
Recommendation: In our experience double-braided polyester hoses are more reliable than rubber but keep in mind that all SCUBA hoses, both rubber or polyester, will fail sooner or later either due to age, storage conditions or handling. Prior to every dive trip you should always pressurise and inspect your hoses for mechanical damage, corroded fittings, bulges and leaks. We suggest replacing all SCUBA hoses every five years or 500 dives, whichever comes first.
Please also see Caring For Scuba Diving Hoses.