How to Catch Abalone
by The Scuba Doctor — November 2018
We're often asked about what we think is the best way to catch Abalone, or where to find them. Well first you need to know what you're hunting for. An Abalone is a huge snail that lives on the rocks in the shallows of the ocean. Most Abalone have hard shells and are firmly attached to the rocks by their 'foot'.
The official name for Blacklip Abalone is Haliotis rubra. The size of the Blacklip Abalone shell varies between 3.5 and 20 cm (1.4–7.9 in).

Blacklip Abalone — Haliotis rubra
The official name for Greenlip Abalone is Haliotis laevegata. The shell measures up to 18 cm (7 in). The species features a distinctive green ring around the foot at the bottom of the shell.

Greenlip Abalone — Haliotis laevegata
Most everyone around here just calls both of them Abs.
Abalone are caught along the majority of the Victorian coastline with most people targeting Blacklip Abalone. Diving for and catching Abalone is fantastic fun and very rewarding. However, it's a skill that usually requires practice and patience before you are continually successful.
Generally, Abalone hunting is done while freediving or scuba diving in 2 metres or more of water. It's illegal in Victoria to take Abalone from the Intertidal Zone, which is defined as the area starting on the beach at the maximum high water mark, to a point where the water is two metres deep at any time.
Abalone Hunting Rules
There are heavy fines for under size Abalone, or having too many. So here is what you need to know to stay legal while Abalone hunting in Victoria.
Current Victorian Recreational Fishing Licence:
You need a current fishing licence. This can be obtained from Fisheries Victoria either online now (cheapest way), or from many DEDJTR offices and selected recreational fishing licence outlets throughout Victoria, including most retail fishing tackle stores. We suggest you save a copy of your licence on your smart phone once purchased. Some people laminate a hard copy and carry it with them. For full details, see Fishing Licence.
Minimum Legal Size:
The minimum size for Abalone caught varies across the coast of Victoria and with the species. See map below.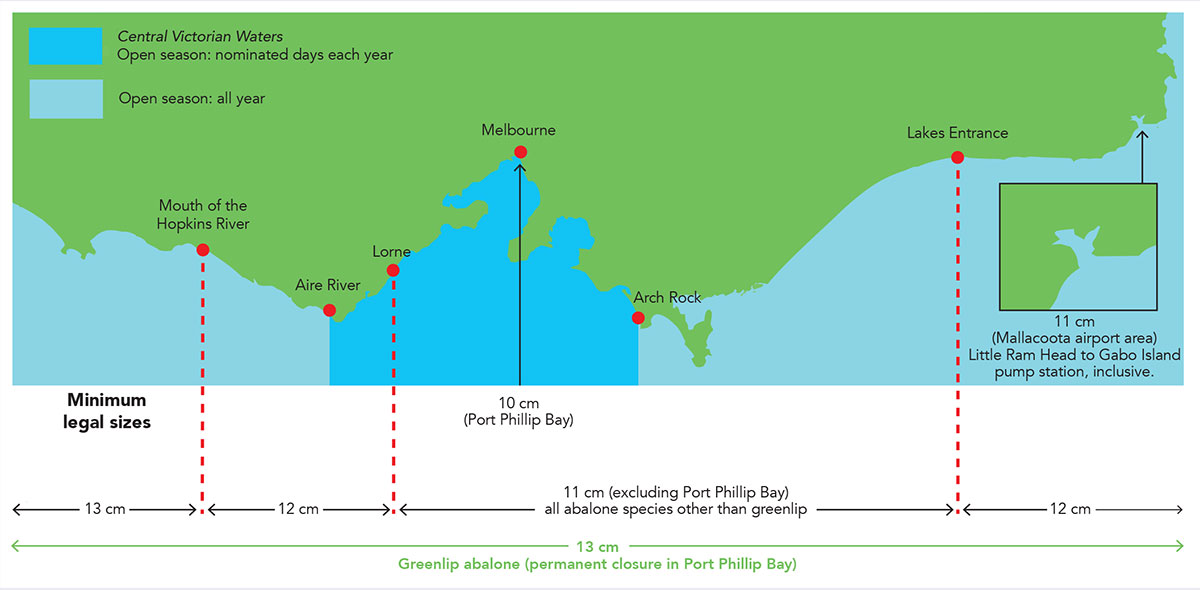 In Central Victorian waters are defined as marine waters east of the mouth of Aire River to Arch Rock (near Cape Liptrap) including Port Phillip. The southern boundary is a line running three nautical miles from the coast which is the seaward limit of state waters.
In Central Victorian water the minimum size for Blacklip Abalone is 10 cm in Port Phillip, and 11 cm outside of Port Phillip. The minimum size for Greenlip Abalone is 13 cm, but you're not allowed to take them in Port Phillip.
Bag limit:
The maximum number of Abalone that you may take on any one day is five (5). Only Blacklip Abalone are allowed to be taken in Port Phillip. Elswhere you're allowed no more than two Greenlip Abalone.
Possession Limit:
The maximum number of Abalone you may possess at any time while in, on, or next to Victorian waters is ten (10), of which no more than four (4) can be Greenlip Abalone.
Closed Season:
There is a permanent closed season on the take of Abalone from Central Victorian waters, except for nominated open days of the year.
Every Saturday, and Sunday, between 16 November and 30 April the following year, inclusive;
Every Declared Public Holiday in the State of Victoria between 16 November and 30 April the following year;
25 December through to the second Sunday in January the following year, inclusive.
Restrictions:
There is a permanent ban on the taking of all Abalone species from Central Victorian waters except on nominated days each year (see above). Central Victorian waters are defined as marine waters east of the mouth of Aire River to Arch Rock (near Cape Liptrap) including Port Phillip. The southern boundary is a line running three nautical miles from the coast which is the seaward limit of state waters.
It's illegal in Victoria to take Abalone from the Intertidal Zone.
Catching Abalone is forbidden in marine parks.
Legal Collection Methods for Abalone:
In Victoria, we're allowed to take Abalone while snorkelling, freediving or scuba diving.
You must carry a measuring device.
You must use a blunt instrument when taking abalone.
You must not use knives, screwdrivers, or any sharp instrument that could cut the abalone.
You must not shuck abalone, or be in possession of shucked abalone, or land shucked abalone, in, under or on Victorian waters (you may only shuck abalone upon the place of consumption).
You can take abalone only between sunrise and sunset.
Measuring Your Catch:
Abalone must be measured prior to removal from its original location. Abalone must be measured at the widest part of the shell, regardless of whether the shell is whole or damaged.
Warning: Please check the relevant section of the latest edition of the Victorian Recreational Fishing Guide for up-to-date legal requirements.
States and Territories have different rules for what equipment you may or may not be allowed to use while catching Abalone, so always check first.
Abalone Catching Equipment
Whether catching Abalone with a single breath of air, or strapping on a tank and going scuba diving, it's a heap of fun and very challenging. Many Spearfishers and Freedivers develop their skills and breath hold whilst hunting for Abalone.
You will need a full wet suit which includes a hood, gloves, and booties. The other gear that you will need would be a mask, snorkel, fins, weight belt, abalone bar, abalone gauge, and something to keep your abalone in as they must be kept separate from other divers.
There are many things that will make catching a Abalone easier but the number one thing would have to be being comfortable in the water, and that means being warm. A good two piece 3 mm or 5 mm wetsuit for freediving, or one-piece 7 mm wetsuit for scuba diving, plus a warm hood, is the ideal.
Abalone Hunting Mask:
We recommend a low volume mask with a black silicone skirt. The black skirt stops light entering and reflecting off the inside of your mask, thus enabling you to see better.
Cressi Nano Black Mask
RRP: $139, Our Price: $125, You Save $14 (10%).
This 85 ccc ultra low volume mask is brilliant for Abalone hunting. It's extremely hydrodynamic and compact shape helps you cut through the water and aids movements in small spaces.
Abalone Hunting Gloves:
You'll need a sturdy pair of gloves to protect your hands from scratches and nicks from the Abalone shell. Some Kevlar coated gloves work well, as do ones with Dyneema palms. The main thing is for the gloves to provide protection and to provide grip. Ideally you need a glove that is not too thick, or else you may have trouble "feeling" for your Abalone.
Apollo K2 Kevlar Commercial Dive Gloves - 3.0mm
RRP: $89, Our Price: $79, You Save $10 (11%).
Ideal for Abalone hunters, the Kevlar lining on the palms, fingers and back of finger tips ensures protection from the Abalone shell, plus rugged durability under the most demanding use.
Abalone Catch Bag:
You will need a catch bag in order to carry your Abalone once you have caught them. A self closing catch bag, spring loaded or non returning type, work well and there are plenty to choose from. Don't try to cut corners with cheap and nasty ones. They'll make the job so much harder, plus you'll run the risk of loosing your catch.
Seaka Catch Bag - Spring Loaded - Premium Quality
RRP: $99, Our Price: $79, You Save $20 (20%).
If you want to be able to grab yourself a feed of scallops, abalone or a crayfish, then you'll need a good catch bag. This is our favourite because it's simply the best catch bag available. But we have a good range of other catch bag solutions as well.
Abalone Measure
You will also need an Abalone gauge to measure your catch for size. They are obtainable by phoning Fisheries on 136 186 and they will send you one out. The Scuba Doctor also has free Abalone Measures at the dive shop.
Dive Torch:
It needs to be sturdy to cope with the punishment metered out while Abalone hunting. We prefer LED dive lights.
Dive Perfect Stubby LED-1000 Dive Light - 1000LM
RRP: $195, Our Price: $139, You Save $56 (29%).
You will be surprised how many more Abalone you will see with this. We prefer to use LED lights which produce a white, more natural light.
Abalone Tool:
You must use a blunt instrument when taking Abalone. If you cut an Abalone, its blood can't coagulate and it bleeds to death. If you exit the water with a dive knife and no legal, square/blunt edge Abalone Tool, you can be caught and procecuted.
Abalone Tool means a blunt lever with rounded ends. It does not include a screwdriver or a knife.
Sonar Abalone Tool Pro with Square/Blunt Edges
RRP: $60, Our Price: $30, You Save $30 (50%).
This Abalone Tool complies with Victoria regulations. The angled blade is perfect for easily getting your abalone off the rocks. The sheer size of the blade provides plenty of cranking leverage to make even the biggest of abs come away effortlessly. It has a non-slip handle and tie off point, plus a laser etched abalone measure/ruler.
Be warned. There are plenty of 'Abalone Tools' for sale with cutting edges that do not comply with Victorian regulations.
Dive Knife:
A good dive knife is an essential item when diving around rock groins covered in fishing line. You don't use the dive knife to catch Abalone.

A popular choice with spearos, plus commercial, military, and rescue divers. The neoprene leg harness provides comfort and automatic compensation for wetsuit compression.
Dive Float:
A good dive float with Alpha dive flag tells everyone on the surface where you are. And it's always nice to let the jet skies and boaties know were you are. When scuba diving with a dive buddy, a proper line setup back to the dive float also helps the two of you stay in good contact.
Ocean Hunter Inflatable Torpedo Float with Line and Alpha Flag
RRP: $50, Our Price: $45, You Save $5 (10%).
This is great for a scuba diving surface marker, or as a surface platform for spearfishing and free diving. It will glide effortlessly through the water and allow you to easily tow it behind you without feeling like you're pulling a truck.
Seasickness, cramps, exhaustion, and injuries do occur and such a floatation device can save your life.
Freediving For Abalone
If free diving, it's all about maximising your breath hold, reducing anxiety and increasing bottom time and getting Abalone while holding your breath. Stability whilst on the bottom is crucial if there is any sort of swell about. Having the correct weight on your weight belt is essential, you need to be positively buoyant on the surface but it needs to be easy to glide to the bottom.
Freediving Snorkel:
Remember that your snorkel is your best friend. This breathing apparatus allows you to keep your head in the water and float easily and let you view under the water with your mask while still breathing normally. Your head is very heavy and if you insist on not using your snorkel and holding it up out of the water so you can breathe through your mouth and nose normally, you will be kicking your rear end off in order to do so.
Much of the time one hard blow gets 90% of the water out of your snorkel. A huge mistake that new divers make is to assume that all of it is out and they take a huge gasp for that needed air and intake that last 10 percent and choke on it. Don't do that!
Cressi Corsica Snorkel
RRP: $44, Our Price: $39, You Save $5 (11%).
This freediving/spearfishing snorkel is brilliant for Abalone hunting. Its anatomical shape minimises any feeling of discomfort, even after prolonged use. This classic 'J'-style snorkel's simple design makes it bullet proof and reliable. No fancy valves on top or bottom — if you can blast clear a snorkel then this is what you want.
Freediving Fins:
You'll need a good pair of long blade, full foot, closed heel fins.
Cressi Reaction Pro Full Foot Fins
RRP: $109, Our Price: $99, You Save $10 (9%).
These fins have been designed not just for and spearfishing and freediving, but also for snorkelling, swimming and scuba diving. They will surprise you with their fantastic performance.
Cressi Gara Modular Full Foot Fins
RRP: $199, Our Price: $179, You Save $20 (10%).
These fins are a perfect choice for deep freediving and spearfishing. The modular design means you can interchange foot pockets and different stiffness fin blades.
Neoprene Socks:
To keep your feet warm in our Victoria temperate waters, you'll need a pair of neoprene socks as well.
Ocean Hunter Fin Socks - 3mm
RRP: $30, Our Price: $27, You Save $3 (10%).
The extra strong soles of these 3 mm thick neoprene socks have an anti-slip layer to avoid skidding or slipping on wet rocks as you get to the water's edge, or the boat's deck.
Freediving Weight Belt:
A good weight belt is essential. The wet suit is neoprene which is a foam type material and the wetsuits come in various thicknesses. This material is very buoyant and the weight belt's purpose is to offset this buoyancy so that you can submerge. Without this weight, diving is virtually impossible. Each weight belt has a quick release buckle on it so that the diver can, if needed and as a last resort, shed this belt and float with ease. Once you lose or shed your belt, either someone else dives down to get it, or your dive is over! Shedding your weight belt also causes you to lose some of your maneuverability as your lower body and legs want to float instead of stay underwater to give you 'traction' in the water.
JBL Rubber Weight Belt with Marseille Buckle - 140cm
RRP: $79, Our Price: $75, You Save $4 (5%).
This freediving/spearfishing weightbelt is comfortable and streamlined. The high elastic properties of the belt will contract and compress with your body and wetsuit during your descent and expand and stretch as your body and wetsuit expand during ascent. This keeps your weight belt properly positioned around your hips. The heavy-duty 300 series stainless buckle is easy to use and lasts a lifetime.
Also consider using a weight vest to transfer some weight up higher on your body to make transitions easier.
See Diving Weights for a great selection of lead weight options.
Freediving Wetsuit:
To stay warm, a good two-piece 3 mm or 5 mm spearfishing or freediving wetsuit, plus a hood, is the ideal.
Cressi Tecnica Two Piece Spearfishing Wetsuit - 5mm Mens
RRP: $699, Our Price: $629, You Save $70 (10%).
This 2-piece 5 mm spear and freediving wetsuit is just what you want. It's comprised of a Hooded Jacket and a High Top Pants. All Suit Seams are Glued and Sewn for Strength and Durability.
Scuba Diving For Abalone
If you don't already own your own scuba diving gear, speak to your reputable dive shop like The Scuba Doctor. We can assist you with purchasing or hiring equipment.
Wetsuit:
To stay warm, a good semi-dry, 7 mm scuba diving wetsuit, plus a hood, is the ideal.
Probe iDry 7mm Quick-Dry Semi-Dry Suit (Back Zip)
RRP: $700, Our Price: $630, You Save $70 (10%).
The fleece inner lining is super warm, and makes the suit super easy to slide on over your skin. There are no zips on the ankles and wrists, nothing to go wrong. The ultra stretch dive neoprene delivers unrestricted freedom of movement in all directions.
Probe iDry Quick-Dry Hood - 3mm (Unisex)
RRP: $60, Our Price: $54, You Save $6 (10%).
The world's fastest drying dive hood — dries in minutes! The gripper print on the back of the head helps to keep your mask strap in place. The Quick-Dry fleece inner lining makes it easier to don and doff.
Probe iDry Quick-Dry Hood - 5mm (Unisex)
RRP: $65, Our Price: $58, You Save $7 (11%).
This is the 5mm version of the 3mm one above. We love them both for the same features and reasons. It's just how much you feel the cold, and what the water temperature currently is, that dictates your choice between the 3 mm and 5 mm versions.
Abalone Hunting Territory
Abalone are a bottom feeding animal that live on rocky reefs with plenty of cover where they can hide.
Generally you can find Abalone in less than 10 metres of water. You will often have to move the kelp and other marine growth to see them.
Where you hunt for Abalone needs to be a very careful choice. It is important to take note of weather conditions and only dive if appropriate.
See Melbourne Abalone Dives for information about local abalone hunting dive sites.
Abalone Diving Tactics and Tips
You should be comfortable with basic snorkeling, free diving and/or scuba diving before attempting to dive for Abalone.
Once you are in the water, you need to cover as much territory as possible whilst trying to keep your heart rate and breathing to a relaxed level. Abalone like to hide in areas that offer them protection from predators, so they're not going to be easy to find.
When you find them don't change your movements. Stay calm and slow whilst trying to catch them. Stay focused and adapt your strategy to not scare the Abalone.
Measuring the Abalone:
Be very careful when measuring the Abalone before you take it. Do not stir up the water near the Abalone. They will hunker down and make it difficult for you buddy to catch it.
Swim up and measure the ab with your gauge while floating and breathing through your snorkel or regulator, and looking through your mask. It's iilegal to pry off an undersize Abalone as this process can damage their bodies and they are almost then certain to die. Try not to get too excited and to remember that everything looks bigger than it is when seen through the mask. So measure correctly before you strike.
If you break the law and take one that is too small to be legal, take care and replace it firmly on the rock that you got it from if you can. At least put it somewhere safe as the fish and other creatures will swarm the poor thing immediately and you won't be able to get it later when it grows up. These are a fragile creature and we all should have the respect for them to make every effort to protect them.
Prepare to Take the Abalone:
Once you have decided which Abalone you are going to go after, it is time to prepare. Get your catch bag ready. Sometimes it is best to give your catch bag to your dive buddy. Ensure you have enough bottom time and air left to attempt the catch. Do not go after the Abalone if it means you will exceed your dive plan.
If you are the supporting buddy holding the catch bag, do not stir up the water near the Abalone. They will hunker down and make it difficult for you buddy to catch it.
If you are scuba diving and you have plenty of air, we recommend taking your time and being patient.
Using Your Abalone Tool:
Keep your Abalone Tool in your hand, when you do spot your abalone. You will 'sneak' up on the Abalone by not swirling the water around it or touching it. If you fail to do this and they sence you coming, they will clamp their shell tightly to the rocks and you may not even be able to slip your Abalone Tool under the shell at that point.
Slide your Abalone Tool quickly between the Abalone and the rock as far as you can, then pry it off. Grab it and you are done.
Once you have the Abalone in your hand, do not celebrate! It is time to get in into your catch bag. Open your catch bag and place the Abalone inside. Close the catch bag over your wrist and then release the Abalone and slide your hand out. Congratulations!
Please Be Selective
Please remember that Abalone are very easily damaged and have no chance of survival if you cut them, so you should only try for an Abalone if you are sure it is of a legal size.
Every Abalone catching attempt is different. You will learn as you go. Every time you attempt and fail, make sure you learn from the experience and take that knowledge into the next challenge. As with any pursuit worthwhile it takes practice and persistence but with a little determination your pot will be flowing over and your friends increasing, especially around Christmas time.
Stay Safe While Abalone Catching
Always Dive With a Mate, and Stay Together. In the thrill of the hunt it is common for scuba divers to become separated as their focus is elsewhere. For the safety of both of you, it is essential to maintain good buddy contact.
Use a Dive Flag. It tells everyone on the surface where you are and helps to keep you safe. See Using a Dive Float and Flag for more information about this.
Don't Take Unnecessary Risks. Diving can be dangerous and the ocean is very unforgiving. Know your own ability and don't get carried away. A simple cramp or fatigue can become life threatening if a long way from shore or the boat.
Watch Out For Danger. This might be other vessels, like boats and jet skis, or even sharks and rays. The risk from sharks is very small but is there. Consider using a Shark Shield, or similar shark deterrent device. Rays, even small ones, if laid upon can inflict very nasty wounds that can get hideously infected.
Be Careful of the Terrain. Bumping your head on overhanging ledges can be very problematic, so wear a hood.
We strongly recommend using the Diver Freedom System of Dive Buoy Lines when scuba diving for Abalone from a dive boat. See Boat Diving Safety.
Once you catch your first Abalone you'll be hooked on a great sport that keeps you fit and feeds your friends and family.

Blacklip Abalone Saute
Google is your friend when it comes to tips on cooking your fresh Abalone.