Guidance On Coronavirus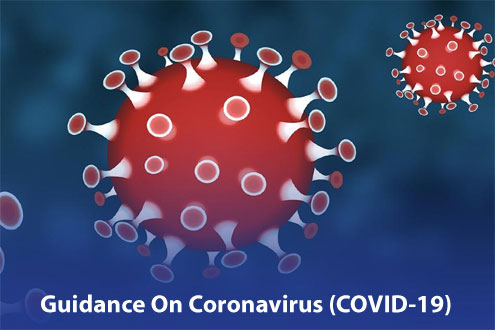 The health, welfare and safety of all divers is an overriding concern for The Scuba Doctor and it is recognised that the coronavirus outbreak, subsequent spread and associated media publicity can heighten awareness and concern.
The Scuba Doctor continues to monitor current government advice to assess the risk as appropriate. We also work closely with industry sources in order to assure a considered and appropriate response.
Risk to Divers and Snorkellers
A coronavirus is a type of virus with typical symptoms including fever and a cough which may progress to a severe pneumonia causing shortness of breath and breathing difficulties.
Those at greatest risk from the virus would include those with weakened immune systems and long term conditions such as chronic lung disease, cancer etc. who are not likely to be within the diving and snorkelling population. Divers should, however, be considerate of any potential risk to other family members and close associates who have underlying medical conditions and act accordingly.
Taking Precautionary Measures
The general steps individuals should take to protect themselves and others are the same as those to avoid flu and any other similar respiratory infections.
Anyone with any COVID-19 symptoms should Stay At Home.
Divers or snorkellers exhibiting any illness, including flu-like symptoms, should NOT engage in diving or snorkelling activities.
You should maintain good hand, respiratory and personal hygiene, and:
Wash your hands frequently with soap and warm water
Use hand sanitiser if unable to wash hands
Avoid touching your face
If you cough or sneeze use tissues to trap germs
Dispose of used tissues in a rubbish bin as quickly as possible
Practice physical distancing by avoiding unnecessary travel and staying away from large groups of people
Maintain at least 1.5 metre distance between you and others
Refrain from smoking and other activities that weaken the lungs
Hand hygiene remains a key precaution but it should be noted that diving or snorkelling activity takes place by immersion in water and all surfaces, including any bare skin, will be constantly washed with the surrounding fluid. The chemicals in swimming pools should provide additional protection.
Look After Your Diving and Snorkelling Equipment
All diving or snorkelling equipment should be washed and left to dry naturally after use. Some equipment, especially regulators, BCDs, snorkels and masks, should be cleaned using suitable sanitising cleaning fluid and then rinsed in clean fresh water before use.
There's an old saying that goes, "When fishermen can't go to sea, they mend their nets." So, while we're being told to stay at home, it's a great time to thoroughly clean, test and review you diving kit.
Deep Clean and Test Your Kit
Your dive gear is life support equipment. Now is a perfect time to give it a deep down, top-to-toe cleaning. Clean and rinse out the bladder of your BCD. Lubricate zippers of suits, boots, etc. Mend any nicks or small holes in neoprene.
Inspect you dive gear with your keenest eye. Are your O-rings in good shape? See also Scuba Diving O-Rings. Is your BCD holding air? Do your retractors work properly. Replace the batteries in your lights and dive computer. Are your mask and fin straps in good condition? Go through your Save a Dive Kit to make sure it's fully stocked. Do you need some zip ties, a couple of bolt snaps, or some silicone grease for your O-rings? Use the money you'd normally be spending on air fills to shore up your emergency supplies.
We have a comprehensive section of our website dedicated to Equipment Care and Maintenance. Please read the advice and use it to get your kit in tip top shape.
Look After Yourself
While one of the primary focuses in this time of lockdown — especially as divers — is maintaining physical health, we must remember also to prioritise our mental health at this time.
It's very easy to get swept into the hysteria that's spreading almost as fast as COVID-19, but we have a few suggestions of ways to protect your mind while staying at home. You may even find you enjoy these so much that you continue after lockdown is over, maintaining positive mental health once things have returned to normal.
Let's break this down — you've probably seen a lot of good advice such as limiting time on social media and news outlets, meditation and getting fresh air. They're definitely valid preventative methods of protecting your mental health, there's a list below for you. But we can also give you some ways of managing long days inside with stress and anxiety levels particularly high. Not all of these ideas will work for you, but hopefully, some will.
The most important thing is that we need to work together to support each other. Check on your friends and family. Be grateful for the technology we have to connect us and look after each other.
Preventative Measures
Being cooped up is fun for very few. So, to help you on your way, here are some top tips to help you manage any anxiety or restlessness before it hits you too hard.
Stay Active
This is nothing you don't already know. Try and get outside for exercise once a day. Even if you don't run or cycle, go for that walk and get out into the fresh air. It doesn't have to be far and it doesn't have to be for long, but try and go outside every day.
There's also many forms of exercise you can do in the home. Not all of us are lucky enough to have a home gym, but there are definitely some things you can do in the comfort of your living room. YouTube is your friend here — family workouts for the kids, dance fitness (like Zumba), HIIT (high-intensity interval training) and yoga are all great ways of staying active at home.
Physical health can greatly impact your mental health, so keep active and help your mind as well as your body.
Air Your Home
Fresh air is so important and thankfully the weather is improving, so make sure you open your windows. Try and make sure there is airflow through your home, so you'll need to open more than one window, and keep them open for a good few hours to enjoy the goodness of clean and fresh air.
Manage Access to COVID-19 Talk
You know this already, but it's so important to schedule your time exposed to news about the virus. While it's hard to escape people talking about it, especially as life is currently ruled by it, try and take some time every day away from this.
Use this time to watch a film, binge a TV series, read a book. Get lost in something else so that you don't have to spend all of your time thinking about what's happening.
Mental Health Management
While the above can all help, if you are still finding things tough, that's okay, here are some more tips and resources to help you out.
Meditation
This may not be your thing, but you also may not think it's your thing and find you love it, so give it a try. Remind yourself to breathe. You may be in the middle of doing something and just have to stop, close your eyes and take five deep breaths, maybe more depending on how you're feeling. The stop and pause can really help people to readjust and get themselves back in the right headspace.
Yoga, as mentioned earlier to stay active, is another way to focus the mind in a meditative form. The activity of yoga focuses on the breath and movement with breath to focus the mind as well as the body. It may seem like you have to be super flexible or that it's a girlie activity, but yoga accepts all, and there are easy adjustments if you struggle with particular parts. Yoga sessions can be anything from 10-minute sequences to a 50-minute workout, so you can choose what suits you. Again, YouTube is your friend, but also there are an abundance of apps out there which are both free and subscription services.
Do Something Different
When we're in a funk, what can be useful for some is to do something different to your usual routine. This can take the form of mind and logic games like crosswords, sudokus and nonograms. You can usually get all of these for free in your app store, online, or in a good old-fashioned book.
Games may not be your 'something different', so find something that suits you, breaks your routine and focuses your mind.
Escape To Another World
Ours isn't doing too well right now, so this is the best time to go somewhere else... in your head. Maybe your usual full-on life doesn't give you a lot of opportunities to read, but now is the perfect time to pick up that childhood love for reading that you perhaps forgot about many moons ago. For those with parents, there may be some useful ideas for your kids here, but don't forget yourself too. Have a family story time!