Valentines Day Gifts for Scuba Divers

Forget the traditional Valentine's Day presents and make February 14th a day your love won't forget with one of these romantic gifts for your dive valentine. You can go the cliched flowers, jewelry and chocolates route, or you can give your loved one a gift they'll really adore by tying in your present with their true passion — scuba diving.
It's always those personalised gifts that leave an impression. Weeks after the box of chocolates is gone and the flowers have wilted, your scuba sweetheart can still cherish a dive-related gift. Make February 14th a day your love won't forget with one of these romantic gifts for your dive valentine.
Show your partner you know what he or she really adores by considering a more unique, and infinitely more valuable, scuba themed present.
Splurge On An Elegant Dive Watch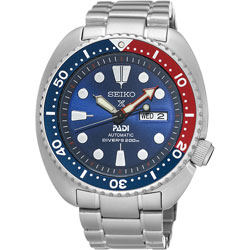 While most divers use a dive computer, a dive watch can be a stunning and helpful tool both above and below the water. Whether you purchase something classy and understated or big and bold, a dive watch is an elegant symbol of your partner's adventuresome spirit.
See Diving Watches for a great selection of Seiko Prospex automatic, kinetic and solar dive watches.
An Underwater Camera Setup
Is A Gift That Keeps Giving
What's more romantic that creating and saving your favourite moments during an exotic diving trip? An underwater camera setup lets you and your diving partner do exactly that, and capture some of those unforgettable memories for a lifetime. See our guide to the Best Underwater Cameras and Housings.
Or maybe your sweetheart already has an underwater photo or video camera but really needs an underwater strobe or focus light, an underwater video light, or Filters to make it work so much better. We also have plenty of Underwater Photo/Video Packages. Sweeten the deal by getting them a gift that's both functional and personal.
Diving Books For Valentine's Day
We may not be able to point you to diving themed romantic reads and passionate page turners, with sentimentality, sensuality and seduction in abundance. But your valentine will truly treasure books that help them to learn more about Dive Sites and Shipwrecks, or identify Marine Life / Natural History.
Hire an Underwater Photographer or Videographer
Even if you're a photographer or videographer, you probably don't have many fantastic underwater shots of you and your sweetheart together. Book one of our dive guides for your next outing on the Mornington Peninsula to capture lasting memories of your time underwater. Handholding is optional! See Melbourne Guided Dives.
Heartfelt Gifts
You may think diving related gifts always break the bank, but here's a list of mostly inexpensive ideas. Some of these can be extremely handy gadgets for a diver, even if they would never think to buy it for themselves.
What you're after not here? Please see our full range of Scuba Buying Guides and Top 10 Products lists for even more help.
Underwater Photographic Prints
Decorate your valentine's home or office walls with high-quality photographic prints from The Scuba Doctor. Each 16 x 24 inch (40.64 x 60.96 cm) print comes with a certificate of authenticity and is signed and numbered. See Photographic Prints.
A Scuba Regulator Shows You Care
A scuba regulator is essentially a way of showing your partner that you just can't live without them. It may sound like a reach, but think about it — a regulator is a device that ensures your loved one is always breathing and safe under the water, and as a present, the gift-giver is essentially saying they their loved one's safety is more important than anything else. See our Buying Dive Regulators guide, and/or our Top 10 Best Scuba Regulators.
Does your partner already have a new or well-maintained scuba regulator? Then consider some other safety items. See Must Have Tools for a Safe Dive to learn about ways to let your loved one know that their well being is always your top concern. No one can resist being assured that their life is your absolute highest priority.