Cottage By The Sea Reef

Shore Dive | Shore access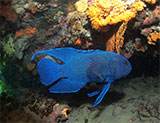 Cottage By The Sea Reef | © Phil Watson
Depth: 0 metre (0 foot) to 10 metres (33 feet)
Level: Open Water and beyond.
Cottage by the Sea Reef is considered by many to be the best shore dive on the Bellarine Peninsula. It can be found at the end of Swanston Street, Queenscliff not far from the Cottage-by-the-Sea Children's holiday camp from which it gets its name. It's a short walk from the carpark onto the beach and to the rocky platform visible at low tide.
Ideal Conditions:
Best dived on the ebb flow when it is low tide at The Heads. Conditions are usually best with no wind or after a few days of Northerlies as surface conditions remain calm.
Cottage By The Sea Reef | © Phil Watson
What To Expect:
One of Melbourne's most well known and best shore dive location on this side of Port Phillip. This site is in the bite between Point Lonsdale and Shortland's Bluff or Queenscliff. Named after a historic building on the foreshore the diving here although shallow is beautiful with a series of small reefs running parallel to the shore. Lots of fish and the odd old bottle may be seen here. This is a great site for the last dive of the day or as a training dive.
Abundance of fish life including cuttlefish, crays, sea dragons, etc. The dive site opens up towards the main heads of Port Phillip Bay and is often exposed to ocean swell. On a good day it is an awesome dive with significant cliff faces, bommies and rock formations down to a depth of about 9 metres. It can get a little busy during summer.
Rock wall of 2-4 metres is about a 50 metre swim from shore and is a few hundred metres long. You will need to swim at a bearing of 190 degrees over sand to get to the reef. Most of the dive is at around 6 to 8 metres. The rock wall has swimthroughs and ledges you can poke your head under. Can be current and swell prone so weather is important to take note of.
The critters here include stingrays, damselfish, morwong, wrasse, blue devils, old wives, leatherjackets, weedy sea dragons and cuttlefish. Lots of pretty starfish as well.
Location: Queenscliff
MELWAY Ref: Page 499 C12
Weather Required: N to W winds. Needs to be low tide at the heads and dived in slack water to ebb tide as the current can be quite strong.
See WillyWeather as a guide for the tide times and the height of the tide.
Access: Shore entry, head down the stairs and straight out to the sea, not a long walk.
Facilities: Small free carpark. No lighting.
Latitude: 38° 16.341′ S (38.272352° S / 38° 16′ 20.47″ S)
Longitude: 144° 38.990′ E (144.649837° E / 144° 38′ 59.41″ E)
Datum: WGS84 | Google Map
Added: 2012-07-22 01:00:00 GMT, Last updated: 2019-06-01 03:29:17 GMT
Source: Google Earth
Nearest Neighbour: Shortland Bluff, 831 m, bearing 103°, ESE
Depth: 0 to 10 m.

---
---
DISCLAIMER: No claim is made by The Scuba Doctor as to the accuracy of the dive site coordinates listed here. Should anyone decide to use these GPS marks to locate and dive on a site, they do so entirely at their own risk. Always verify against other sources.
The marks come from numerous sources including commercial operators, independent dive clubs, reference works, and active divers. Some are known to be accurate, while others may not be. Some GPS marks may even have come from maps using the AGD66 datum, and thus may need be converted to the WGS84 datum. To distinguish between the possible accuracy of the dive site marks, we've tried to give each mark a source of GPS, Google Earth, or unknown.
Oops I did it again.
— Gary Busey