Geoffs Scallop Hole

Drift Dive | Boat access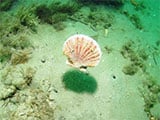 Scallop Drift | © Phil Watson
Depth: 10 metres (33 feet) to 17 metres (56 feet)
The goal on a drift dive at Geoff's Scallop Hole is to enable enough ground to be covered to ensure you can fill your catch bag with great big fat juicy scallops. The scallop beds move around a little, and there is no guarantee you will see them straight away. But rest assured you will see them.
In Summer the scallops can generally be found in the areas nearby with depths ranging from 14 metres to 17 metres. The scallops like the cooler deeper water in summer.
In Winter the scallops are typically found in the areas nearby with depths ranging for 10 metres to 15 metres. The move into shallower waters for added warmth in winter.
Typically you would head out to this dive site from the Rye Boat Ramp and head west. The dive site is midway between Blairgowrie Pier and Rye Pier, just out from the Tyrone Boat Ramp in the Whitecliffs area. The bottom is flat sand with Scallops, Stingrays, Sea Squirts, Flat Head, and Large Spider Crabs. (The crabs are not suitable for eating.)
The Scuba Doctor staff member Geoff Rodda has been gathering scallops here for many, many years. It was where he took divers when running his own dive charter boat, and then later when driving the Dive Victoria dive charter boats. It's where he heads out in his own boat for a feed of scallops. But don't blame Geoff if you don't find the scallops. They do move about.
Scallop Dive Site | © Phil Watdon
Divers have the opportunity to catch a feed of Scallops (Pecten fumatus) at this dive site. Remember your catch bag and current Victorian Recreational Fishing Licence. Please abide by all current fishing regulations, such as the bag limit of 100 scallops each, if you intend to catch scallops. See Melbourne Scallop Dives for a list of other scallop dive sites near Melbourne.
Safety Tip: We recommend you read our Boat Diving Safety and Using a Dive Float and Flag pages and use the described Cray/Drift Buoy Line Diver Freedom System when drift diving from a private boat for scallops.


Geoffs Scallop Hole Location Map
Latitude: 38° 21.549′ S (38.35915° S / 38° 21′ 32.94″ S)
Longitude: 144° 47.781′ E (144.79635° E / 144° 47′ 46.86″ E)
Datum: WGS84 | Google Map
Added: 2019-02-17 05:35:16 GMT, Last updated: 2021-01-25 22:10:30 GMT
Source: Geoff Rodda GPS
Nearest Neighbour: JLs Scallop Beds, 673 m, bearing 86°, E
Depth: 10 to 17 m.

---
---
DISCLAIMER: No claim is made by The Scuba Doctor as to the accuracy of the dive site coordinates listed here. Should anyone decide to use these GPS marks to locate and dive on a site, they do so entirely at their own risk. Always verify against other sources.
The marks come from numerous sources including commercial operators, independent dive clubs, reference works, and active divers. Some are known to be accurate, while others may not be. Some GPS marks may even have come from maps using the AGD66 datum, and thus may need be converted to the WGS84 datum. To distinguish between the possible accuracy of the dive site marks, we've tried to give each mark a source of GPS, Google Earth, or unknown.