La Bella

Wreck Dive | Boat access



Four Masted Barquentine Sailing Ship | Max Depth: 13 metres (43 feet)
La Bella | © State Library Victoria
La Bella lies in Lady Bay, Warrnambool. The La Bella is typical of the type of medium sized iron / steel sailing vessels sailing in an age where sail was being rapidly superseded by steam i.e.: representative of a type.
Diving the La Bella
The La Bella now lies on its port side, with its bow facing south-west, in 13 metres (43 feet) of water, 300 metres (984 feet) south-east of the end of the Warrnambool breakwater.
Although heavily covered in thick kelp and weed growth, the La Bella is a spectacular dive.
The five metre high ship's bow lies on its port side. Divers swimming around the bow will be able to see the bowsprit, several anchors, an anchor chain, catsheads, winches and hawsepipes.
In the midships region divers should see a donkey engine, parts of the rigging, decking frames, a deck winch, bilge pumps and bollards.
Overtime the stem has broken up and has now disappeared. An information plinth lies in the mid ships region off the port side of the ship. It was placed there by staff of the National Safety Council and the Flagstaff Hill Maritime Museum, sponsored by Warnambool Textiles.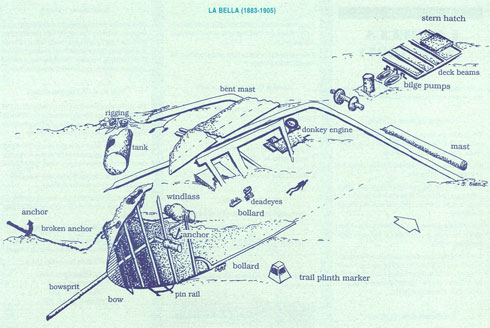 La Bella Dive Site Map | © Victorian Archaeological Survey
The current is usually minimal although in south westerly winds the swell can make boating dangerous, particually near the reef.
La Bella History
La Bella Wreck | © State Library Victoria
Wrecked on 10/11/1905 after hitting rocks south of the Warrnambool breakwater (now known as La Bella Reef) in heavy seas.
The brave rescue of five crew by local fisherman William Ferrier made him a national hero and upon its declaration as an Historic Shipwreck in 1992 the La Bella was declared a 'monument to bravery'.
See also, Australian National Shipwreck Database: La Bella
Heritage Council Victoria: La Bella, and
Dive Information Sheet: La Bella (1883-1905) (Adobe PDF | 1.34 MB).
Latitude: 38° 24.258′ S (38.4043° S / 38° 24′ 15.48″ S)
Longitude: 142° 28.882′ E (142.481367° E / 142° 28′ 52.92″ E)
Datum: WGS84 | Google Map
Added: 2012-07-22 01:00:00 GMT, Last updated: 2019-05-27 03:05:45 GMT
Source: GPS
Nearest Neighbour: Edinburgh Castle, 1,033 m, bearing 78°, ENE
Four masted barquentine sailing ship.
Depth: 13 m.

---
---
DISCLAIMER: No claim is made by The Scuba Doctor as to the accuracy of the dive site coordinates listed here. Should anyone decide to use these GPS marks to locate and dive on a site, they do so entirely at their own risk. Always verify against other sources.
The marks come from numerous sources including commercial operators, independent dive clubs, reference works, and active divers. Some are known to be accurate, while others may not be. Some GPS marks may even have come from maps using the AGD66 datum, and thus may need be converted to the WGS84 datum. To distinguish between the possible accuracy of the dive site marks, we've tried to give each mark a source of GPS, Google Earth, or unknown.
The ocean is where I belong.
— Old diver's proverb