Mountain Maid

Wreck Dive | Boat access



Wooden Sailing Brig | Max Depth: 8 metres (26 feet)
The Mountain Maid shipwreck lies in Port Phillip near Swan Island. She was a small two-masted wooden snow brig built as a trading vessel in Dundee, Scotland in 1841. In its first 12 years, the ship traded between Europe, North America and the Orient and at one point was thought to possibly be involved in smuggling. In 1853, Mountain Maid was sold and began trading between the new Australian Victorian colony and Southeast Asia.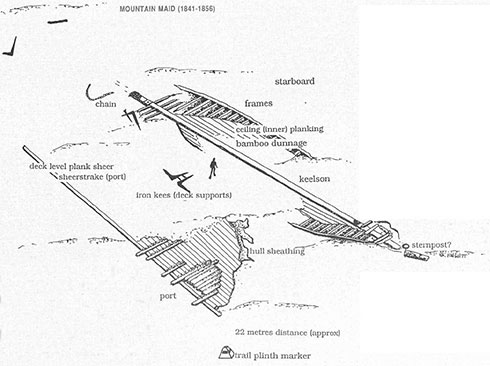 Mountain Maid Dive Site Map | © Victorian Archaeological Survey
Returning from Manila in 1856 with a cargo of rice, sugar and rope. Mountain Maid was wrecked after colliding with the Victorian steamer, SS Queen. No lives were lost but the ship sank quickly and the crew was forced to swim for their lives. The pilot onboard Mountain Maid was dismissed from the Pilot service, as he'd already run two other ships aground before changing direction and causing the collision with SS Queen (Lomdahl 1992:Mountain Maid).
MAAV members discovered the remains of the wreck in 1981 and protection was declared in 1986. There have been wreck inspections and surveys completed in 1984 and 1991 and the vessel is part of the Underwater Shipwreck Discovery Trail (Lomdahl 1992). Thirty-nine artifacts are listed in the EMU database. Some artifacts in the collection include a barometer scale, glass bottles and pieces of ceramic.
The Mountain Maid is archaeologically significant for its remains of a British built international trading vessel of the mid-nineteenth century.
See also, Australian National Shipwreck Database: Mountain Maid,
Heritage Council Victoria: Mountain Maid,
MAAV: Mountain Maid 1841-1856, and
Dive Information Sheet: Mountain Maid (1841-1856) (Adobe PDF | 502.39 KB).
Latitude: 38° 14.280′ S (38.238° S / 38° 14′ 16.8″ S)
Longitude: 144° 42.500′ E (144.708333° E / 144° 42′ 30″ E)
Datum: WGS84 | Google Map
Added: 2012-07-22 01:00:00 GMT, Last updated: 2019-06-06 17:50:16 GMT
Source: Book - Shipwrecks Around Port Phillip Heads GPS (verified)
Nearest Neighbour: Boarfish Reef Drift, 287 m, bearing 155°, SSE
Wooden hulled 2 masted Brigantine.
Built: Dundee, 1841.
Sunk: 24 September 1856.
Depth: 5 to 8 m.

---
---
DISCLAIMER: No claim is made by The Scuba Doctor as to the accuracy of the dive site coordinates listed here. Should anyone decide to use these GPS marks to locate and dive on a site, they do so entirely at their own risk. Always verify against other sources.
The marks come from numerous sources including commercial operators, independent dive clubs, reference works, and active divers. Some are known to be accurate, while others may not be. Some GPS marks may even have come from maps using the AGD66 datum, and thus may need be converted to the WGS84 datum. To distinguish between the possible accuracy of the dive site marks, we've tried to give each mark a source of GPS, Google Earth, or unknown.
Sometimes the only way to stay sane is to go scuba diving.
— Old diver's proverb