St Leonards Pier
Pier Dive | Shore access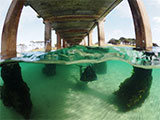 St Leonards Piers | © Phil Watson
No Swimming or Diving Beneath St Leonards Pier or Piles — In the interest of public safety Parks Victoria recommends that divers, snorkelers and swimmers do not dive beneath the pier and its piles. This is due to observed deterioration of concrete on the underside of the deck of St Leonards Pier. This deterioration can result in possible concrete spalling into the water. Signage will be displayed on site to notify members of the public of this hazard. Parks Victoria will continue to monitor the condition of the pier and advise stakeholders of any further change in condition. 30-Oct-20
Depth: 4 metres (13 feet) to 6 metres (20 feet)
Level: Open Water and beyond.
St Leonard's Pier (aka St Leonards Jetty and Breakwater) is rated as the best pier dive on the Bellarine Peninsula. With plenty of colour and growth on the pylons, this dive site is well worth a visit day or night.

St Leonard's Locals from Allie Beckhurst on Vimeo.
There is car parking at the end of Murradoc Road, St Leonards. The pier is protected from west and south winds.
See WillyWeather as a guide for the tide times and the height of the tide.
There is an unidentified shipwreck at this dive site that is worth having a look at. See "Site Survey: Unidentified Wreck at St Leonards Pier, St Leonards, Victoria" for more details.
See also St Leonards Surf Cam.
Latitude: 38° 10.213′ S (38.170223° S / 38° 10′ 12.8″ S)
Longitude: 144° 43.246′ E (144.720771° E / 144° 43′ 14.78″ E)
Datum: WGS84 | Google Map
Added: 2012-07-22 01:00:00 GMT, Last updated: 2020-10-30 08:36:54 GMT
Source: Google Earth
Nearest Neighbour: The Pipelines, Indented Head, 2,350 m, bearing 352°, N
Depth: 4 to 6 m.

---
---
DISCLAIMER: No claim is made by The Scuba Doctor as to the accuracy of the dive site coordinates listed here. Should anyone decide to use these GPS marks to locate and dive on a site, they do so entirely at their own risk. Always verify against other sources.
The marks come from numerous sources including commercial operators, independent dive clubs, reference works, and active divers. Some are known to be accurate, while others may not be. Some GPS marks may even have come from maps using the AGD66 datum, and thus may need be converted to the WGS84 datum. To distinguish between the possible accuracy of the dive site marks, we've tried to give each mark a source of GPS, Google Earth, or unknown.