Grange

Wreck Dive |
Boat access




Wooden Barque | Max Depth: 5 metres (16 feet)
The Grange shipwreck, which lies near Little Hayley Reef, Apollo Bay, is archaeologically significant as an example of a Scottish built wooden barque and international trader, with remains of its wooden hull available for study. It is a typical vessel as used in international and coastal cargo and passenger carrying trades in the early to mid 19th century i.e.: representative of a particular category or type. It is educationally and recreationally significant as it is one of the only wooden vessels accessible to recreational divers along this stretch of the coast.
Marengo Reefs Marine Sanctuary Dive Site Map | © The Scuba Doctor
Beware of waves and tides when visiting this site. See WillyWeather (Marengo) as a guide for the tide times and the height of the tide.
See also, Heritage Council Victoria: Grange.
Warning: Any shipwreck or shipwreck relic that is 75 years or older is protected by legislation. Other items of maritime heritage 75 years or older are also protected by legislation. Activities such as digging for bottles, coins or other artefacts that involve the disturbance of archaeological sites may be in breach of the legislation, and penalties may apply. The legislation requires the mandatory reporting to Heritage Victoria as soon as practicable of any archaeological site that is identified. See Maritime heritage. Anyone with information about looting or stolen artefacts should call Heritage Victoria on (03) 7022 6390, or send an email to heritage.victoria@delwp.vic.gov.au.
Marengo Reefs Marine Sanctuary
This site lies in Marengo Reefs Marine Sanctuary, Victoria's smallest marine sanctuary. Near Apollo Bay on the Great Ocean Road, the 12.5 hectare area is 150 metres offshore and includes an important haul out site for Australian Fur Seals. To protect the important marine life found here, Marengo was declared a sanctuary in 2002.
This sanctuary is an excellent site for both scuba diving and snorkelling. Closer to shore is a great site for beginner snorkelers if conditions are calm. Further out can be more challenging due to ocean swell and strong currents.
Fish — Over 56 fish species have been recorded in and around the marine sanctuary. Common fish are Blue-throated Wrasse and Purple Wrasse. Other fish species include Herring-cale, Magpie Morwong and in low abundance the Horseshoe Leatherjacket.
The Gap — The channel between the two islands, known as 'The Gap', is a rare sheltered haven on this wild coastline, supporting growths of soft corals and sponges.
Shipwrecks — There are two known shipwrecks in the area. The 1858 wooden barque international trader Grange lies in the marine sanctuary, and the wooden ketch coastal trader Wollomai lies nearby in Mounts Bay. Remains of the Grange hull and Wollomai windlass can be seen underwater in the sanctuary. Removal of any artefacts or objects from these sites is not permitted.
Special Protection Area - No Access — The outer island is a resting place for the many seals that stop in for a break from hunting in the open ocean. Please do not walk on the outer reef or approach the seals as they are wild animals and can bite or knock a person over.
You are not permitted to carry a spear gun while snorkelling or scuba diving in Marengo Reefs Marine Sanctuary.
See also, Parks Victoria: Marengo Reefs Marine Sanctuary,
Park Note: Marengo Reefs Marine Sanctuary - Jan 2014 (Adobe PDF | 2.41 MB), and
Park Note: Marengo Reefs Marine Sanctuary - Dec 2003 (Adobe PDF | 228.98 KB).
An intertidal reef is nearby at Hayley Point. It's a good spot at low tide to discover some interesting marine creatures.
Bass Strait Warning
If you intend to go scuba diving and/or boating in Bass Strait you must be appropriately trained and qualified. Always analyse the weather forecasts and make your own mind up about what you consider to be safe conditions. We accept no responsibility or liability for the accidental or intentional misuse of information portrayed here, or misadventure resulting from its use.
We recommend you don't go diving in Bass Strait if any of the following conditions are likely to occur within a 24 hour period:
A Strong Wind Warning (or above - Gale, Storm, Hurricane) has been issued by the Bureau of Meteorology for Port Phillip and/or Bass Strait (Central Coast);
Wind strength exceeding 20 knots (37 kpm) from the direction: NW, NNW, N, W, NE, NNE;
Wind strength exceeding 15 knots (28 kpm) from the direction: SW, SSW, S;
Wind strength exceeding 10 knots (19 kpm) from the direction: SE, SSE, E;
Swell Height exceeding 2 metres (6.56 feet);
Any swell exceeding 1 metre (3.28 feet) with a period less than 5 seconds;
A weather change is due which may cause any of the above conditions to occur.
At some shore dive sites on the Victorian coast even the above conditions could be too extreme. Weak or average swimmers should not consider diving at most Bass Strait shore dive sites. Keep a watch out for swells and bad weather coming in. At some shore dive sites this may require surfacing periodically throughout your dive. When doing a shore dive in Bass Strait you are diving on the Great Southern Reef.
Scuba diving is an inherently dangerous activity and appropriate training and experience in scuba equipment, decompression diving, deep diving, mixed gas diving and wreck penetration diving are all mandatory skills for safely diving the shipwrecks of Bass Strait.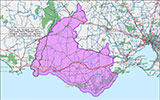 Eastern Maar country
Traditional Owners — This dive site is in the traditional Country of the Eastern Maar people of south-western Victoria between the Shaw and Eumerella Rivers and from Yambuk in the south to beyond Lake Linlithgow in the north. This truly ancient Country extends as far north as Ararat and encompasses the coastal townships of Port Fairy in the west, Warrnambool, Peterborough, Port Campbell, Apollo Bay, Lorne, and Airies Inlet in the east, including the Great Ocean Road area. It also stretches 100 metres out to sea from low tide and therefore includes the iconic Twelve Apostles. "Eastern Maar" is a name adopted by the people who identify as Maar, Eastern Gunditjmara, Tjap Wurrung, Peek Whurrong, Kirrae Whurrung, Kuurn Kopan Noot and/or Yarro waetch (Tooram Tribe) amongst others. We wish to acknowledge the Eastern Maar as Traditional Owners. We pay respect to their Ancestors and their Elders, past, present and emerging.


Grange Location Map
Latitude: 38° 46.610′ S (38.776837° S / 38° 46′ 36.61″ S)
Longitude: 143° 40.201′ E (143.670015° E / 143° 40′ 12.05″ E)
Datum: WGS84 | Google Map
Added: 2012-07-22 01:00:00 GMT, Last updated: 2021-07-28 07:29:43 GMT
Source: Google Earth
Nearest Neighbour: Marengo Reefs, 527 m, bearing 265°, W
Wooden barque, 300 ton.
Built: Scotland, 1840.
Sunk: 24 March 1858.
Depth: 5 m.

---
---
DISCLAIMER: No claim is made by The Scuba Doctor as to the accuracy of the dive site coordinates listed here. Should anyone decide to use these GPS marks to locate and dive on a site, they do so entirely at their own risk. Always verify against other sources.
The marks come from numerous sources including commercial operators, independent dive clubs, reference works, and active divers. Some are known to be accurate, while others may not be. Some GPS marks may even have come from maps using the AGD66 datum, and thus may need be converted to the WGS84 datum. To distinguish between the possible accuracy of the dive site marks, we've tried to give each mark a source of GPS, Google Earth, or unknown.