Fishermans Beach and Point Linley Reef

Reef Dive | Boat access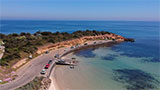 Fishermans Beach | © Unknown
Depth: 5 metres (16 feet) to 10 metres (33 feet)
Level: Open Water and beyond.
Ideal Conditions:
Winds from the south to east are ideal for this dive site. See WillyWeather as a guide for the tide times and the height of the tide.
Perfect dive for beginners!
What To Expect:
Best entry point is at the end of the car park at the boat ramp. Easiest to climb over a few rock, pop your fins on then swim over to the edge of the reef.
In Mornington, Point Linley Reef at Fisherman's Beach is a nice shore dive site. Once in if you follow round the point keeping the reef on your left you will find some nice life. If you swim out towards the marker pylon (northish) you will get a little more depth. Drops off to a depth of around 10 metres. Linley Reef is a series of boulders and slabs.
You're likely to see some goat fish, lots of starfish and sea stars, crabs, lots of sea urchins and little critters like the shrimp and some other small fish. Some seahorses and small cuttlefish have also been seen there. Plenty of boulders and weed, so some nice crevices to check out.
Make sure you're careful of boat and PWC (jet ski) traffic operating from the Fisherman's Beach boat ramp. Take a dive flag with you. There are sometimes a few fisherman on the point, so keep in mind their lines and you may want to take a knife just in case.
Entry/Exit: Enter over the rocks at the Western end of the Fisherman's Beach boat ramp area. You need to do a day inspection before tackling it at night. Best to go out along the North side of the reef. Then return along the South side.
When exiting you can go the same way you entered, or swim into the beach. If you're doing the latter make sure you swim on the surface (preferably with a flag or SMB!), so that you are seen by boats as you'll have to very carefully cross the boat channel by the ramp.
Parking: There isn't any parking at the boat ramp car park but plenty in the dirt car parks at the top of the beach, or in nearby streets. There are toilet facilities further down the beach and a cafe across the road.
This could be a perfect little team up dive with Mornington Pier and Snapper Point.
Latitude: 38° 13.596′ S (38.226605° S / 38° 13′ 35.78″ S)
Longitude: 145° 1.548′ E (145.025807° E / 145° 1′ 32.91″ E)
Datum: WGS84 | Google Map
Added: 2012-07-22 01:00:00 GMT, Last updated: 2019-06-02 03:24:21 GMT
Source: Google Earth
Nearest Neighbour: Marina Cove, 116 m, bearing 152°, SSE
Depth: 5 to 10 m.

---
---
DISCLAIMER: No claim is made by The Scuba Doctor as to the accuracy of the dive site coordinates listed here. Should anyone decide to use these GPS marks to locate and dive on a site, they do so entirely at their own risk. Always verify against other sources.
The marks come from numerous sources including commercial operators, independent dive clubs, reference works, and active divers. Some are known to be accurate, while others may not be. Some GPS marks may even have come from maps using the AGD66 datum, and thus may need be converted to the WGS84 datum. To distinguish between the possible accuracy of the dive site marks, we've tried to give each mark a source of GPS, Google Earth, or unknown.
Everyone who knows me well says I have OCD (or Obsessive Compulsive Diving), and I suppose regularly diving for over two hours in 10-14 degree Celsius water might serve as sufficient proof of that.
— PT Hirschfield