Mushroom Reef

Shore Dive | Shore access





Depth: 6 metres (20 feet) to 8 metres (26 feet)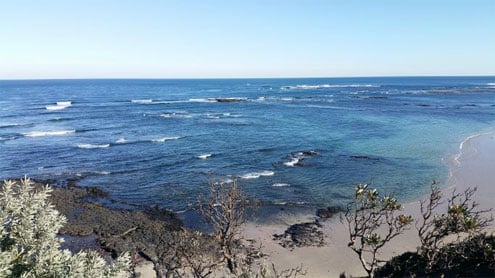 The Mushroom Reef dive site is much like the Mornington Peninsula Back Beach dives over Portsea/Sorrento way. It is located near Flinders Pier, but is quite exposed. There can be a lot of surge even on calm looking days.
The landscape is quite nice and there are lots of cool leatherjackets and marine life similar to Diamond Bay and St Paul's Road.
Mushroom Reef | © Phil Watson
Named for its mushroom shaped reef, this site is a part of the Mushroom Reef Marine Sanctury which protects 80 ha of the open coast of Flinders on the Mornington Peninsula. Composed of sandstone rock platforms extending from the shore, the park includes sheltered rock pools, coves and a shallow reef on the ocean side. The reef is formed from ancient basalt which has weathered beautifully, allowing creatures to hide within crevices and cracks or under loose rocks.
This area is famous for its diversity of marine life and has attracted scientists for over 100 years. The intertidal soft sediment is an important feeding and roosting habitat for many birds. When searching the rockpools one can find many crabs, multicoloured cushion seastars, numerous species of snails and delicate anemones.
The seafloor (2-3m) is covered with canopy forming brown algae and patches of seagrass which attract many species of fish such as morwongs, wrasse, cowfish and Victoria's marine emblem, the Weedy Seadragon. If you're lucky you may be able to spot a Black and White Seastar. This amazing creature is one of only two seastars known to brood its young in its stomach.
See WillyWeather as a guide for the tide times and the height of the tide.
See also, Parks Victoria: Mushroom Reef Marine Sanctury,
Mushroom Reef Marine Sanctuary - Park Note (PDF 353.2 KB), and
Mushroom Reef Marine Sanctuary Map (Adobe PDF | 159.25 KB).
Location: Flinders
MELWAY Ref: Page 261 K11
Access: The carpark is on Flinders Ocean Beach Entry Road, off Golf Links Road, Flinders. Entry via shore after short walk from the carpark down the stairs.
Facilities: Free car park at all times. No toilet and no rubbish bins for litter.
Latitude: 38° 28.894′ S (38.48157° S / 38° 28′ 53.65″ S)
Longitude: 145° 0.990′ E (145.016506° E / 145° 0′ 59.42″ E)
Datum: WGS84 | Google Map
Added: 2018-01-18 00:11:17 GMT, Last updated: 2019-06-02 07:49:40 GMT
Source: Google Earth
Nearest Neighbour: Flinders Back Beach, 238 m, bearing 142°, SE
Depth: 6 to 8 m.

---
---
DISCLAIMER: No claim is made by The Scuba Doctor as to the accuracy of the dive site coordinates listed here. Should anyone decide to use these GPS marks to locate and dive on a site, they do so entirely at their own risk. Always verify against other sources.
The marks come from numerous sources including commercial operators, independent dive clubs, reference works, and active divers. Some are known to be accurate, while others may not be. Some GPS marks may even have come from maps using the AGD66 datum, and thus may need be converted to the WGS84 datum. To distinguish between the possible accuracy of the dive site marks, we've tried to give each mark a source of GPS, Google Earth, or unknown.