Smiths Beach

Shore Dive | Shore access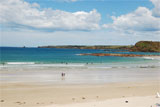 Smiths Beach | © Unknown
Depth: 2 metres (6.6 feet) to 14 metres (46 feet)
Smiths Beach is a one kilometre long south-west facing beach cove on Phillip Island, looking out into Bass Strait. Smith's Beach is great for seeing bommies, vibrant corals and sponges, large overhangs and a plethora of fish life. You can see Port Jackson sharks, Crayfish, Trigger fish, Swell sharks and Blue Devils.
Smiths Beach Road, Phillip Island runs to a large car park on the 20 metre bluffs behind the centre of the beach. As you get down onto the beach, head east (left) down to a gully which makes a good entry point. There are reef structures to the east, or you can explore the reefs to the west as you head around to the main section of Smith's Beach.
At the western end of the beach is Smith's Point which has even more twisty reef to explore.
See WillyWeather as a guide for the tide times and the height of the tide.
Latitude: 38° 30.413′ S (38.506883° S / 38° 30′ 24.78″ S)
Longitude: 145° 15.581′ E (145.259683° E / 145° 15′ 34.86″ E)
Datum: WGS84 | Google Map
Added: 2019-06-09 02:50:05 GMT, Last updated: 2019-06-09 03:04:18 GMT
Source: Google Earth
Nearest Neighbour: Sunderland Bay, 1,036 m, bearing 85°, E
Depth: 2 to 14 m.

---
---
DISCLAIMER: No claim is made by The Scuba Doctor as to the accuracy of the dive site coordinates listed here. Should anyone decide to use these GPS marks to locate and dive on a site, they do so entirely at their own risk. Always verify against other sources.
The marks come from numerous sources including commercial operators, independent dive clubs, reference works, and active divers. Some are known to be accurate, while others may not be. Some GPS marks may even have come from maps using the AGD66 datum, and thus may need be converted to the WGS84 datum. To distinguish between the possible accuracy of the dive site marks, we've tried to give each mark a source of GPS, Google Earth, or unknown.
Everyone who knows me well says I have OCD (or Obsessive Compulsive Diving), and I suppose regularly diving for over two hours in 10-14 degree Celsius water might serve as sufficient proof of that.
— PT Hirschfield