Wauchope

Wreck Dive | Boat access



Wooden Screw Steamer | Max Depth: 4 metres (13 feet)
SS Wauchope | © State Library Victoria
The Wauchope (aka SS Wauchope) was built for the NSW north coast trade, and from 1910 worked Bass Strait, between King Island, Launceston and Melbourne. The Wauchope now lies about 500 metres from shore off Sorrento in Port Phillip. The vessel lies on an approximately East-West orientation, with the bow to the East, in a depth of 4 metres.
Diving the Wauchope
Newspaper reports at the time of the fire on board the SS Wauchope give the impression that the ship was totally destroyed. But, there is still enough of the shipwreck on the seafloor to make this an interesting and worthwile dive. The site extends for 41.5 metres (136 feet) in length. The wreck has an extensive growth of seaweed on and around it and is home to a large population of fish including stingrays.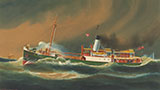 S.S. Wauchope by A.V. Gregory
The SS Wauchope's boiler is the largest feature of the site. In the bow area there is good definition of the hull shape and remains of wooden ribs protrude from the sand. The keelson can be seen extending along the length of the bow, from the deck framing to the boiler. Remains of the propeller shaft and blades can still be seen at the stern along with a small ampunt of coal. Wooden railing, decking and more of ship ribs can also be observed at the stern.
Broken green champagne bottles and black glass whiskey bottle necks, together with concrete bags lie on the Sorrento side of the hull.
The boiler of the Wauchoope is exposed at high and low water and can be seen from Sorrento boat ramp.
The wreck lies in shallow water and is best to dive on flood slack for maximum visibility.
Wauchope Dive Site Map | © Victorian Archaeological Survey
Wauchope History
Wauchope Painting by A Duffy
Built in 1905 by D. Sullivan of Coopernook, NSW in Manning, NSW, the Wauchope was a wooden screw steamer 127.5 feet (39 metres) long, with a beam of 25.5 feet (7.8 metres), and a depth of 9.2 feet (2.8 metres)
The Wauchope was in mandatory 7 day quarantine due to 'flu epidemic'. Manned by 'loyalist' (non-union) crew, due to bitter seamen's strike. Fire broke out in forward hatch, benzine later exploded after vessel abandoned. Beached but drifted onto sandbank on 1 August 1919 off Sorrento in Port Phillip.
See also, Australian National Shipwreck Database: Wauchope,
Heritage Council Victoria: Wauchope, and
Dive Information Sheet: SS Wauchope (1877-1900) (Adobe PDF | 489.14 KB).
Latitude: 38° 19.598′ S (38.326633° S / 38° 19′ 35.88″ S)
Longitude: 144° 44.792′ E (144.746533° E / 144° 44′ 47.52″ E)
Datum: WGS84 | Google Map
Added: 2012-07-22 01:00:00 GMT, Last updated: 2019-06-22 14:23:26 GMT
Source: Book - Shipwrecks Around Port Phillip Heads GPS (verified)
Nearest Neighbour: Sorrento Boat Moorings, 822 m, bearing 194°, SSW
SS Wauchope, Wooden steamship, 269 ton.
Sunk: 1 August 1919.
Depth: 0 to 4 m.

---
---
DISCLAIMER: No claim is made by The Scuba Doctor as to the accuracy of the dive site coordinates listed here. Should anyone decide to use these GPS marks to locate and dive on a site, they do so entirely at their own risk. Always verify against other sources.
The marks come from numerous sources including commercial operators, independent dive clubs, reference works, and active divers. Some are known to be accurate, while others may not be. Some GPS marks may even have come from maps using the AGD66 datum, and thus may need be converted to the WGS84 datum. To distinguish between the possible accuracy of the dive site marks, we've tried to give each mark a source of GPS, Google Earth, or unknown.
Don't believe everything you read on Facebook.
— Mark Zuckerberg