Buckleys Cave

Shore Dive | Shore access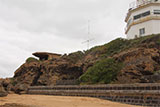 Buckleys Cave | © Unknown
Depth: 2 metres (6.6 feet) to 10 metres (33 feet)
Level: Advanced Open Water and beyond.
Buckley's Cave at the foot of Point Lonsdale lighthouse is named after William Buckley, an escapee from Sorrento who was reputed to have lived in the cave from 1803 until his return to white civilisation in 1835.
This is the starting point for some very interesting shore dives. Access is not difficult, especially at low water. Access is via the path from the lighthouse, past Buckley's Cave, straight into the water, or out onto the platform.
From here you can explore Mushroom Rock, and the shark gutter. The area is part of the Harold Holt Marine Reserve.
The highlight of these shore dives are the many wrecks that have been hammered onto these reefs from the seaward side. The wrecks of the Glaneuse, George Roper, Black Boy, Holyhead and Gange all lie here abouts.
These shore dives are for experienced divers only. Skill is required to pick the conditions and times the site can be dived. Best to dive at slack water.
See WillyWeather as a guide for the tide times and the height of the tide.
This site lies in the Port Phillip Heads Marine National Park. The park is made up of six separate marine areas around the southern end of Port Phillip: Swan Bay, Mud Islands, Point Lonsdale, Point Nepean, Popes Eye, and Portsea Hole.
See also, Parks Victoria: Port Phillip Heads Marine National Park,
Port Phillip Heads Marine National Park - Map (PDF 1.4 MB),
Divers Guide - Port Phillip Heads Marine National Park (Adobe PDF | 6.54 MB), and
Port Phillip Heads Marine National Park Identification Booklet (Adobe PDF | 5.64 MB).
Latitude: 38° 17.562′ S (38.292699° S / 38° 17′ 33.72″ S)
Longitude: 144° 36.844′ E (144.614067° E / 144° 36′ 50.64″ E)
Datum: WGS84 | Google Map
Added: 2012-07-22 01:00:00 GMT, Last updated: 2019-06-01 03:10:14 GMT
Source: Google Earth
Nearest Neighbour: Glaneuse, 146 m, bearing 249°, WSW
Depth: 2 to 10 m.

---
---
DISCLAIMER: No claim is made by The Scuba Doctor as to the accuracy of the dive site coordinates listed here. Should anyone decide to use these GPS marks to locate and dive on a site, they do so entirely at their own risk. Always verify against other sources.
The marks come from numerous sources including commercial operators, independent dive clubs, reference works, and active divers. Some are known to be accurate, while others may not be. Some GPS marks may even have come from maps using the AGD66 datum, and thus may need be converted to the WGS84 datum. To distinguish between the possible accuracy of the dive site marks, we've tried to give each mark a source of GPS, Google Earth, or unknown.
A bad day of scuba diving is still better than a good day at work.
— Old diver's proverb